It was cool and autumnal feeling across Scotland over the weekend but warm across England and Wales, particularly on Saturday - when it reached 28C in London. However, the recent warmth and humidity in the south began to break down yesterday – which resulted in heavy downpours and severe thunderstorms.
Torrential downpours in the southwest brought some flooding to parts of east Devon, with more than a month's worth of rain falling in a day across parts of SW England. The Met Office had issued Amber rain warnings. Birds Hill gauge in Somerset recorded 74.6mm of rain falling in 24 hours, 63.8mm at Exeter. Homes were flooded in parts of Devon. Streets in Dawlish saw red rivers of water (from the red soils in the area) rushing through streets. While there were scenes of flooding inside the airport terminal at Exeter Airport – which had to close with all flights arriving and leaving cancelled.
Then during the evening, a potent shortwave trough moving northeast from the Bay of Biscay brought another wave of thunderstorms across the English Channel, southern England and East Anglia late evening. Again, there were incidences of localised flooding and lots of lightning
There was also potentially a tornado in Littlehampton, eye witnesses reported strong winds developed around 11:30pm that caused damage that bears the hallmarks of a tornado circulation. Indeed, the rainfall radar around then suggests a large 'bow echo' signature along with a possible 'hook' which suggests a possible mesocyclone that can be associated with a tornado. Though a site investigation by TORRO, where brick walls were toppled and car window were broken by flying debris, will determine the likelihood of a tornado.
The moisture content of the atmosphere yesterday was high, which goes some way to explain why there was such intense rainfall in places, especially across the southwest of England. Date records were broken for precipitable water content sampled by both Abermarle and Watnall radiosonde ascents.
Also, the water-laden atmosphere and warm English Channel helped fuel a possible tornado along the south coast. There was also a definite tornado that tracked across part of Mayenne department of NW of France earlier on Sunday – with video footage from various angles and also the trail of damage it caused. This same very moist and unstable airmass reaching southern England during the day.
Although a cold front clearing the east coast this afternoon has cleared away the unstable airmass that brought storms yesterday and earlier today, further Met Office warnings for rain have been issued for parts of the west for Tuesday and Wednesday, as a frontal wave moves east off the Atlantic combining with another surge of warm moist air ahead of the remnants of ex-Hurricane Lee, now a post-tropical storm, which arrives across the north this week. Added lift of higher ground of the warm and moist tropical air along the frontal zone looks to bring heavy and persistent rain through Tuesday and Wednesday across NW England and parts of Wales – this could bring some flooding. The heavy rain eventually clearing east across England later on Wednesday.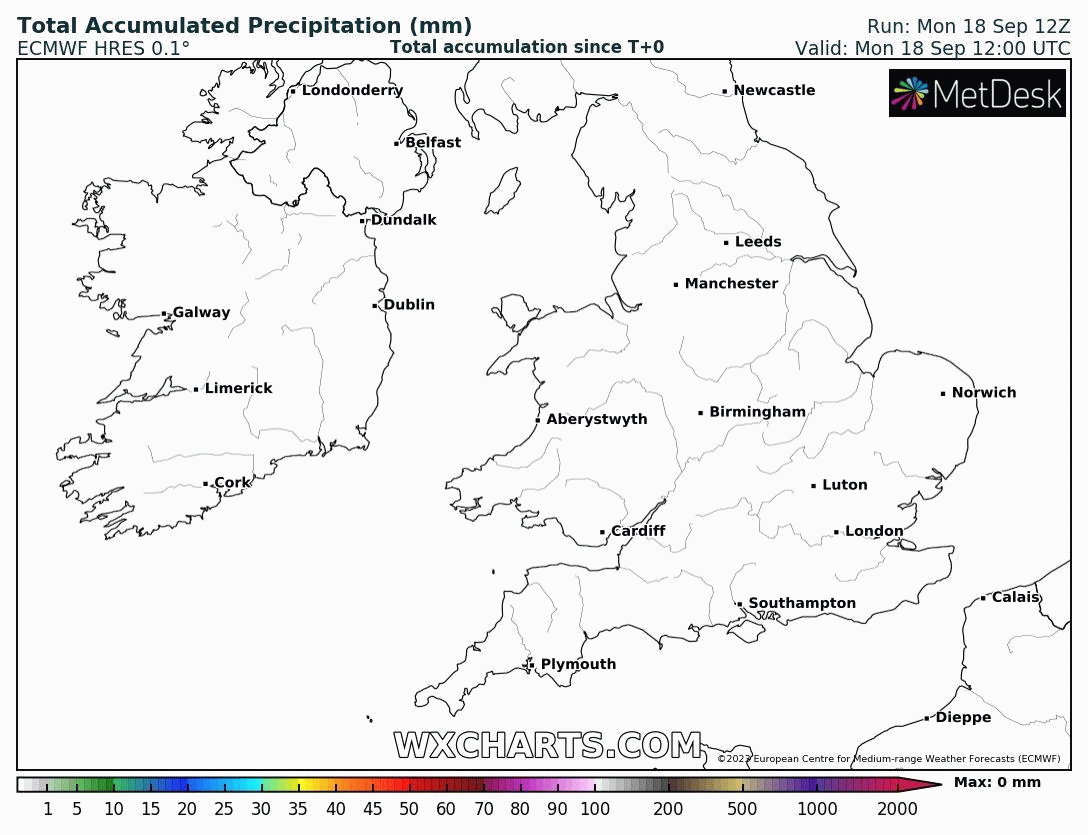 The post-tropical low will also bring windy conditions for rest of the week, with gales developing in the west and northwest as post-tropical storm Lee arrives to the northwest on Wednesday. Autumn certainly makes itself felt this week.