That was quite a weekend for mid-September. Temperatures up to 28C on Saturday, plenty of rain further north from a stubborn front and then thunderstorms and flash flooding in the warm humid air as instability, linked to a low away in the southwest, plumed its way northwards.
Exeter Airport saw flooding and disruption on Sunday and Scarborough experienced flash flooding on Monday morning with cars floating in the deep waters. Conditions overnight were lively with many lightning flashes, torrential downpours and horrible conditions on the roads.
Away from the thundery plume, there has been frontal rain from the west. This has brought heavy and thundery bursts for eastern England and northeast Scotland, the Northern Isles through this afternoon as fresher, cooler air reaches across the UK from the Atlantic.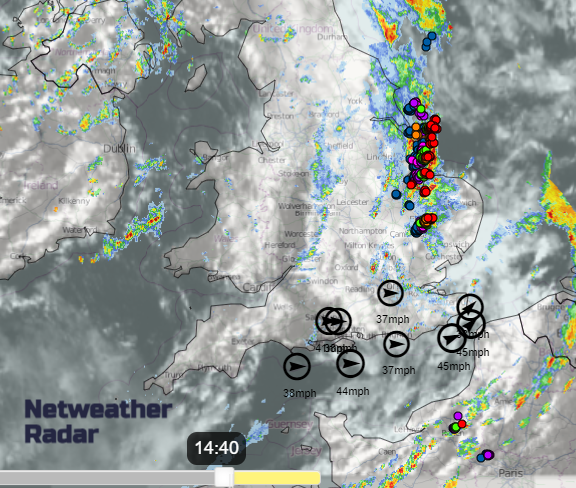 This seems to open the doors for Autumn as wet and windy weather heads our way, often including tropical remnants from Atlantic hurricanes.
As the thunderstorms from overnight cleared Yorkshire on Monday morning, there has been a lively cold front pushing across Britain today. There will be more sharp showers following on behind as blustery weather turns windy and wet overnight.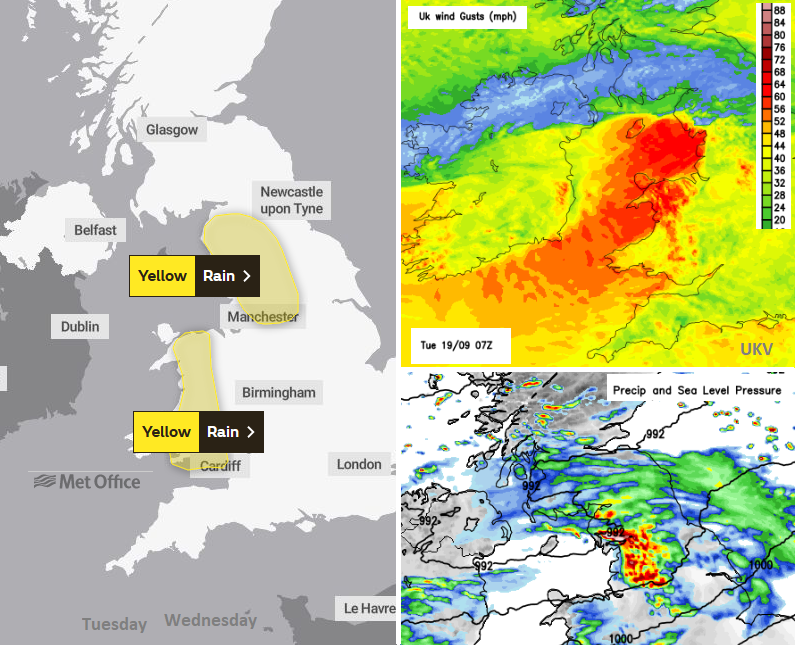 The Met Office has yellow rain warnings for Wales and northwest England during Tuesday. Rain and strong, gusty winds will bring a miserable start to the day from a warm front linking back to the low with the remnants of Hurricane Lee. UP over the high ground there could be 70 to 100mm of rain. There will be a band of cloud and rain across a central swathe of Britain on Tuesday morning and then staying blustery for England and Wales into the afternoon. It will be especially windy over high ground and along the coasts

There will be two vigorous autumn low pressures this week. Both will include extra oomph from the tropical systems that have transitioned or become wrapped up in the flow heading towards NW Europe.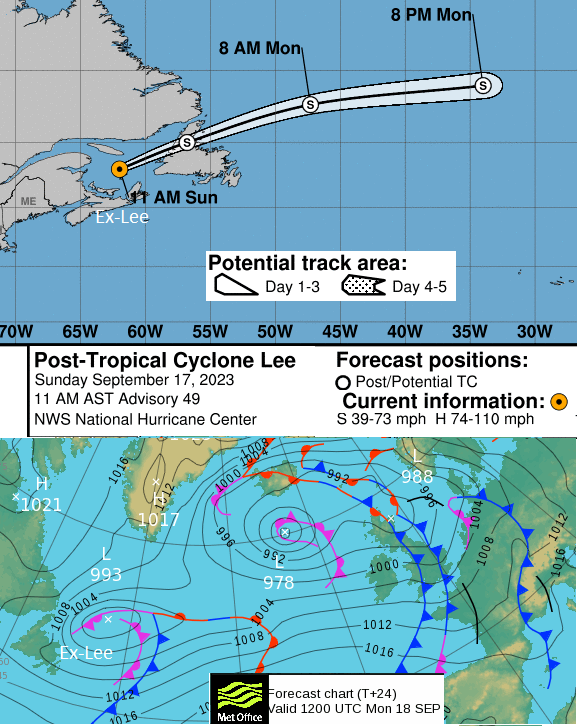 Lee had been a Hurricane last week causing large surf off the eastern Seaboard. It made landfall on Sept 16th at 20Z as a Post Tropical Cyclone, on Long Island, Nova Scotia. There were trees down, power outages, inland and coastal flooding with wild seas right wild for New England and Atlantic Canada.
Nigel will soon be a hurricane well out in the mid-Atlantic before heading far north.
The remnants of Lee are now getting mixed up and are forecast to reach the UK on Tuesday night, with the centre north of Ireland, west of Scotland. Later on Tuesday there will be more windy weather for the Irish Sea with heavy rain for Northern Ireland, Scotland and northwest England then Gwynedd. The spell of wet and windy weather midweek spreads over Wales and England on Wednesday with warm tropical air entrained within the system. As the frontal bands edge eastwards there will be heavy rain, strong gusty winds but it will strangely warm with temperatures reaching the low twenties for some.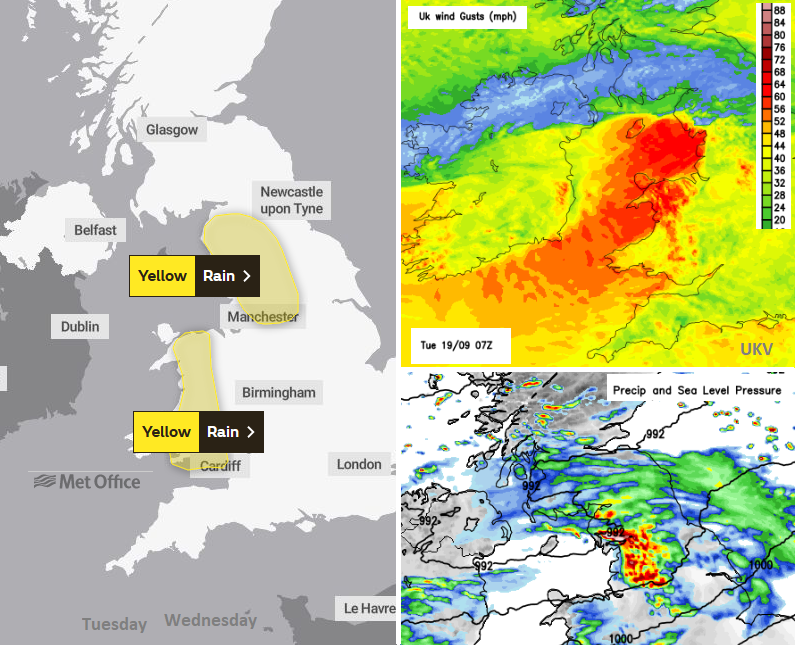 The low centre looks to then pivot north of Britain by Thursday, but might dumbbell around a smaller low centre which appears from the southwest. There will be a brief northerly flow with much cooler, fresher air and lower temperatures for Wednesday, Thursday and, particularly, Friday nights. Saturday morning will feel quite cool for the start of the weekend and perhaps a bit of a lull from the wind and hefty showers with a brief ridge of high pressure.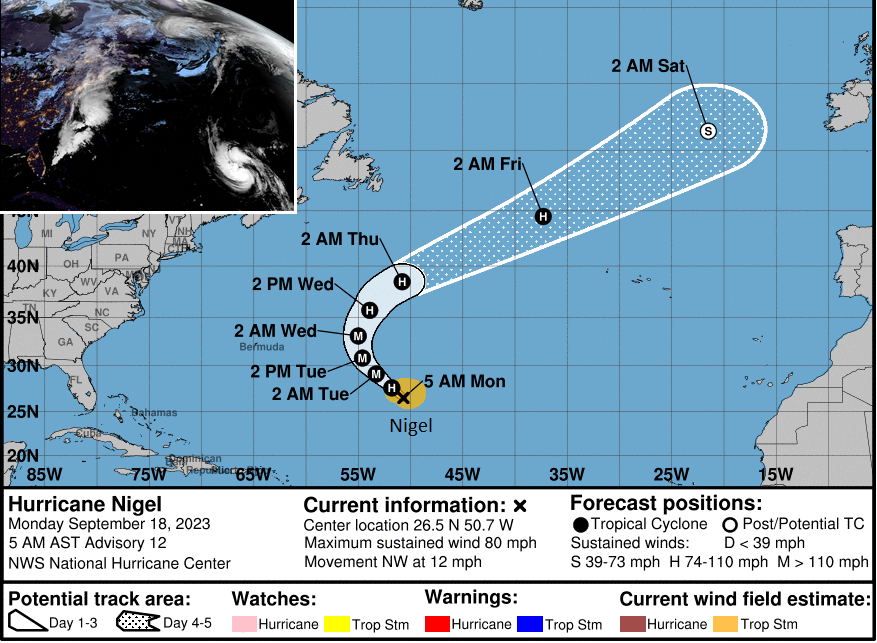 It's a fair way off at the moment but Hurricane Nigel could be interesting. This cyclone is forecast to reach far north in the Atlantic, out at sea, but still at hurricane strength which is unusual. Later in the week, it begins to head east/NE caught up in the flow towards Europe. It's frontal bands could bring rain across the UK on Sunday but very warm air might surge northwards to Ireland and the UK, linked to this system.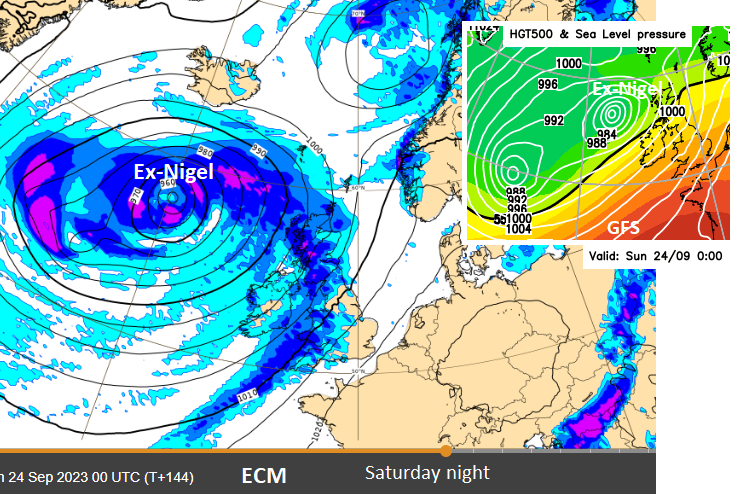 "… a mid-level ridge builds to the northeast of the system. In a couple of days, Nigel will reach the western edge of the ridge and turn more northward. By the end of the forecast period, a strong trough will pick up the system, and Nigel should accelerate quite rapidly towards the northeast." NHC
Various models show the ex-Nigel low to the northwest of the UK with more rain from the west for the second part of the weekend. The first storm name would be Agness as we've now moved into the next storm season even though barely any were used last season. These lows would keep their ex-[Hurricane] name.