It's a mixed picture for this weekend with a taste of autumn (even a touch of frost) in the far north but hints of summer hanging on further south. London sees a warm, fine start with temperatures into the high 20sC. Then more cloud on Sunday and a slight risk of a downpour later in the day but it will feel very warm and muggy. For Cardiff, there will also be a fine, warm start to the weekend, around 23C but a risk of downpours even thunderstorms on Sunday when it will feel close and humid.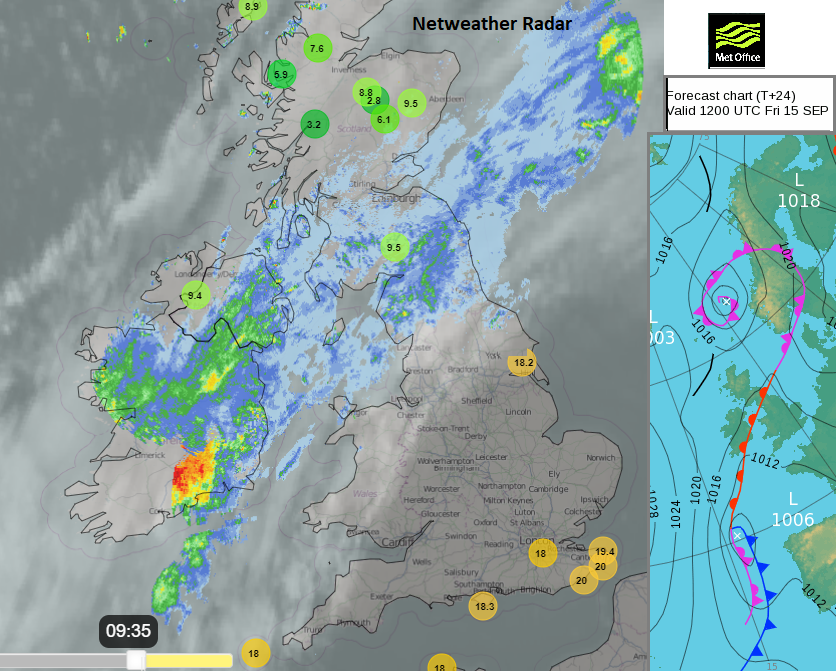 Netweather Radar with top 10 temps at 9am and lowest 10 temps. Met Office surface pressure chart
Both Belfast and Edinburgh are under a lingering weather front on Friday. This is bringing cloud and rain and the boundary stretched across the UK persists through the weekend. To the north of this, the air is cooler and fresher even nippy by night. To the south, there will be warmer, more humid air surging up during the weekend. The frontal rain eases somewhat during Saturday but there will be stubborn cloud which will affect the temperatures. Belfast around 15C with a breeze off the sea and similar for Edinburgh although it should brighten up nicely later.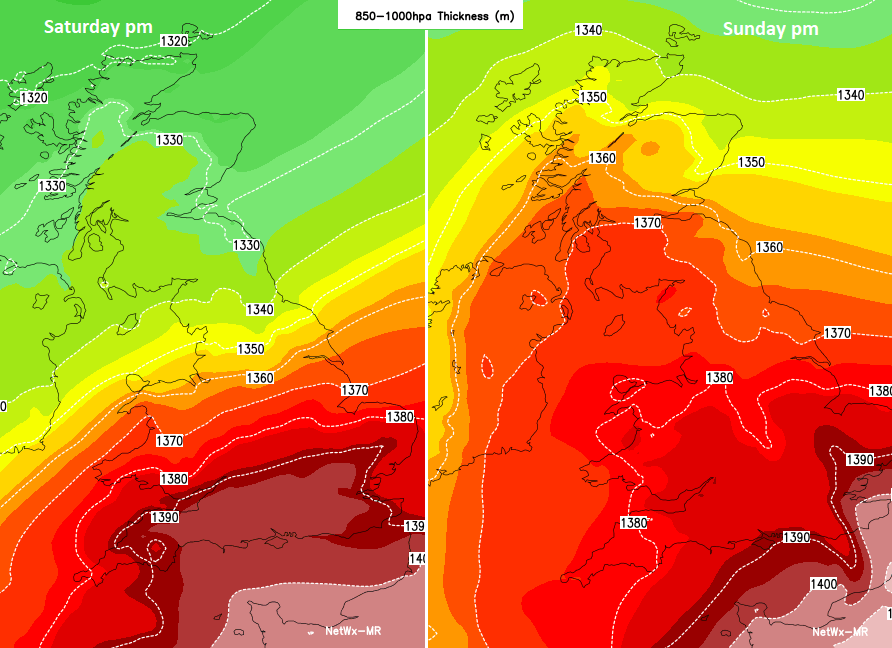 Thickness chart showing much warmer air surging northwards by Sunday
As high pressure builds over the North Sea, a low pressure centred off Portugal will steer a southerly flow with warmer air and heavy rain, even thunderstorms towards the UK on Sunday. Looking at a weather app might not help with the details of these downpours. The model data has changed with each forecast run, so consider the threat of heavy downpours moving up from the southwest and keep an eye on the Netweather Radar on Sunday.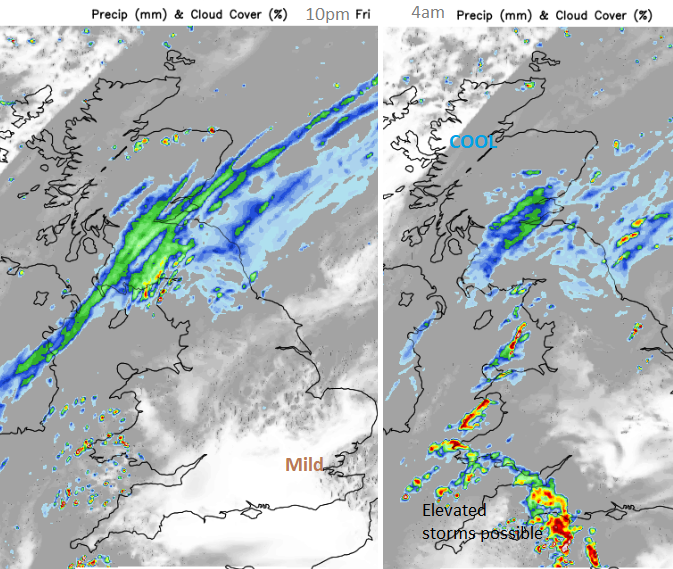 Friday's rain band really takes its time to ease from southern Scotland, the Central Belt and Fife. Only slowly will it edge southwards and fade in a northerly flow. There is a risk of elevated storms for the southwest of the UK but uncertainty about location and development. It could mean big spots of rain not amounting to much but with flashes of lightning in the night sky or a few heavier showers. Some may linger into Saturday.
Saturday
The warmer air will reach Norfolk across to Somerset on Saturday with temperatures lifting into the 20sC. There is a small chance of a few surface-based storms developing in that warmer air but for most it will be a fine, dry day. The fading weather front should be over northern England so more cloud, and some lingering patchy over the hills and for NE England. Things improve during Saturday afternoon as clearer conditions appear for Scotland and more of Northern Ireland but there will be a noticeable NE breeze.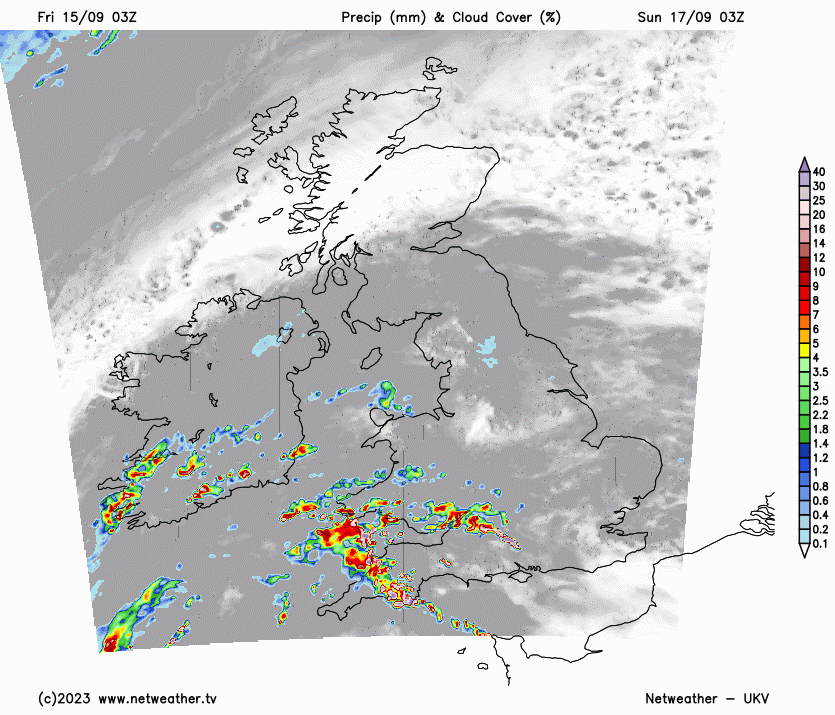 UKV model showing theme of clusters of showers, with heavy rain even thundery downpours possible, yet detail not to be followed
Sunday
It will be cold for northern Scotland early on Sunday but should feel warm for the Home Counties and London. The wind will have veered to an easterly so that will make a difference along North Sea coasts with lee gusts for northwest England, the Peak District and north Wales
Bands of heavy showers will arrive, linked to the low off Iberia. There will be pulses of heavy rain and clusters of hefty showers even thundery ones. These will affect the temperatures but it looks like western Britain and Ireland will be more prone, as southeast and eastern England hold on to the heat.
The whole lot clears away over the North Sea by the end of Monday as a new Atlantic system shoves all the showery rain and warm, humid air out of the way. This leaves a fresher, more westerly flow with a scattering of showers and bright skies.
Will it Thunder?
Pumpkins from Calke Abbey