If you have been stuck under the cloud and wondering where summer is, this weekend will see a change with some heat on the way.
We've had nearly two weeks of high pressure near the UK. It has brought dry, settled weather but stark contrasts west to east. For western Wales and Northern Ireland, this has been a glorious warm sunny spell with occasional peaks for western Scotland and SW England. For a good part of central and eastern England, it has been cold and grey, even downright gloomy with morning drizzle. For in-between areas, there has been hope each day that the chilly stratocumulus blanket could break up and the warm sunshine will appear once more.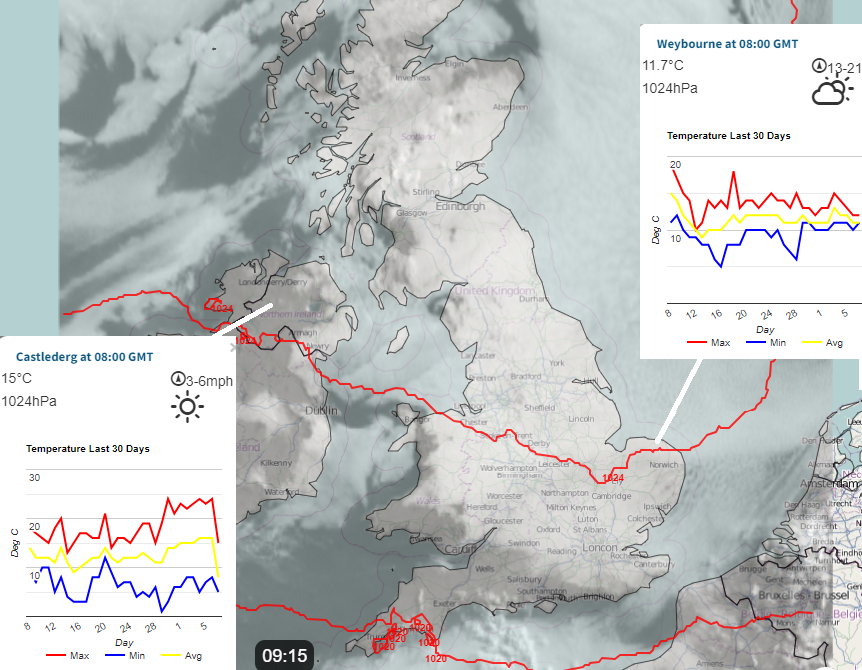 There is a shift on the way thanks to a large low pressure which is bringing wet and windy weather to the Canary Islands at the moment. Storm Oscar was named by the Spanish Met Service AEMET. As this low edges northwards, it will alter our UK weather later this week. There will be very warm and humid air pushed north from the western Med, through Spain and France. So, a change from the fresh feeling air that we have had. It won't be as chilly by night, and daytime temperatures will be widely up into the 20sC.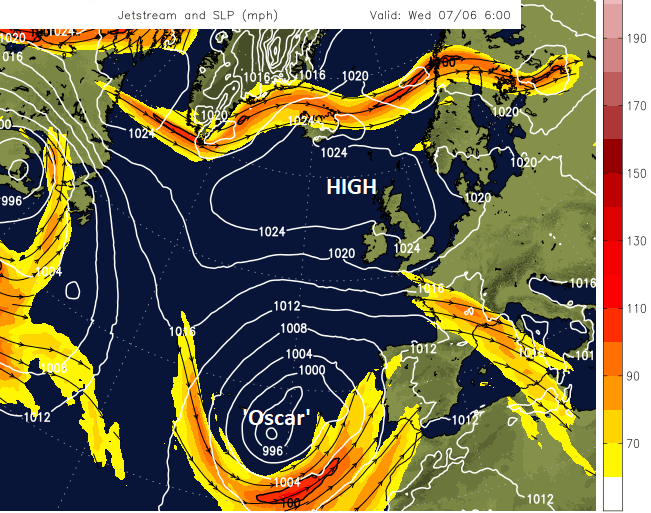 With high pressure governing our UK weather, there has also been a weak jet away to the north and a second arm further south. This has helped with the development of Oscar. Looking at the ECM precipitation anomaly charts for this week and next, you can see the dry weather for NW Europe and the above-average rainfall linked to the large low in the Atlantic. Next week there will be more dry weather, compared to average for northern Europe and above average rainfall through the central Mediterranean.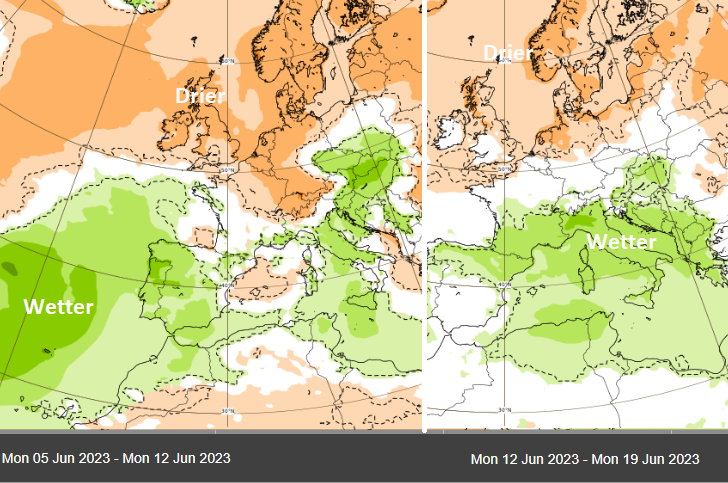 Next week we lose the cool air from the North Sea, and things heat up. How it feels with the higher humidity will make a huge difference as we move into next week.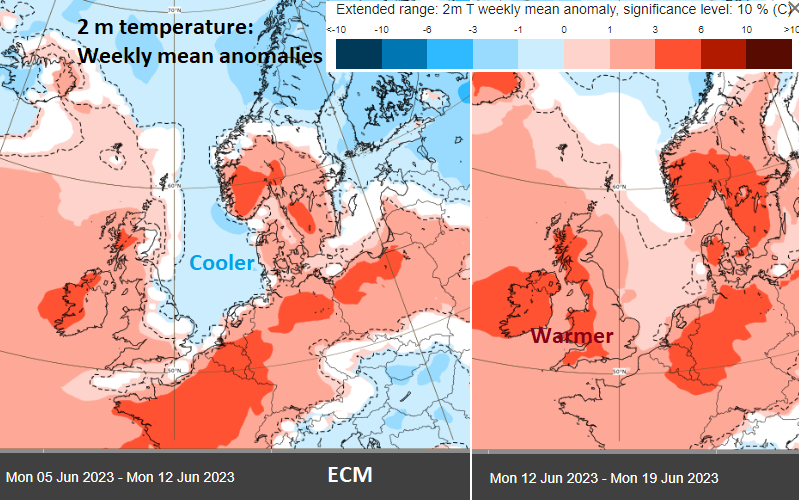 Thursday should soon see lots of sunshine after a cloudy start. More cloud and showery outbreaks of rain edge towards the tip of Cornwall and reach the Channel Islands by Thursday night. SW England and South Wales could see some showers during Friday. There will be a noticeable east wind, but temperatures in more sheltered sunny parts of southern Britain will reach 22 to 26C as the warmer air reaches our way from France.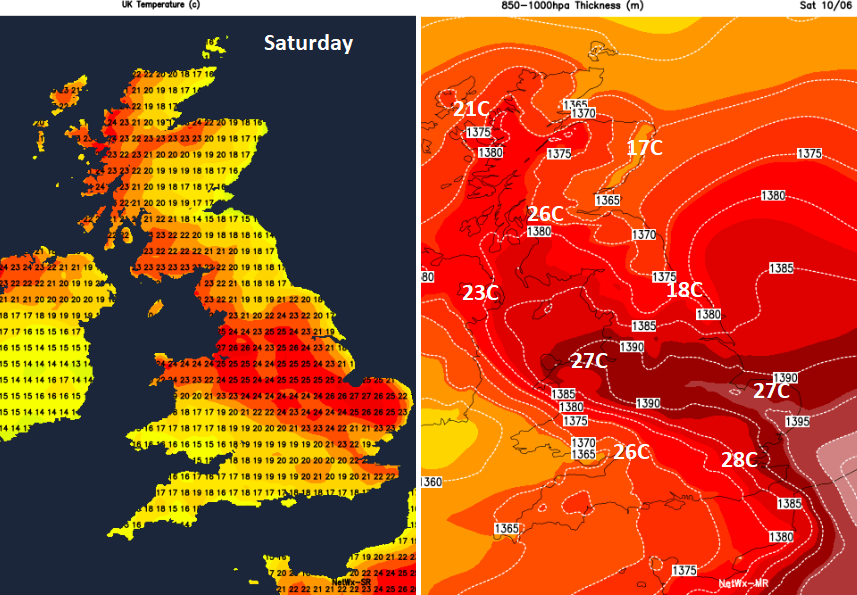 There is cloud and showers from the southwest to complicate the temperature rise. Where it stays dry and sunny, the temperatures will rise into the high twenties Celsius. There is some uncertainty around the shower distribution and so where will see the high temperatures into Sunday, but they could reach 28 or 29C, the highest so far this year and quite a change for those who've been stuck at 13C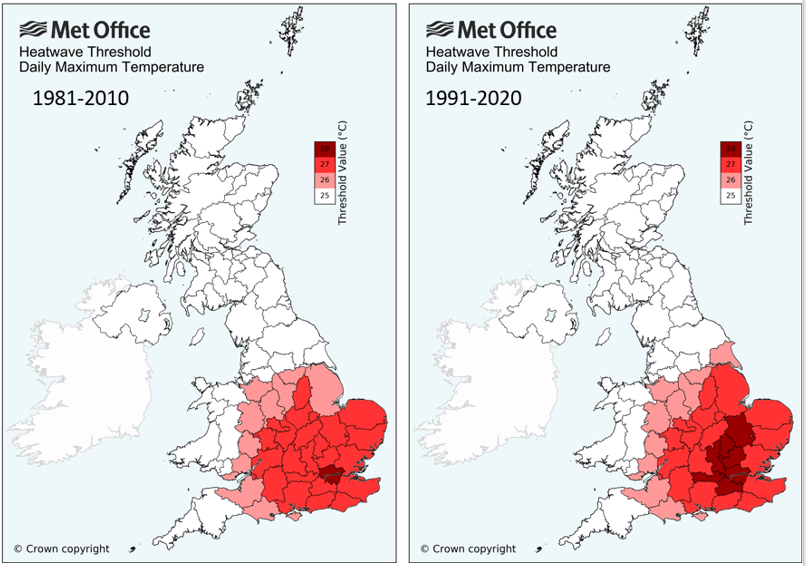 We then enter official heatwave territory. The temperature brackets were recently updated compared to a more recent decade. London and SE Britain have a threshold of 27 or 28C, with much of the UK's being 25C.
"A UK heatwave threshold is met when a location records a period of at least three consecutive days with daily maximum temperatures meeting or exceeding the heatwave temperature threshold. " Met Office
Some locations could meet the heatwave criteria, but it's not a widespread event, even if it will feel hot and humid. North Sea coasts will still have a cooler breeze at times, but at least the cloud should finally shift (it will still be around on Saturday for east coast Scotland), and there will be sunshine and warmer air.
Added to this change in airmass will be clusters of showers working their way north at the weekend. These will include some heavy rain, possibly thunderstorms with hail, torrential downpours and sudden gusty winds with more cloud. The ingredients for thunderstorms are coming together, but there is plenty of uncertainty about whether they will form and where will be affected.