There is not as much cloud out in the North Sea and already some areas are brightening up. For those further west there has been plenty of sunshine and warmth already this week. Temperatures peaked at 25.1C in Wales on the 30th with Porthmadog having a cracking week. Other areas will be wishing for sunshine after days of gloomy skies and low temperatures thanks to a cool breeze off the sea, with the cloud reaching well inland.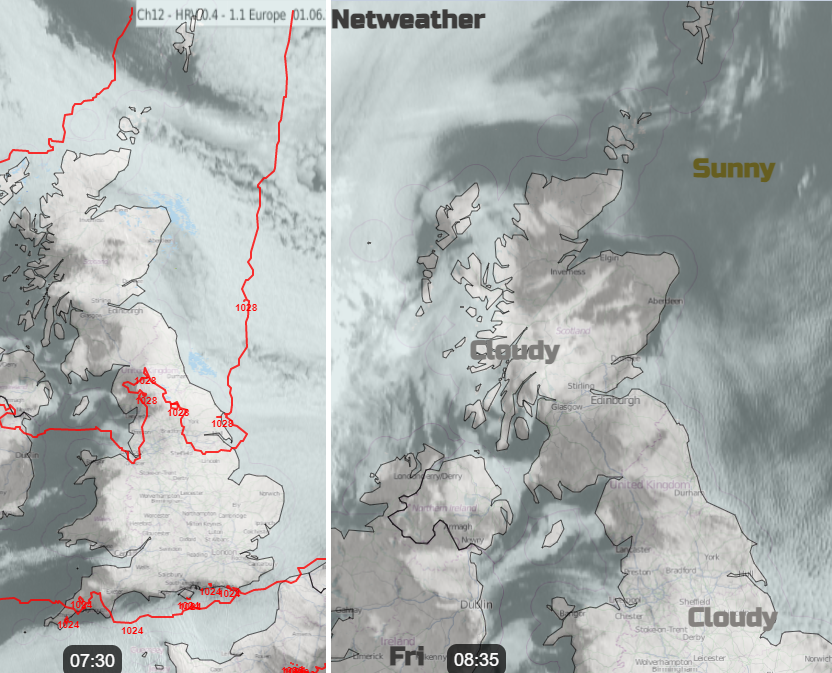 You can see the large area of clear skies out in the North Sea, quite a contrast from yesterday. This means warmth, sunshine and high UV levels. It will also bring on the grass pollen but it means clear skies at night and the air is still cool. So, a real chill in the air for the evenings this weekend and overnight.
If the continuous cloud cover and disappointing temperatures for late May and June are getting you down, think of this day in 1975.
Imagine that, widespread snow for June.
Very little changes through the weekend, even into next week. The high pressure is still in place. We keep the cool noticeable breeze off the North Sea for Lincolnshire, East Anglian coasts and particularly Kent. The Channel Islands also remain blustery. Western areas could peak at 20 to 22C but the air is cooler now. The East coast will remain at only 12 or 13C.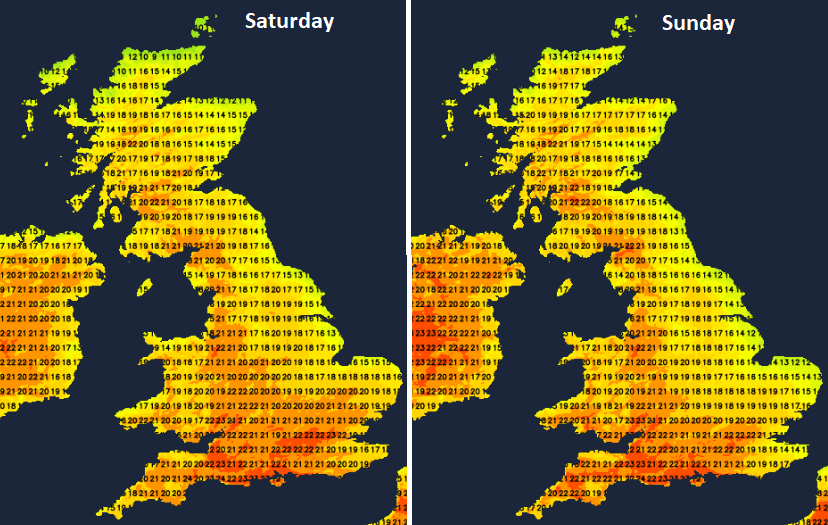 The winds ease on Saturday and so with more sunshine it will feel much better for those cloud-bound areas. Temperatures over southern Britain will rise into the 20s Celsius at the weekend, so quite a change and reach 24C in places. Sunday also sees light winds but with some early cloud for eastern counties of Britain for the first part of the morning.
It also stays dry. The thicker cloud has given some drizzle in the past few days but overall, it has been dry and settled and now it will be brighter for more of the UK with strong sunshine and no rain in sight.
The figures for May and also Spring have been released by the UK Met Office. Meteorological spring is the three months of March, April and May.
May was dry but across the UK, spring rainfall was slightly above average. You can see how that varies greatly with the dark blue colours over southern England into East Anglia and the browns for western Scotland.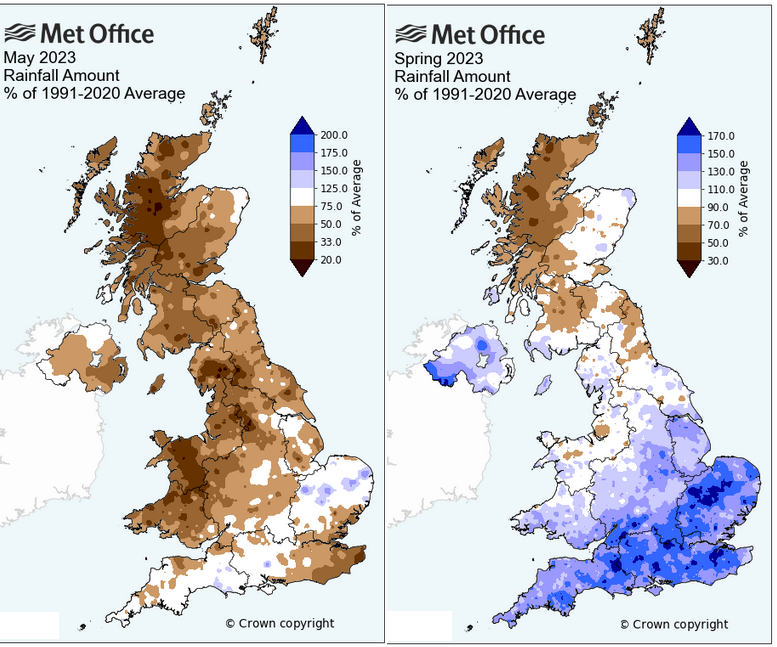 For spring 2023 "England has enjoyed well above average rainfall, with counties like Cambridgeshire recording around 161% of what they would in a typical spring. While the rain fell in England, especially during a very wet March, parts of Scotland … have only recorded just under two-thirds of their expected rainfall (64%). This is the driest spring in North Scotland since 2018." Met Office
May was dry with only 55% of the expected rainfall being recorded.
"Some locations recorded even less rainfall with Greater Manchester seeing only 39% of its average for May (26.6mm); making it the driest area of England relative to average. The driest area compared with average for the UK was Inverness which received only a third of the expected rainfall. In contrast Cambridgeshire, Dorset and Norfolk all recorded above average rainfall." Met Office
You can see those blue spots on the May rainfall map. This is already leading to concerns for the water supply and the potential for large wildfires.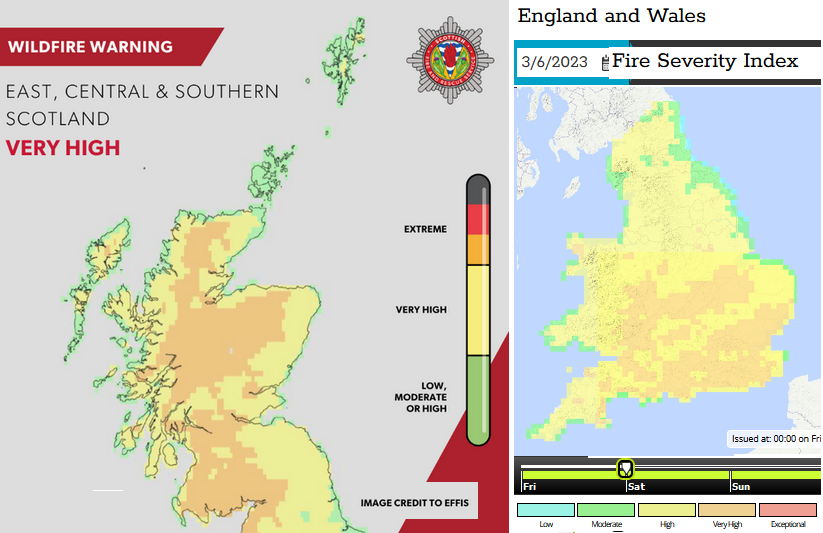 The Scottish Fire and Rescue have highlighted how dry the ground is and that lighting fires whilst camping or just in the summer evenings could cause huge problems. "As the warm and dry weather continues, so too does the risk of wildfire."
The Fire Index is about how a fire would spread. It includes conditions on the ground, how vegetation is, the weather forecast and if a fire started how easily would it catch and spread.
Parts of southern England have already had water restrictions but once again Scotland is keeping an eye out with the majority of the country now on early warning for Water Scarcity and some areas on Alert.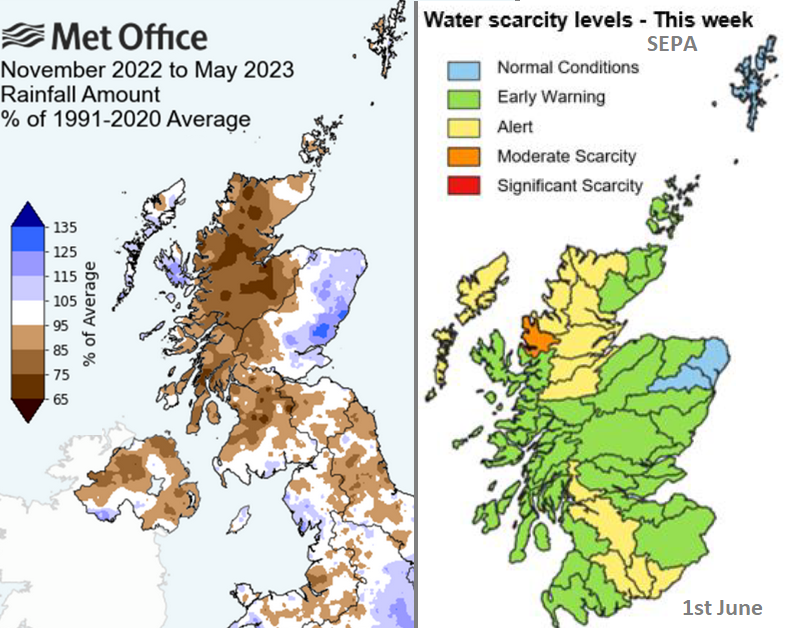 This follows a dry summer, wet autumn, then dry winter across the UK. It has been dry in recent months for western Scotland, particularly Highland region.
"Spring and Summer are crucial times of year for water … in recent weeks we have experienced more rapidly drying conditions and river levels are now very low across much of Scotland." SEPA
The high is set to stay and that means more dry weather for the beginning of June but finally widespread warmth as the cloud fades.