A new low pressure system, named Storm Nino, is advancing towards Italy: between today and tomorrow it will bring more spells of rain and thunderstorms to many regions of Italy, along with the islands of Sardinia, Corsica and also French Riviera .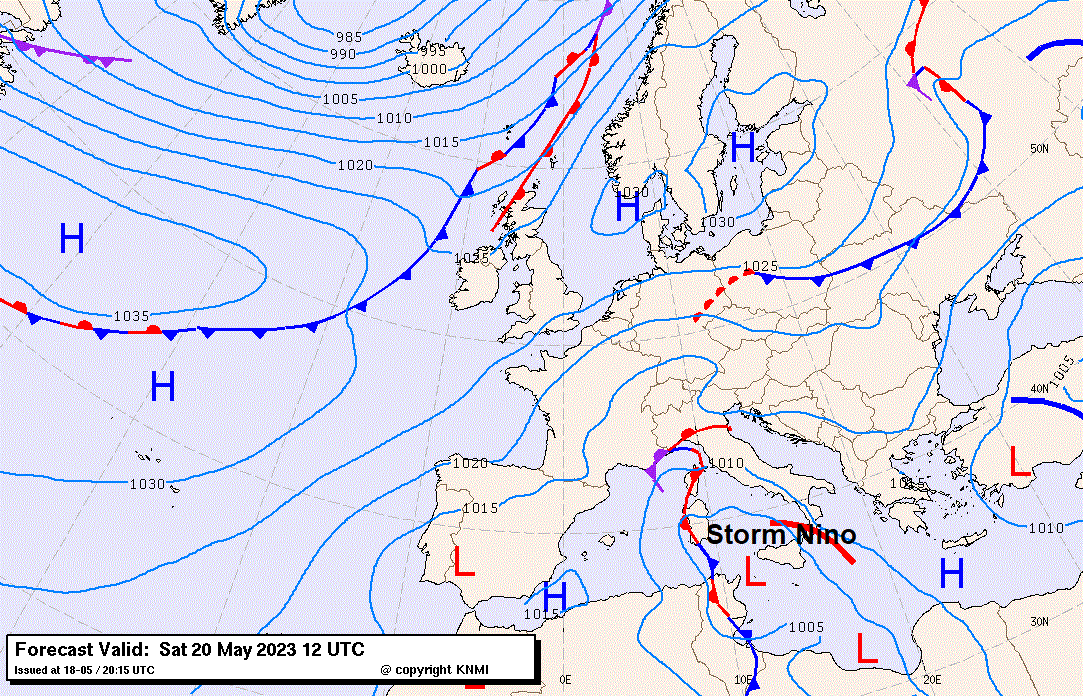 After parts of northern Italy experienced the most extreme weather conditions in recent memory, with heavy rains causing flooding in Italy's northern Emilia-Romagna region. a new depression has formed off the coast of Tunisia in the western Mediterranean and is moving towards Italy which will bring back downpours of rain across many parts; though for flood-stricken Emilia Romagna, fortunately, rainfall will be lighter than recently.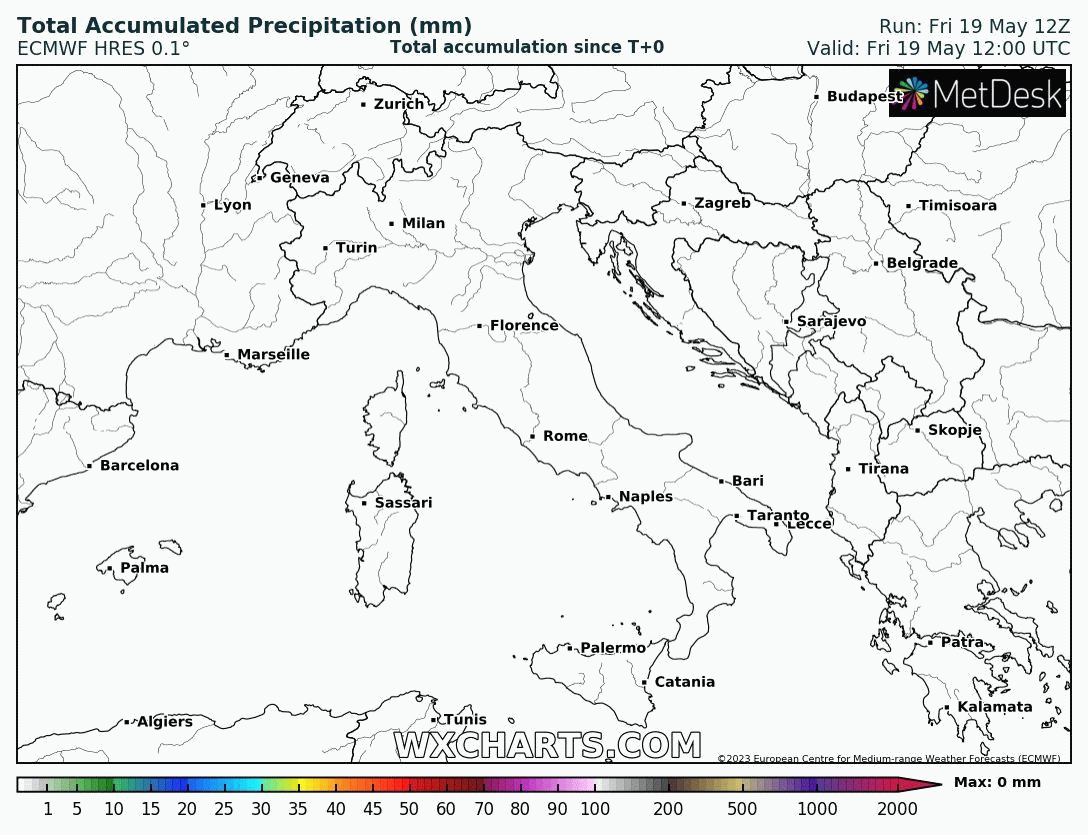 The main focus for heavy rainfall looks to be across northwest Italy this time, as warm moist air pushed north by the low pressure system is forced up by the mountain of NW Italy and southwest Alps – creating copious amounts of rainfall over the next 48 hours. This could lead to local flash-flooding events while huge amounts of water falling into the catchment of the River Po, Italy's largest river, could cause more serious flooding issues over the flood plains of northern Italy.
With possible further rainfall expected for flood-hit Emilia-Romagna region over the next few days and river levels still at flood stage, a critical Red Alert remains in place for further flooding, this is a translation of the current alert in the central-eastern area of the region:
Weak rainfall is forecast for Friday 19 May in the central-western area. The flood already underway is expected to spread in the valley stretches of all the watercourses in the central-eastern sector of the region, with the floodplains occupying and the banks affected, in progressive decline. From the point of view of hydrogeological criticality, widespread instability will be possible in the central-eastern mountain/hilly areas of the region where favourable conditions will remain for the development of landslides due to sliding and flow along the slopes characterized by fragile hydrogeological conditions and for the aggravation of the numerous landslides already activated following the rains of the past few days. Furthermore, localised landslides will be possible in the western mountain/hilly areas.

The red hydraulic and hydrogeological criticality in Bologna and Romagna is due to the serious criticalities already present in the area.
Thirteen people have been killed so far in Emilia-Romagna region of northern Italy, as 21 rivers have burst their banks and sent masses of water over surrounding land. The centre of the recent Storm Minerva, that brought the catastrophic flooding, was over the northern Adriatic along the coastline of Emilia Romagna (near Ravenna) where more than 50cm of rain fell in a few hours and 14,000 people have been evacuated. Water level rose by more than a metre in Faenza and Cesena, and the centre of Bologna was flooded. Motorways and railways have been blocked, too.
Over two days, the equivalent of 6 months of rainfall fell in 36 hours. The damage caused by the flooding is estimated to amount to a few billion euros. Improvement in weather conditions yesterday has meant the level of some rivers is starting to drop and some people have been able to return to their homes. But with more rainfall expected, river levels could easily rise again and cause more flooding.
Floods and landslides have also wreaked havoc in Croatia, Bosnia and Slovenia, related to the same low pressure system over the Adriatic Sea bringing prolonged heavy rains earlier this week.
Storm Minerva earlier this week, which brought catastrophic flooding to Emliia-Romagna:
Upper low trapped over central Mediterranean earlier this week by blocking highs either side: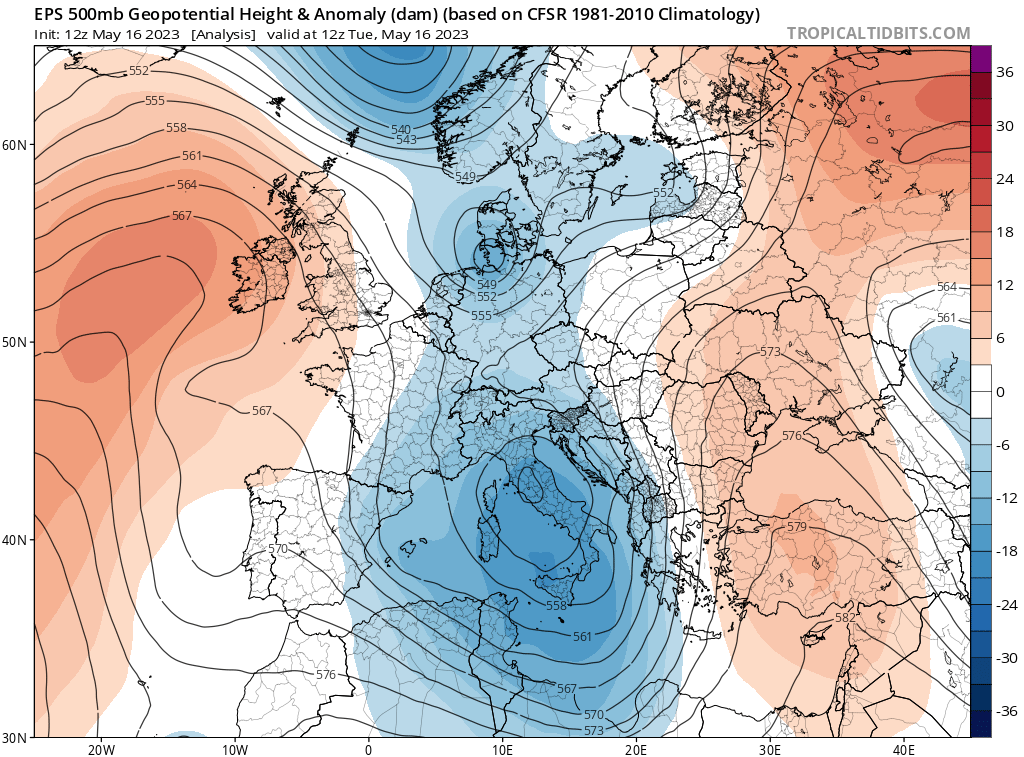 The reason for the recent and current very unsettled spell of weather over the central Mediterranean is an upper low that has become stuck and slow-moving over central and southern Europe between a blocking upper level high over the NE Atlantic and blocking upper high over eastern Europe and western Russia. The upper low looks to drift southwest towards southern Spain and Morocco over the weekend, but as it pulls away it will pull warm moist and unstable air north into Italy – bringing more heavy rain, but focussed over NW Italy this time.
The recent flooding in northern Italy is likely exacerbated by previous months of drought in the areas affected by flooding. Dry and hardened soils reduces their capacity to absorb and store water from rainfall, this leads to greater run-off when it rains heavily, leading to higher river levels and rivers that are more likely to burst their banks.
These swings between drought and too much rain are characteristics of climate change and such extremes are becoming more common across southern Europe. Italy, Spain and Portugal are certainly becoming more susceptible to extreme heat and drought, while flash-flooding events are also becoming common near the Mediterranean. Warmer air can hold more water, so a rise in temperature can mean heavier rainfall when storms happen, leading to a greater chance of flash-flooding. The Mediterranean Sea over recent years has become warmer too, increasing the risk of extreme rainfall events in areas bordering the sea.