Then Fiona, still likely a major Hurricane, will track north over the NW Atlantic and approach Atlantic Canada over the weekend. Unusually warm Sea Surface Temperatures (SSTs) over the NW Atlantic, creating a 'marine heatwave, are expected to help the storm maintain its strength as it approaches Nova Scotia then New Foundland. SST anomalies around the seas of this area of Atlantic Canada currently exceed 4C! Although waters around Atlantic Canada are not normally warm enough to maintain a hurricane, due to how fast Fiona is moving, it is likely to maintain its strength on arrival. As a result of ECMWF and GFS are forecasting Fiona will strike Nova Scotia first as a Major Hurricane – making it possibly the strongest hurricane to make landfall in Canadian History. 00z GFS showing a low with central pressure of 937 hPa on Saturday over Nova Scotia, with hurricane force winds on its eastern flank.
It's still too early to tell just how severe Fiona will be as it arrives, but the provinces of Atlantic Canada should prepare to brace for some major impacts over the weekend in the form of prolonged periods of heavy rain leading to flooding and also tropical storm force or even hurricane force winds.
As Fiona approaches Atlantic Canada, it will phase with an upper trough moving east out of Canada and will be caught in the jet stream rounding the trough. This interaction will help deepen and amplify the trough and strengthen the jet stream, which will in turn pump strong warm air advection of tropical origins north towards Greenland. This warm air advection will help amplify northwards the ridge of high pressure downstream over the North Atlantic, this buckling the jet stream north too. This buckling of the jet stream will force cooler polar air southwards over the NE Atlantic across the UK and northern Europe through the weekend and early next week. The advection of cooler air south towards northern Europe enhanced early next week by a fairly deep low moving southeast towards the North Sea too.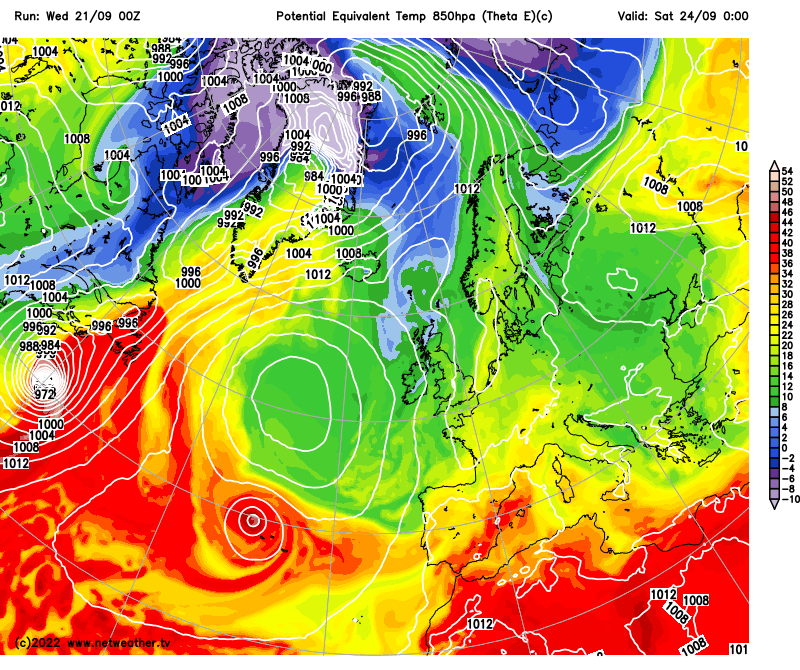 It will warm up over the next days, thanks to southerly winds developing ahead of a cold front moving in from the northwest, temperatures reaching the low 20s Celsius in the south. By late Friday, the cold front will clear SE England, cooler air polar air will follow from the northwest for the weekend. Daytime temperatures will reach the mid to high teens in the south at best, low to mid-teens in the north. However, it will turn chilly at night, with temperatures widely in single figures widely, perhaps low enough for ground frost – especially in the north.
A deep low forming off the east coast of Greenland this weekend then looks to move southeast towards the North Sea early next week, as the jet stream buckles upstream, this will allow a northerly flow to develop for a time Tuesday and Wednesday, bringing a further colder plunge of air from polar regions across the UK then on into Europe. The cool conditions look like continuing throughout next week, with day time temperatures the mid-teens at best, nights chilly with a risk of overnight frost where skies clear. So a cool final 7 days of September, with below-average temperatures, looks on the cards.