This may all seem rather glum when much of the UK is in for fine, sunny weather but you can just look on a weather app to see a line of full sunshine and a list of air temperatures. These warnings and impact explanations are about sharing more information with communities so that people can make their own informed decisions. That might be that just rearranging an outdoor activity which was planned in the days of this warning. It's worth keeping an eye on the Feels Like temperatures too.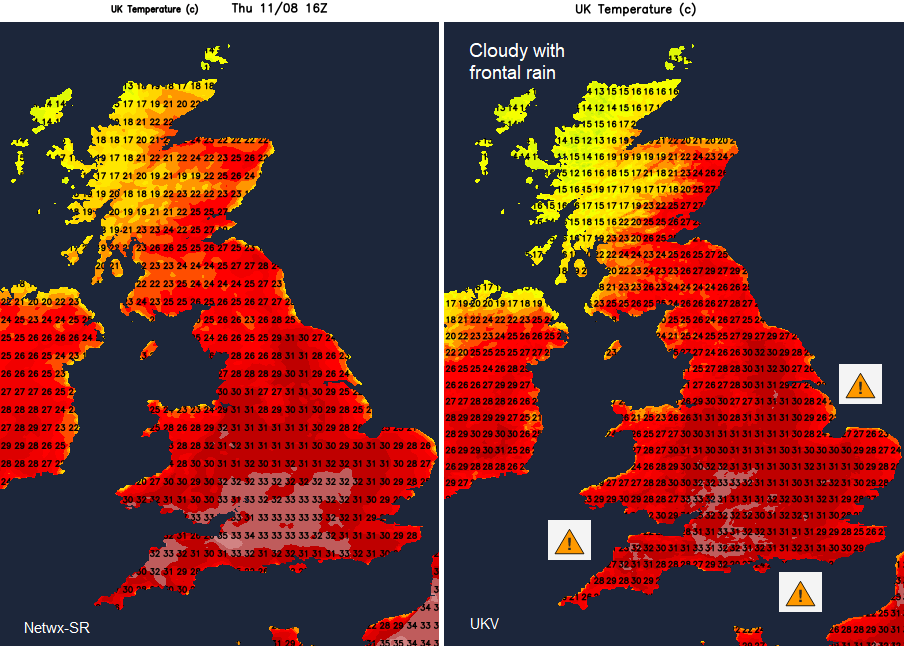 A frontal band is going to wave close to NW Scotland over the next few days bringing more cloud, some rain and more of a breeze. All this will keep the temperatures down here. Northern Scotland escapes the heat with an occasional day of coolness reach north coast Northern Ireland or coastal NE Britain. The focus of the most intense heat remains for parts of England and Wales.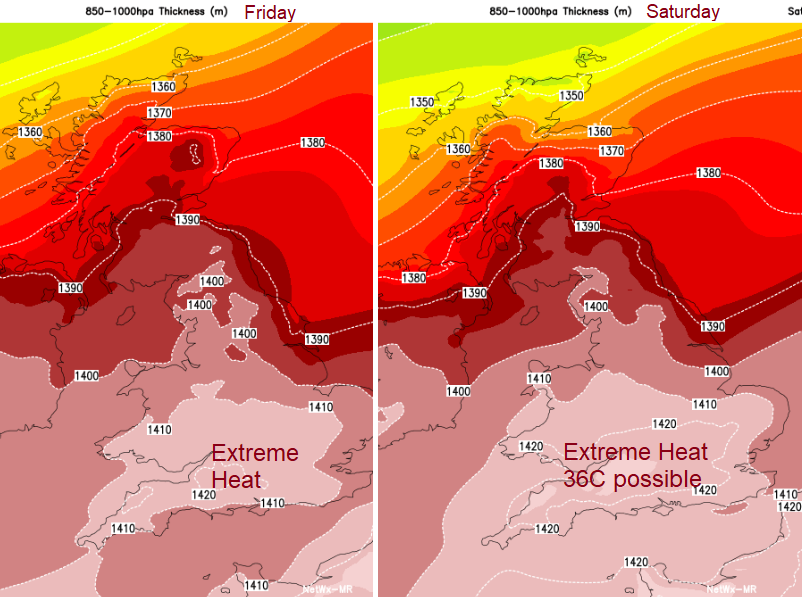 "a focus of the warmest weather in central-southern England. Headline max temperatures reaching mid 30's, most likely Friday or Saturday." Met Office
High pressure keeps our weather steady and settled. There will be more dry weather, plenty of sunshine and only light winds. The easterly gentle flow veers to the southeast later this week and that will feed in hot continental air as well. The dry ground is baked in the sun and keeps on heating the surface air. The heat remains by night (adding to stress) and so the next day gets even hotter until something changes.
Western France is also under an ongoing heatwave warning which will extend to the north of the country for the rest of the week. Also lasting until Sunday 14th
"Temperatures are expected to start dropping from the west next Sunday as a stormy downgrade approaches." Meteo France
South-eastern Britain looks to still be seeing temperatures into the low 30s C on Monday, so yet another hot day after a balmy, uncomfortable night. Not ideal for those returning to work next week.
There is still uncertainty about when this hot spell will end with hefty even elevated thundery showers expected by the end of the weekend. This looks to be delayed until Sunday night, even until Monday now. More in the weekend update later but showers won't affect everyone yet could bring localised flooding problems in the heavier downpours.