Source: Met Office
Scotland has its own Water Scarcity Alert system implemented by the Scottish Environment Protection Agency (SEPA). It has issued a Moderate Water Scarcity for parts of eastern Scotland, following recent dry and hot conditions bringing low ground and river water levels.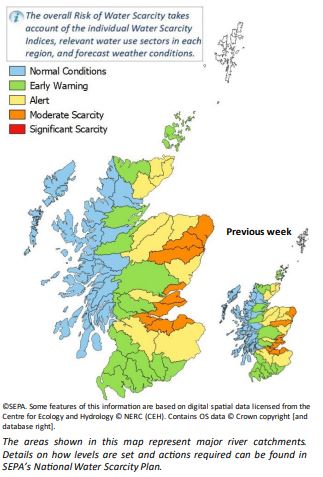 The lack of rainfall during spring and summer so far this year is having a wide range of impacts. For farming, the prolonged dry conditions this year are having greatest impacts across southern, central and eastern parts of England, farmers have had to irrigate their crops early this year due to lack of rainfall, putting greater demand on water resources, while lack of rain has meant a lack of grass growth – which could impact animal feed supplies for the winter.
With water levels becoming critically low in rivers, reservoirs and aquifers from lack of rainfall and increased demand from recent hot weather, farmers could start seeing restrictions next month on water usage to irrigate crops. Drought restrictions potentially brought in next month could mean farmers are banned from watering their crops in the crucial period of late summer into early autumn. Water demanding crops such as root vegetables and potatoes could be particularly under threat of failing should such water restrictions be needed.
With losses of these crops, there would be a knock-on effect of higher prices for root veg and potatoes in the supermarkets as a result. With big loses to farmers too.
Of course, the other impact of lack of rainfall is tinder dry vegetation. Dead grass, bone dry heathland and moorland can easily catch fire from a carelessly discarded cigarette, cinder from a barbeque or glass magnifying the sun.
There will be some scattered showers around this week. Showers mostly across northern and eastern areas today, most of these light, drier and sunnier in the west. Wednesday looking mostly dry. Then showers returning across the west on Thursday and Friday, perhaps the odd heavy one, drier and sunnier in the east. But the showers will be hit and miss and not really doing more than briefly dampening the ground where they do fall. Any rain from showers that dampen the ground quickly evaporating this time of year, so little if any penetrating the soil and working it's way into stream and rivers.
Although there will be showers in places, GFS showing little in the way of rain accumulations for central, southern and eastern Britain for the rest of the month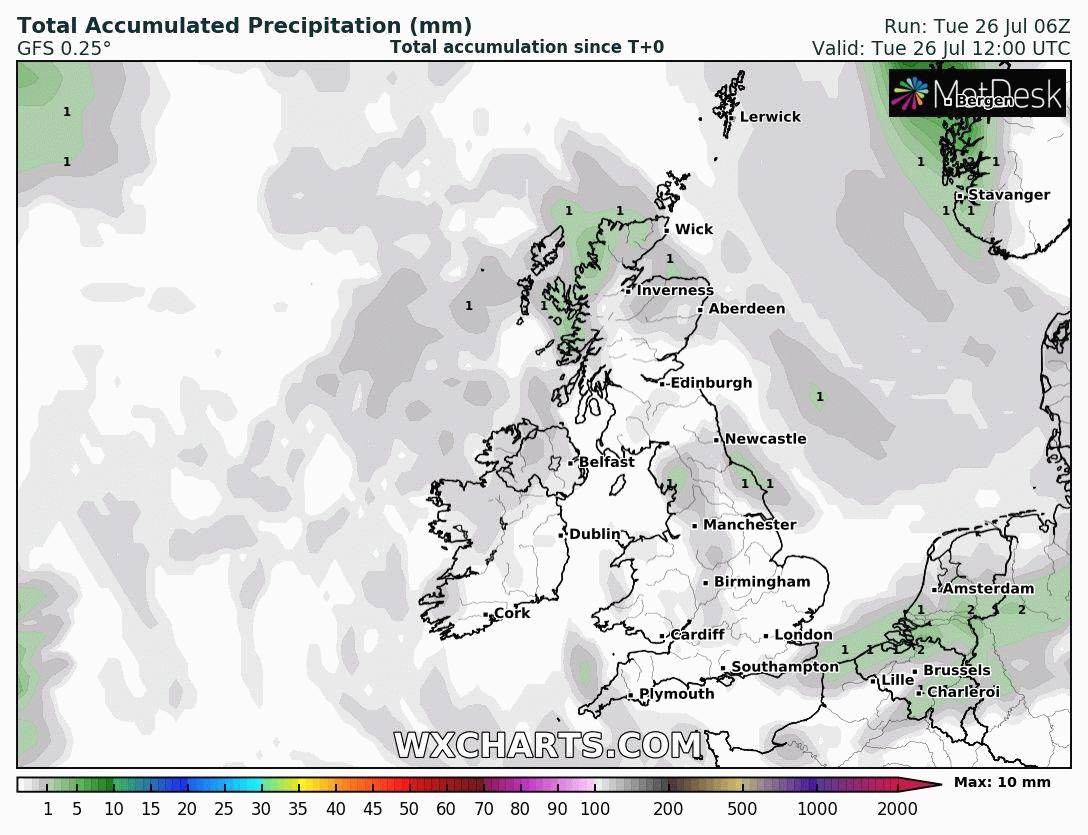 The threat of showers continues through the weekend, perhaps few heavy ones in the west, but they'll be hit and miss, with many places staying dry – particularly the east and southeast of England where it has been driest this summer. No sign of any prolonged rainfall for the rest of the month away from the far northwest – where rainfall has been closer to average.
Looking ahead into the first half of August, one of the longer range model forecasts, the ECMWF extended range updated yesterday, suggests a continuation of drier than normal conditions across large parts of the UK, thanks to the prominence of higher heights / pressure over NW Europe. Likely a continuation of the extension of the Azores high northeast across northwest Europe, as has been the case for much the past month.
Week 2 (Mon 01 - Mon 08 Aug) 500mb height anomalies
Week 2 (Mon 01 - Mon 08 Aug) sea level pressure anomalies
Week 2 (Mon 01 - Mon 08 Aug) precipitation anomalies
However, it is only one forecast and at ranges of 2 to 3 weeks ahead they can be inaccurate. But the latest GFS ensemble mean indicated a positive height/pressure anomaly (higher pressure) close to the west of Britain in the 9-13 day range (3rd-8th August), thanks to an extension of the Azores high. This suggests drier than normal conditions.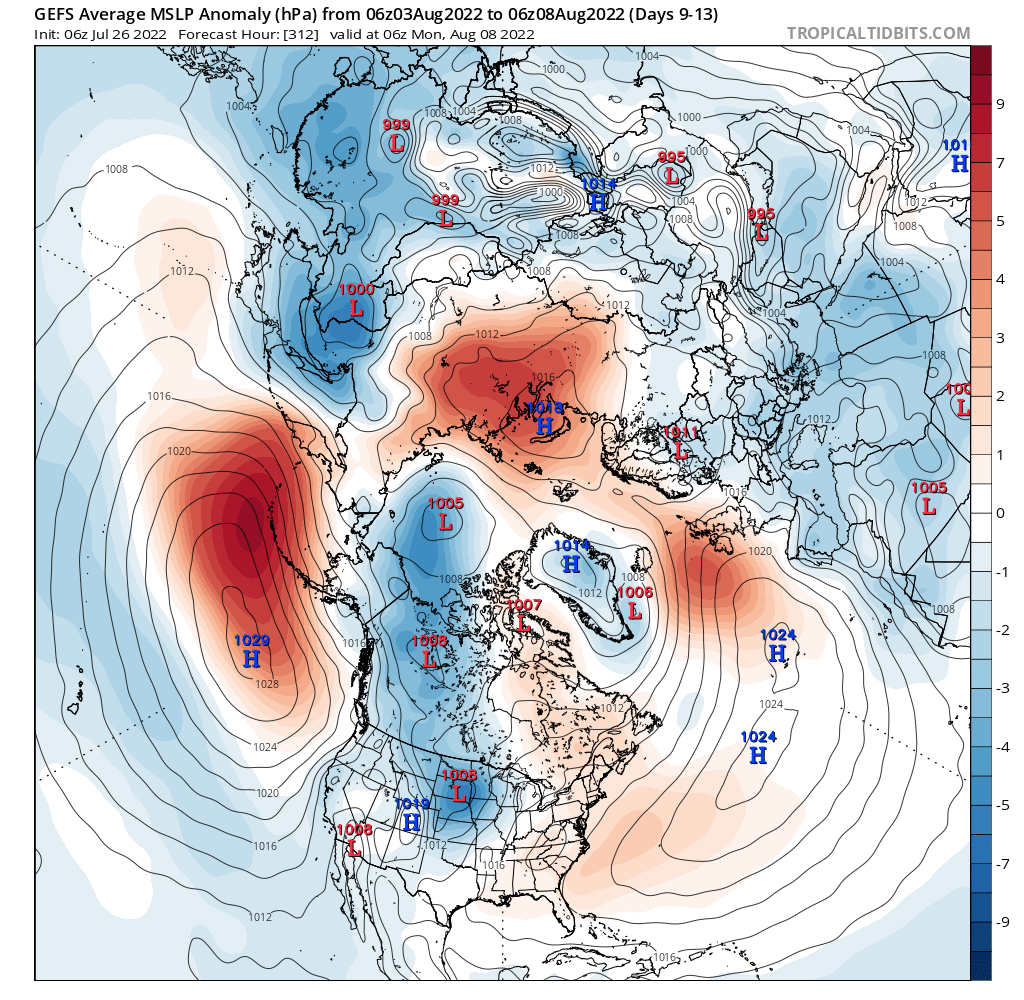 So, drier than normal conditions look most favoured to continue into the first half of August, with the threat of drought restricitons being implemented across parts of the UK, more particularly central, southern and eastern areas, looking more and more likely.