High pressure will be building in from the southwest this week, settling the UK weather down and temperatures will rise, into and up through the twenties Celsius. Showers and bands of rain continue to pester more northern parts, often passing over the top of the high and reaching Northern Ireland or western Scotland.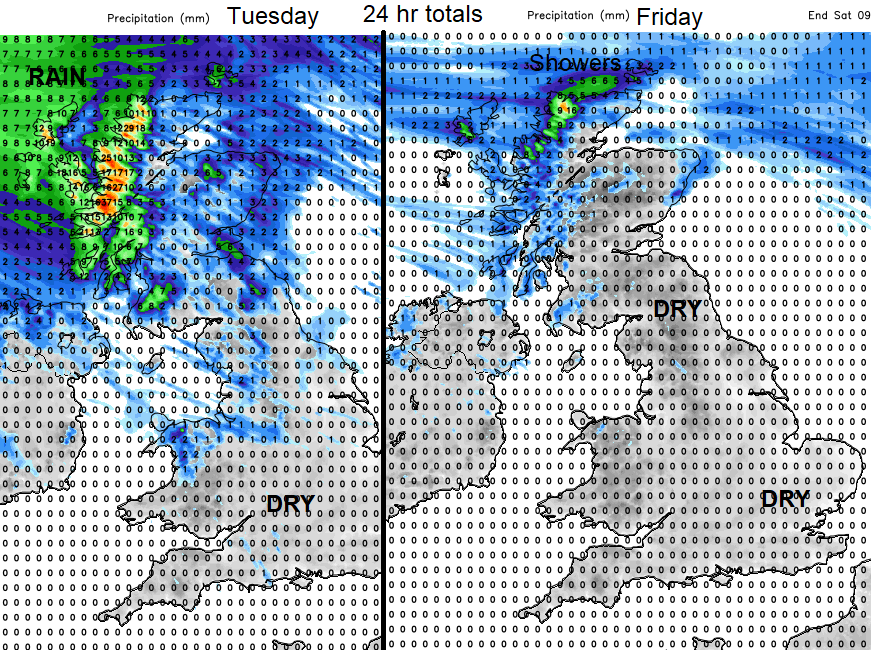 A fine, bright Monday for many but with showers continuing to arrive from the northwest. It will be wet and blustery for northern Scotland, with temperatures only in the mid-teens Celsius. Dry for southern Britain and eastern England with temperatures in the high teens to low 20s Celsius. On Sunday London Heathrow reached 24.2C. Later this week temperatures are expected to reach into the mid to high twenties with maybe 29 or 30C for Greater London.
Recently there have been torrential downpours plaguing parts of the UK, heavy showers linked to nearby low pressures. These are now fading but northwest Scotland really is in for a barrage of wet weather over the next few days before some improvement later this week. The blustery feed of showers will also reach Northern Ireland, NW Wales, northwest England. Areas exposed to the northwest get more showers, eastern and inland areas fewer. During the middle of the week, showery rain will reach over more of northern Britain, making Wednesday changeable for more areas. However, for the rest of England and Wales, at times eastern/SE Scotland and County Down there will be a lot of fair, bright and dry weather. Sometimes more cloud in the west but plenty of dry weather. River Flows across England were recorded by the Environment Agency as Normal down to Exceptionally Low at the end of June. Although fine July weather may be greeted with a smile, the lack of rain looks to continue through this week.