It's the end of June, Wimbledon has just begun and there is heavy rain and thunderstorms in the forecast. Western Britain and Northern Ireland bear the brunt of the wet weather, swinging in from the Atlantic on low pressures with a warning for Heavy Rain from the Met Office today for SW Scotland as one rain band piles in here. There will be fine, dry and bright weather about too, and the June sunshine is strong and warm. Wimbledon should get away with a full day of play today after yesterday's interruptions on the outside courts. Midweek, particularly Thursday will see heavy and thundery downpours then a gradual subduing of the showers for the end of the week with high pressure building over France, then Germany. So more so for SE Britain, still unsettled for NW UK.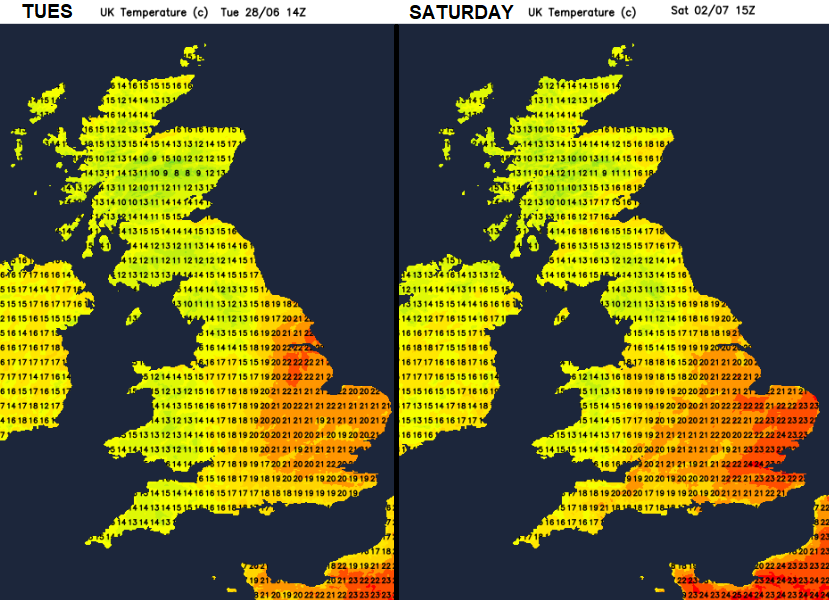 The sun's rays may be strong but the air isn't hot this week. Sheltered sunny spots will feel warm and the UV is still moderate to high but temperatures stay in the mid to high teens, just into the low twenties Celsius for the next few days. Then at the weekend, the sunnier eastern and southern parts of Britain could move into the mid-twenties Celsius.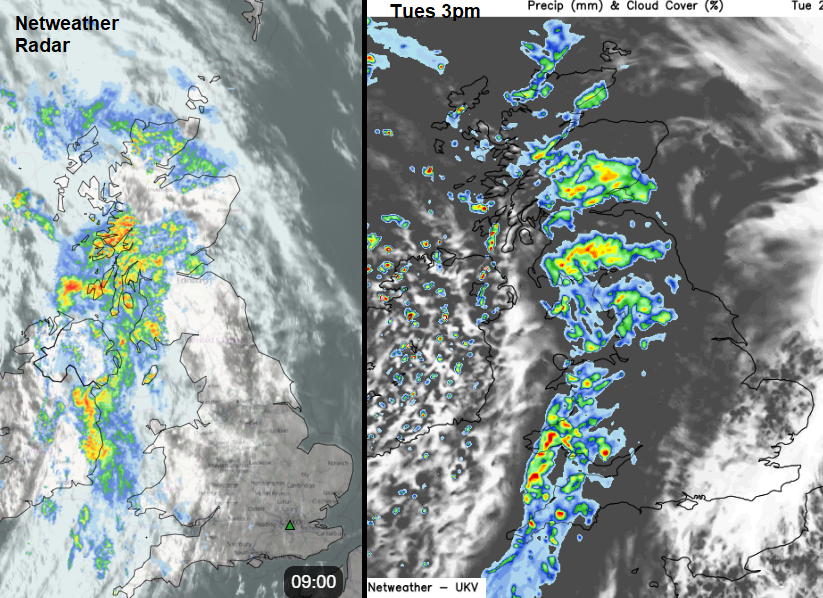 A mature low pressure is stalling out west with a whole collection of occluded fronts wrapped around it. These rain bands feed rain up from the southwest, over Northern Ireland and into western Britain. Northern Ireland will see the main rain and cloud band clearing eastwards this afternoon but there will be sharp showers with the brighter skies. A fresh southerly wind will veer to the SW later in the day but could be strong and gusty for the coasts of Down and Antrim so feeling cool here at lunchtime. It will be windy through the Irish Sea, the North Channel, up the west coast of Scotland. The rain just continues with Dumfries & Galloway and Ayrshire bearing the brunt of the incoming wet weather. There is the risk of flooding here and already Network Rail has introduced speed restrictions on some lines.