Isolated showers and a few clusters work their way right down through Britain into the evening, fading as rain over SE England around midnight with a slight risk of ice. Snow showers continue for northern and NE Scotland through until morning with temperatures widely around freezing inland across the UK. There will still be a noticeable cold breeze for northern Britain and eastern England on Saturday. For SW England, and south Wales lighter winds and warm sunshine and calm for Northern Ireland with plenty of fine weather. Scotland continues to see wintry showers on a west wind.
Calm and clear overnight with the high over the UK, it will be dry and frosty.
Sunday
Cirrus will soon be over Northern Ireland on Sunday morning as the winds back. Fine and settled with hardly any breeze for Britain. The high cloud will increase from the west through the day but it will feel warmer with plenty of fine weather.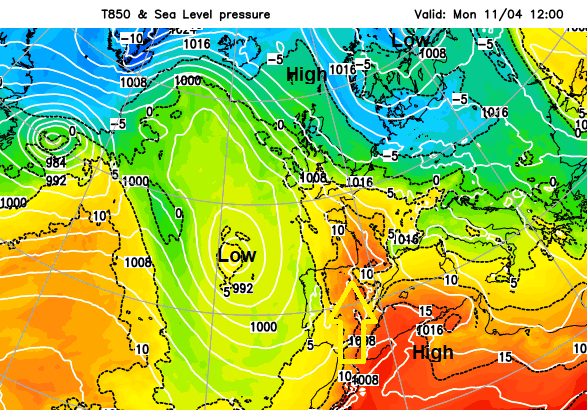 Next week, more cloud, outbreaks of rain, sometimes heavy with blustery winds. There will be a warmer flow of air from the south. Temperatures will shift into the low/mid-teens with some southern areas potentially getting even warmer by the middle of next week. The cold air remains for the Northern Isles and might get caught up just before Easter weekend, pulled onto the east coast of Britain. We await developments. Chilly air but fine this weekend, warm sunshine and a milder end.
Tags:
UK Weather
&nbsp