Wednesday
A different picture tomorrow after the dry and mostly sunny day today. There will be a two-pronged attack from frontal wave moving up from the south and a cold front moving in from the west. Increasingly widespread and locally heavy rain will develop from the south across southern, central and eastern England through the day, while a band of rain moves in from the west across Wales, northern and western parts of England while clearing east from Scotland. Brighter, drier and cooler conditions spreading in from the west across Scotland, N. Ireland and eventually west Wales through the afternoon into the early evening, following outbreaks of heavy rain clearing eastern England. Still rather mild across the south, temperatures reaching 11-14C, temperatures falling into the afternoon across the north as the rain clears east, afternoon highs of 6-9C.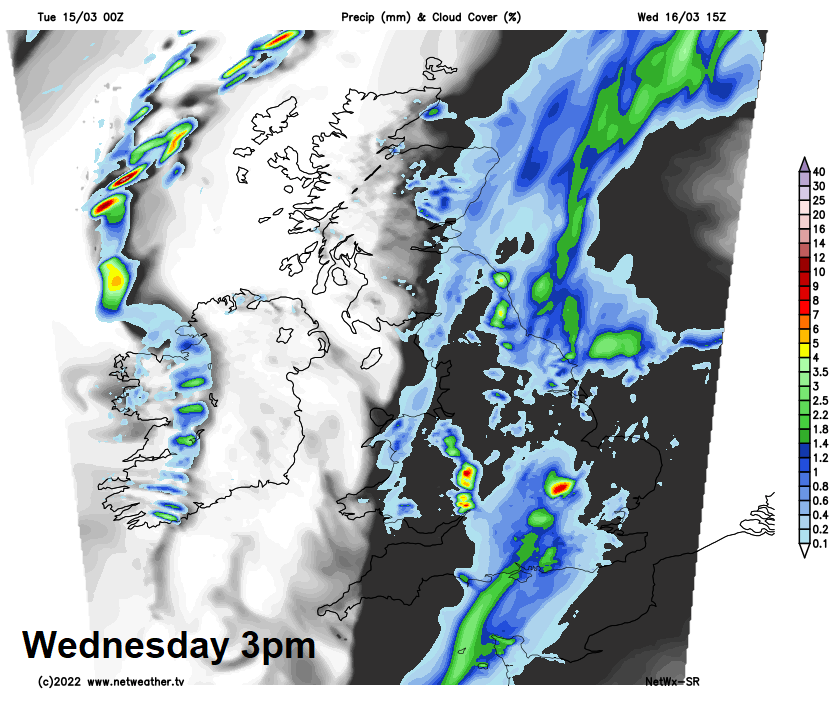 Thursday & Friday
A better day for England and Wales on Thursday, as a ridge of high pressure builds in from the southwest, bringing a dry and sunny day and pleasant in the sunshine. A band of showery rain along a cold front moving in across Scotland and N. Ireland through the day, turning to snow over Scottish mountains – as colder polar air digs in from the west, with wintry showers following across the far northwest.
High pressure builds in from the southwest through Thursday & Friday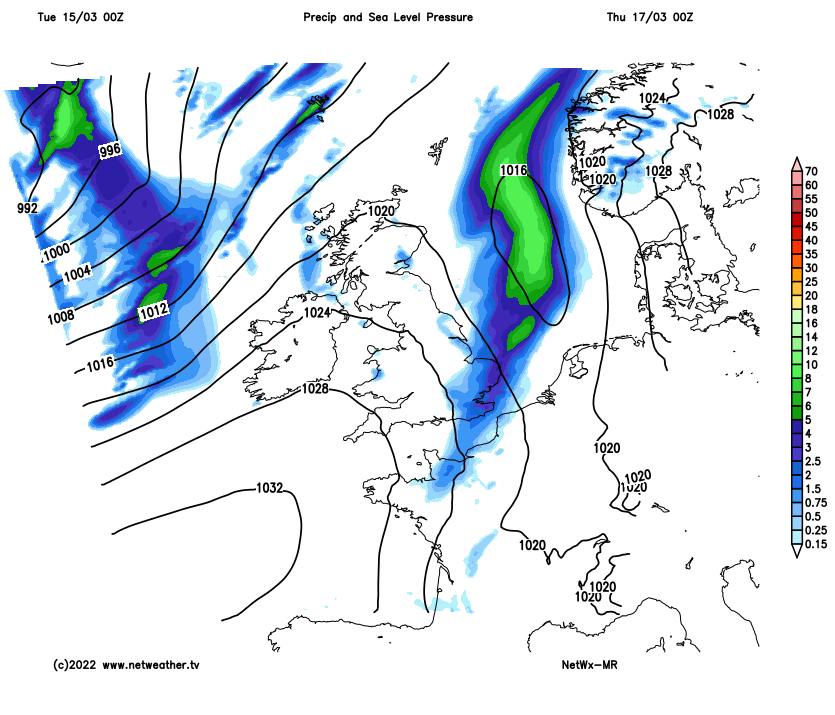 Friday sees an area of high pressure drift northeast across the UK and on over the North Sea, so it will be mostly dry and settled, with patchy cloud and a good deal of sunshine for many. Perhaps more in the way of cloud and a few showers across the far north of Scotland.
Weekend
The weekend's looking dry and settled too, with high pressure close to the east, though with a brisk southeasterly wind for many. Sunny and mild by day, but with the dry continental airmass, it will turn chilly at night, with a risk of frost. Risk of a few showers spreading north from France across southern areas later on Sunday, but uncertainty this far off.
Tags:
UK Weather
&nbsp