The impacts of the catastrophic flooding during the week across parts of western Germany, eastern Belgium and the Netherlands, which has claimed over 150 lives, with hundreds still missing, has been shocking to see in the news. Over 2 months' worth of rain fell in 2 days during the week in western parts of Germany and neighbouring parts of eastern Belgium.
A slow-moving upper and collocated surface low over Germany Tuesday – Thursday pulled in a continuous supply of warm and humid air wrapping around the northern flank of vertically stacked low, the warm and moist air lifted along a stationary occluded front lying across France, Belgium and western Germany. The heaviest rain across eastern Belgium and western Germany.
500 hPa and MSLP 00z Tuesday – 00z Thursday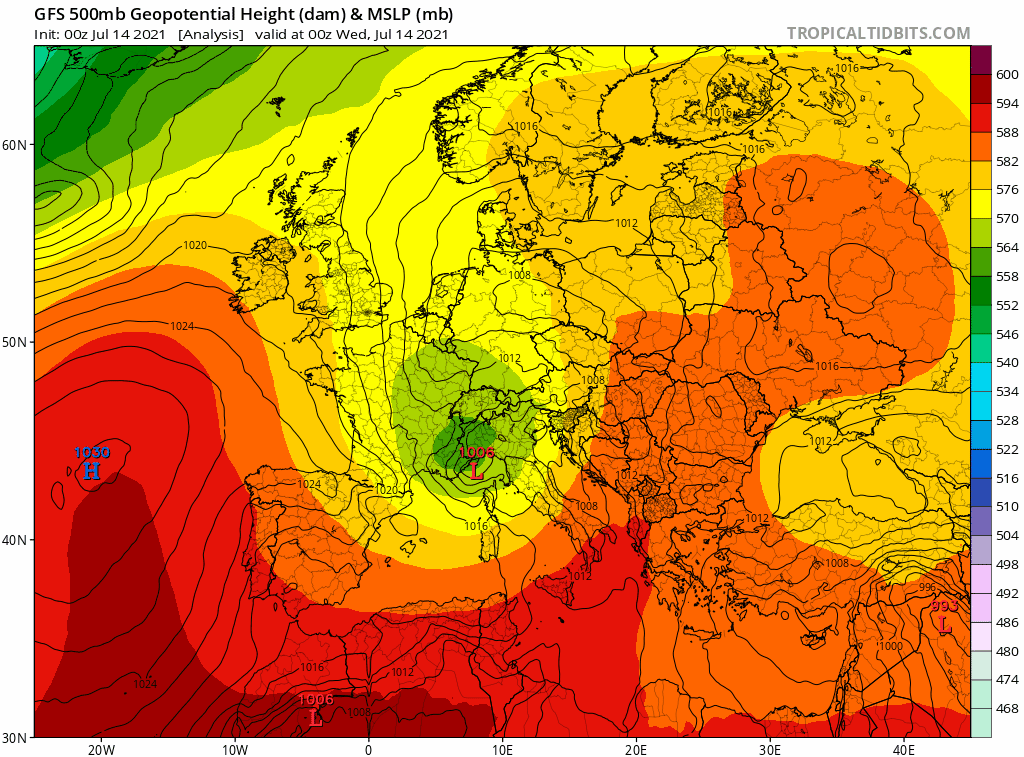 PWAT ( Precipitable Water) anomaly 00z Tuesday – 00z Thursday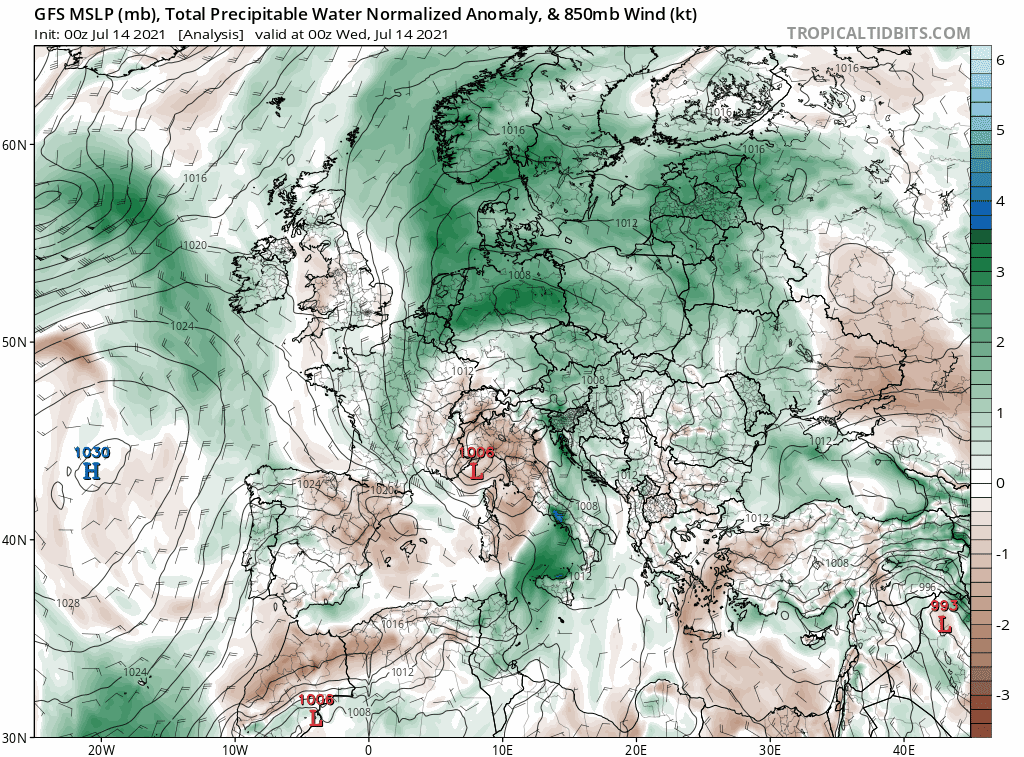 24 hour accumulated precipitation totals up to 06z 15th July 2021. Source: DWD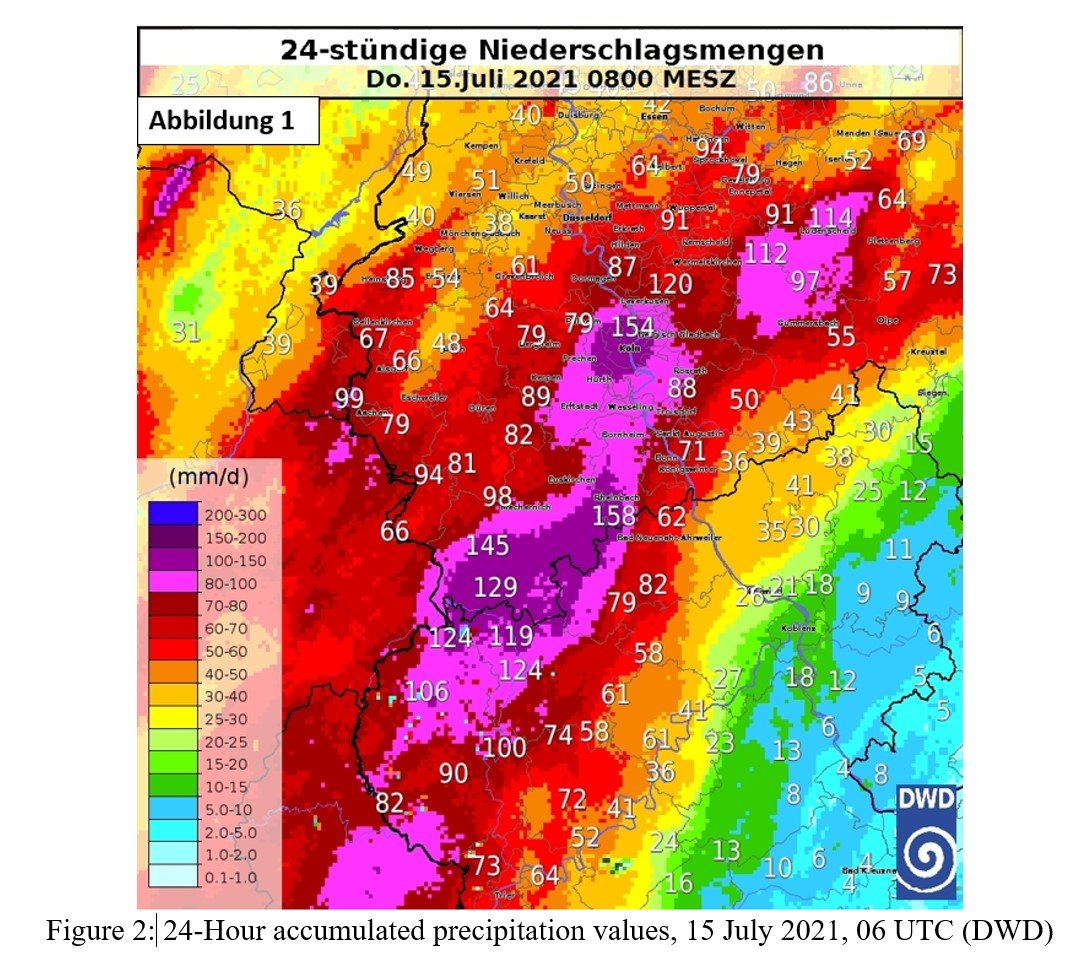 The same low pressure system brought a slow-moving line of thunderstorms across London on Monday, bringing flash-flooding in the north and west of the capital.
The low pressure was slow-moving over Germany because it became trapped in what's known as a 'Rex Block' - where an area of low pressure is trapped between two blocking highs on either side.
The event highlights the need to prepare better for such events in the future, which could become more common thanks to climate change. It appears that although authorities sent out flood warnings, either they didn't reach people in some of the areas that were severely affected, or they were ignored. The grave situation in some communities was not helped by how quickly the floods rose, which gave people little time to evacuate to safety.
The potential for extreme rainfall over these areas was predicted by models last weekend. For example, the 00z GFS run from last Sunday (11th July) shows high 24-hour rainfall totals between Wednesday morning and Thursday morning over the same area that saw severe flooding develop during the week.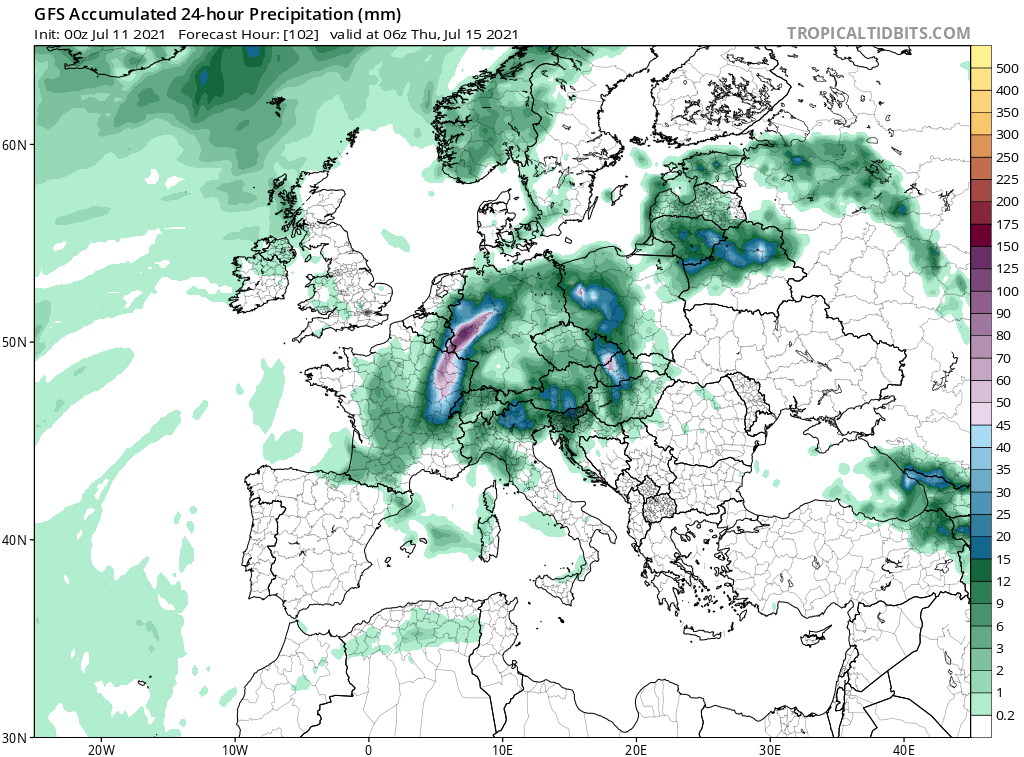 As a result, the European Flood Awareness System, an EU early warning system for dangerous floods, sent alerts out last weekend to authorities in Europe that were likely to be affected. The warnings reached some, but they clearly didn't reach everyone, and for those it didn't reach, they wouldn't have known what was coming and would have had little time to escape the rapidly rising flood waters.
Although the EU early warning system sent out the alerts, clearly, there were breaks in the chain of communication on a more local level, with flood forecasting and warning systems differing between European countries. It seems apparent it was left up to the different authorities in the regions affected to determine the flood risk and then act on evacuating people, with no clear overall chain of command to co-ordinate warnings and actions to make people safe. Clearly, not enough was done in some places to evacuate people in time.
There is also the need to prevent such unacceptable levels of deaths from flooding in the future, to improve flood defences, but also improve education to make people take notice of warnings, to be aware and prepared of just how critical and quickly floods can develop. Not just in these areas, but everywhere near rivers that have a history of flooding. Not just the bigger rivers, which usually have more investment for flood defences, but also the smaller tributaries.
Although these are the worst floods in living memory for the areas affected, it's not the first time some of the areas flooded this past week have experienced catastrophic flooding. The Ayr Valley in western Germany, one of the areas badly affected this past week, saw devastating flooding on 12th June 1910 in the same locations. At least 52 people were killed, some estimates suggested a lot more.
In August 2002, devastating floods wreaked havoc across Austria, Germany and eastern European countries bordering to the east, killing 110 people and causing 15 billion Euros worth of damage. So it's possible more devastating, and deadly floods will occur in the next few decades somewhere in Europe, perhaps accelerated to be more frequent thanks to climate change.
Climate change makes these flooding events more likely. The warmer air is, the more moisture it can hold, so rising temperature from global warming means more extreme rainfall events are likely across parts of the world, as well as more severe heatwaves.