High pressure in charge this weekend means it will be mostly dry and settled, but there will be a lot of cloud, mist and fog around. The best chance of sunshine on Saturday across central and northern Scotland, while further south a warm front moving north brings cloudier skies, milder air, along with a few showers across western parts.
On Sunday, most places will probably be cloudy or foggy, best chance of seeing the sun in the northeast, far south and far west. High pressure relaxes early next week to allow a frontal system to slide southeast bringing cloud and rain for most on Monday. An although high pressure builds back Tuesday, bringing a mostly dry day, it looks to turn increasingly unsettled and windy from the northwest from mid-week, as low pressure moves in, bringing spells of rain or showers along and increasingly hill snow in the north as the air turns colder.
Today
For now, a misty, murky and mild start for southern half of Britain, damp across the west, colder and brighter start for many northern areas, temperatures below freezing across NE England and eastern Scotland, as low as -4C in Newcastle at dawn. There are two warm fronts across the UK to start the weekend. One front is bringing cloudy skies across northern Scotland to start Saturday, with some patchy rain in the far north. While another warm front moving north across southern areas is bringing a cloudy start with hill fog across much of England and Wales, along with some showery rain across Wales the Midlands and NW England. In between these two areas of cloud, a clear but cold and locally frosty start across southern and eastern Scotland, N. Ireland and the north of England.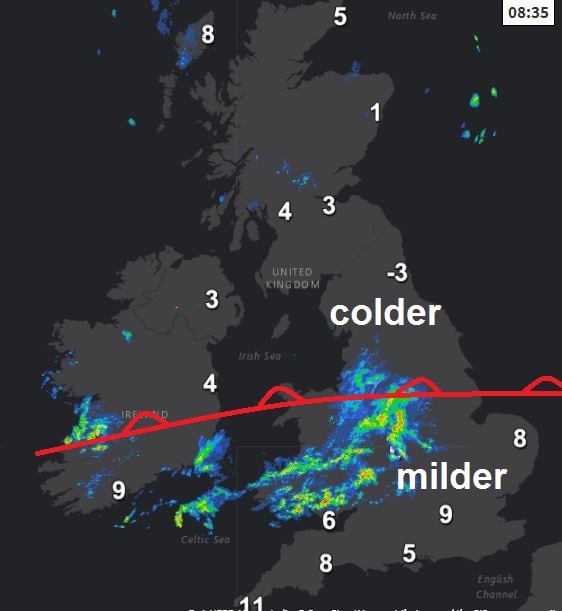 The warm front across northern Scotland will move away north through the morning, taking its cloud with it followed by increasing sunshine from the south. Meanwhile cloudier skies with hill fog will extend further north across England and Wales through the morning, showery rain moving up across Wales, Midlands and northern parts of England. Most parts of England and Wales dull but mostly dry through the afternoon too, though a few showers in the northwest, the cloudier skies arriving from the south across N. Ireland and southern Scotland too. But for central and northern Scotland it will be a mostly sunny day.