One word could probably describe the weather this weekend: Messy. There'll be bands of rain or showers about throughout, with blustery winds and just a few drier, sunnier periods slotted in around them. With low pressure staying well in charge into next week too, the unsettled flavour will continue.
For today (Saturday), there'll be frequent showers with occasional bands of more organised rain moving southwest to northeast through the day. That'll all be blown through on strong, gusty south to southwest winds which will increase into the afternoon in southern areas, and spread north through the Irish channel later. Gales are likely near to southern and western coasts. Despite all of that, a few sunnier periods are possible in western and central parts during the afternoon, and particularly into Wales and southwest England during the late afternoon and early evening. Despite the wind and rain, it'll not be a particularly cool day, with all parts reaching 10-14c.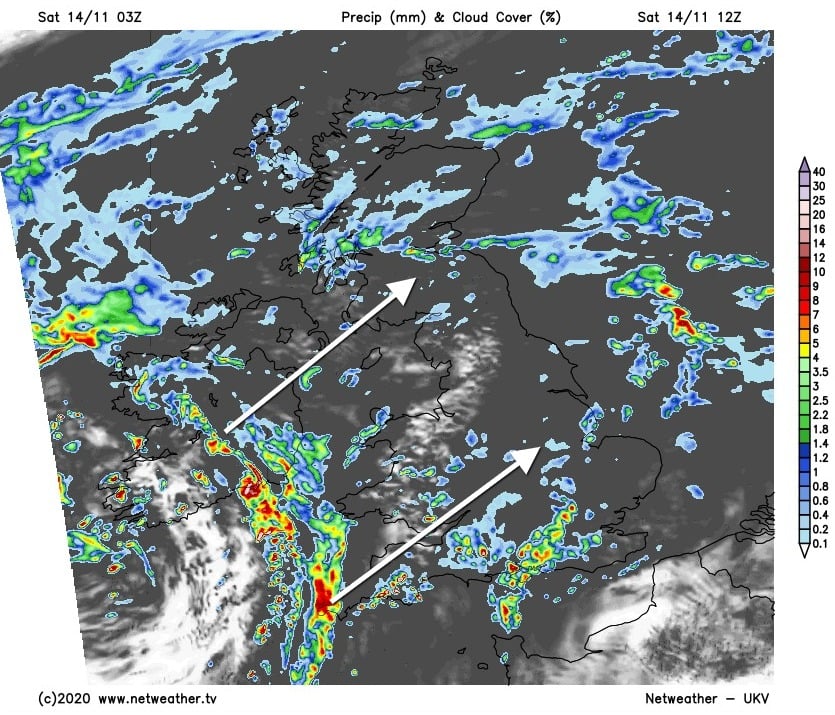 This evening and overnight, the rain and showers will die out in many areas eventually, but it's likely to continue in northern and western Scotland, along with southeast England. By dawn though, there'll be more bands at times heavy rain working their way in from the southwest, with brighter spells but also heavy, squally showers following in from the west behind them. Sunday will also be a windy day again, with southern England likely to see the strongest gusts, with severe gales possible in exposed places.
Temperature wise, a cooler airmass will be arriving from the west during the day. So Eastern parts of England are likely to start the day at 12-14c, but it'll cool off as the way wears on. Top temperatures in western and central parts will be more like 8-11c.