There is going to be a lot of rain over the next few days, particularly for western areas of the UK and Ireland. And strong winds with gales by the weekend. The powerful low pressure, which contained the remnants of Hurricane Epsilon and is continuing to bring a huge swell and incredible surf to the west coast of Ireland, is now retrograding closer to Greenland.
Coastal Flooding SW England "Large offshore wave heights exceeding 7m are forecast, together with F7 westerly winds. Spray and overtopping due to powerful waves…Conditions in exposed locations are likely to be hazardous and people are advised to take care next to the coast." Environment Agency
Nipping up from the SW is a sequence of developing low pressures along a frontal boundary and this will just keep on feeding in the wet weather. Areas such as the Welsh mountains, Cumbria, SW Scotland, with high ground where the air is forced upwards, will see large rainfall totals and there are flooding concerns. Also adding into the mix for our UK weather will be Zeta. This just made landfall as a high-end Cat 2 hurricane over Louisiana on Wednesday and will move across the US back out into the Atlantic Thursday night and once more bring tropical oomph to a low pressure heading our way. The rain warnings continue from today into the weekend when they extend across more of Britain.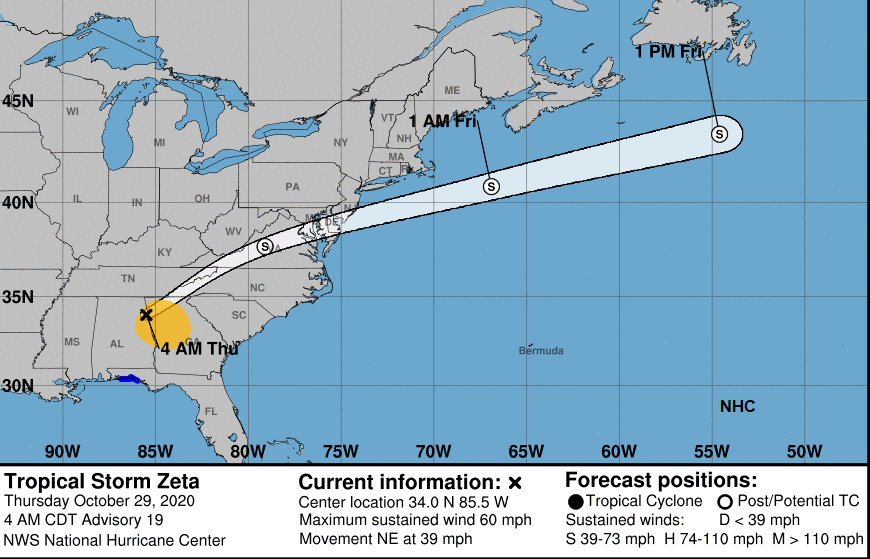 Southern England saw lively downpours on Wednesday as a line of torrential rain and thunderstorms moved over the SE during the afternoon. With ominous skies, squally showers and lightning it was quite dramatic. We have widespread warm front rain with the cold front moving over Ireland later today.