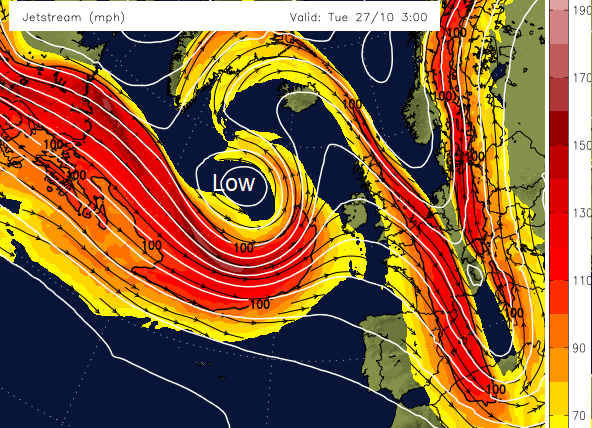 As it retrogrades north-westwards a new low pressure and frontal bands nip up from the SW and bring a lot of rain to western Britain. The Environment Agency is already highlighting a risk of flooding.
Widespread flooding is possible but not expected in Wales and north-west England from rivers and surface water on Thursday and Friday. This is due to heavy rainfall falling on wet catchments. Further heavy rain is forecast over the weekend in similar locations. Properties may flood, and there may be travel disruption.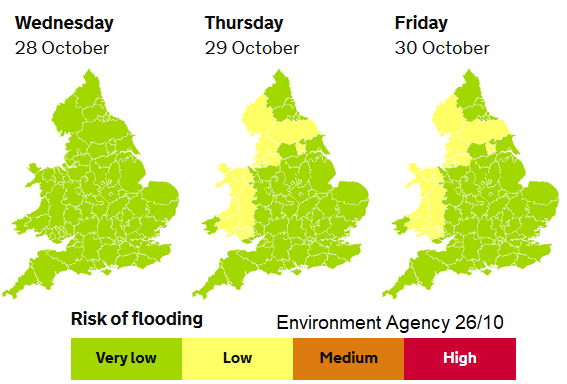 There will also be heavy rain for western Scotland and at times for Northern Ireland. There is some uncertainty about where these conveyors of rain will set up shop and so which parts of Ireland and the UK will see the most rain, but with already soggy ground and so much more rain in the forecast, the Met Office has already issued an initial yellow warning for Wales and NW England.
"...whilst areas of higher ground exposed to strong southwesterly winds are likely to see 50-80 mm. The heaviest rainfall, however, is expected to be across the hills and mountains of northwest Wales where 100-130 mm of rainfall is possible by the end of Friday."
There will be even more rain at the weekend. Farmers will be unhappy. It will become windy on Thursday and wild at the weekend as another low pressure moves by.