This is ahead of the main Atlantic low, the combination of Low2 and what was Epsilon. Low1 pulls off into the North Sea with some blustery winds for coastal areas. It becomes clear and cold, the showers fade, and the winds ease down just for a time. Inland Scotland will see a touch of frost, Northern Ireland might briefly around midnight, but cloud and the rain will appear for Ireland, Cornwall, Devon and Pembrokeshire before dawn. There is milder air caught up in this system and the southerly winds freshen for Tuesday morning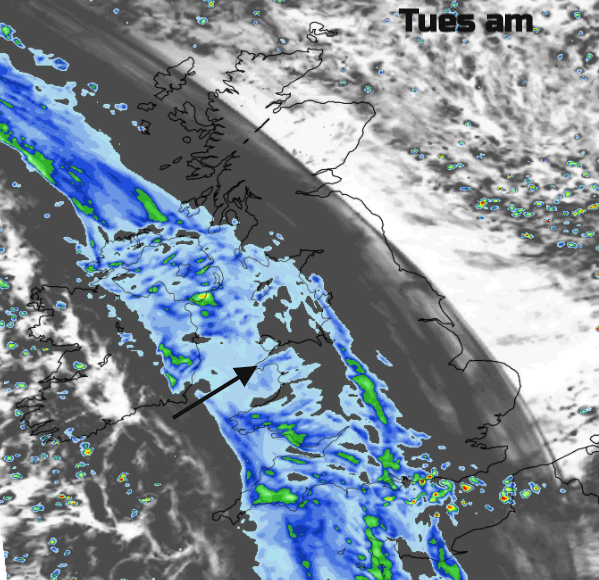 Behind the frontal rain which looks to include line convection on its back edge as it clears Northern Ireland or western Scotland at lunchtime, temperatures will rise into double figures in the westerly wind. The clearance will bring sunshine and blue skies, quite a change but a scattering of sharp showers for SW Britain. Although this is more rain on the soggy ground it is moving through quite quickly. Grampian looks wet during Tuesday night and the winds may need watching as a new little low centre forms over the North Sea. Heavy blustery showers appear for western and southern UK with the risk of hail and thunder blown in on brisk SW winds from the main low.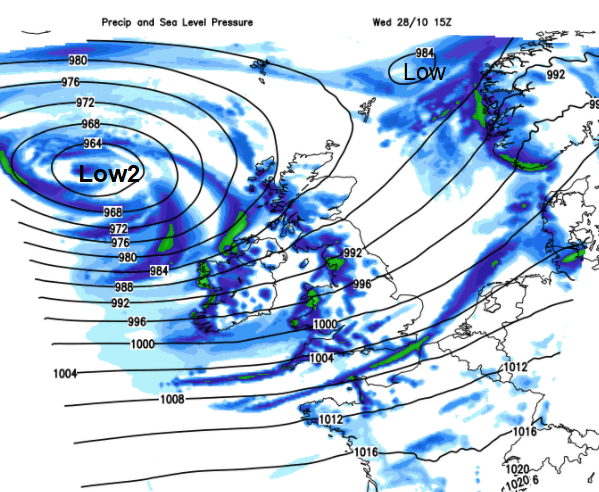 Wednesday looks blustery with heavy showers, particularly for western Wales and Cumbria, with bright spells. There are concerns about the amount of rainfall later in the week and so flooding issues. It will remain unsettled, with strong winds at times but with much milder air drawn up from the south.