After a quiet spell of weather over recent days, weather warnings are back in force to start the new week. The Met Office warnings are for heavy rain affecting Northern Ireland and parts of Scotland, which could bring a risk of flooding and travel disruption. Rain will affect Scotland and the far west today, drier and brighter elsewhere, while milder than recently too. Rain or showers become more widespread on Tuesday, and it will be a windier day too. A spell of heavy rain looks to spread northeast across England on Wednesday with showers elsewhere. Perhaps a drier respite on Thursday, as a brief ridge of high pressure moves through, but rain could return from the west on Friday.
Today
For now, rain moved in from the southwest across much of Scotland, N. Ireland and the far north of England overnight. A wet morning commute for much of Scotland, but the rain has stopped for N. Ireland for now and will ease north for a time from southern Scotland during the morning, bringing a brief drier interlude, before outbreaks of heavy rain return from the southwest across N. Ireland then the rest of Scotland through the morinng.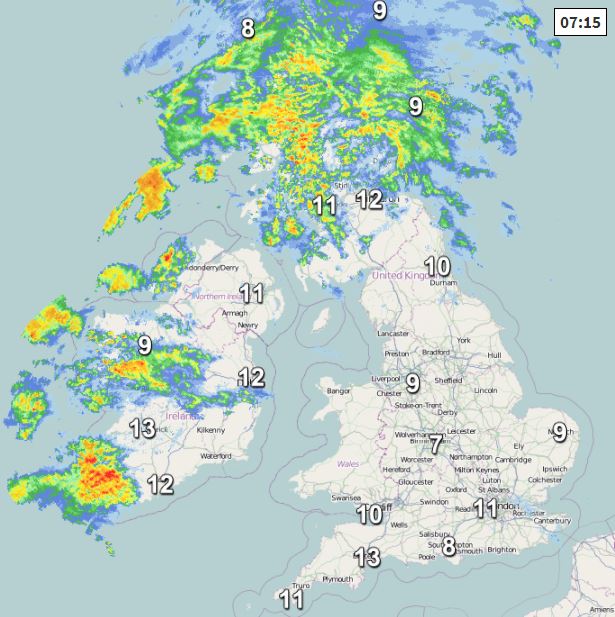 Rain continuing to pile in through the afternoon and evening here – hence the yellow rain warnings in force from the Met Office. These warnings in force across N. Ireland until 3am tomorrow, across parts of Scotland until 9am tomorrow.
Elsewhere, it will be often cloudy today, with occasional rain flirting with NW England and north Wales, with some patchy light rain or drizzle elsewhere in the west. But for central, southern and eastern England it will be mostly dry, with some hazy sunny spells developing across southern England, Midlands and East Anglia.