With low pressure away towards Denmark this weekend and high pressure building to the west, winds will swing round to a northerly direction, pulling down colder polar air across all parts, making for a chillier weekend. Sunday is looking the drier day of the weekend, as high pressure builds in from the west, while showers will drift south across most areas through today after a dry start in the south. It turns unsettled again early next week, as a frontal system bringing outbreaks of rain moves southeast across all parts on Monday, followed by showers on Tuesday. Showers becoming increasingly confined to southern England for the rest of the week while the rest of the UK becomes drier and more settled, as high pressure builds across the north.
Today
For now, it's a mostly dry and bright start across southern England, but further north it's a cloudier and damper picture this morning. A band of rain along a weather front will spread south from northern England across Wales, Midlands and East Anglia this morning, before reaching southern England by early afternoon. Showers will follow the band of rain from the north across Scotland, N. Ireland, north Wales and northern England through the morning, before spreading further south to affect all parts through the afternoon, as the early rain clears southern England. Showers turning heavy across central and eastern England, perhaps with hail and the odd rumble of thunder. Northern Ireland perhaps turning drier and brighter through the afternoon, as high pressure builds from the west.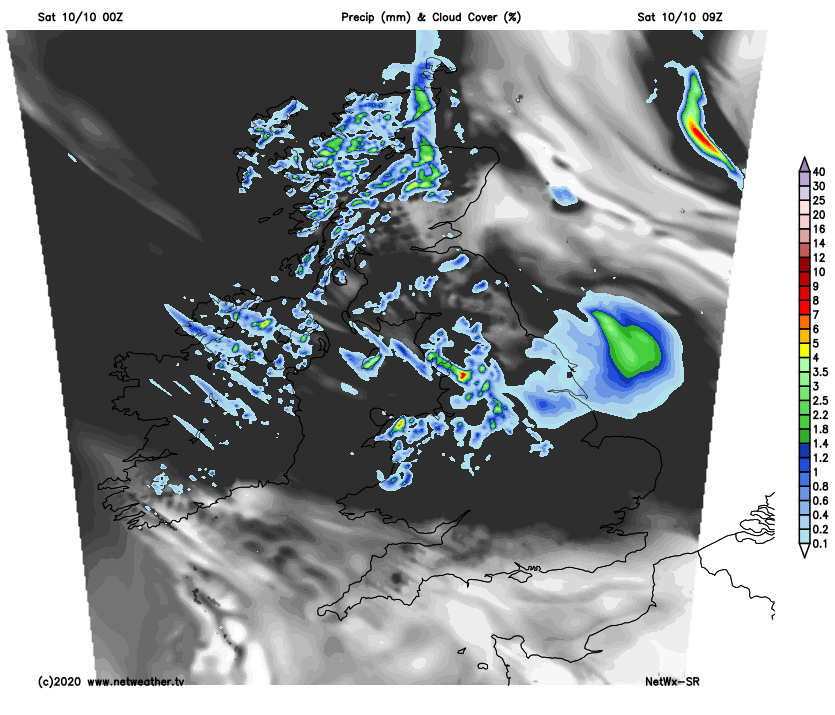 A chilly day, temperatures reaching 10-12C at best across Scotland and down eastern coastal area of England – where the wind will be strongest. Elsewhere highs of 12-14C at best. Temperatures dropping when showers move through.
Tonight
Some sharp showers for a time this evening across SE England and East Anglia, otherwise, showers tending to ease back towards eastern and western coastal areas. So, showers continuing overnight close to Irish Sea coasts through Wales and down into Devon and Cornwall, also across northern and eastern Scotland and along eastern coastal parts of England. Elsewhere becoming dry overnight, with clear spells leading to a cold night with temperatures dropping into single figures.