As we move into the start of next week, our resident low pressure will be just out into the North Sea, edging slowly north. So, Monday will keep the unsettled theme going, with sunny spells and showers. Some of those showers may merge at times to bring a more prolonged period of rain or two, but nothing like we've seen over the last 24 hours. The wind will still be blustery, particularly near to coasts (with the west of Scotland perhaps the exception), but with some sunny spells breaking through, highs of 13-16c shouldn't feel too bad.
Tuesday
The low pressure will carry on drifting north through the North Sea on Tuesday, moving up near to Scotland. It'll bring another day of sunshine and showers with it, with those winds still noticeable and swinging more into the northwest.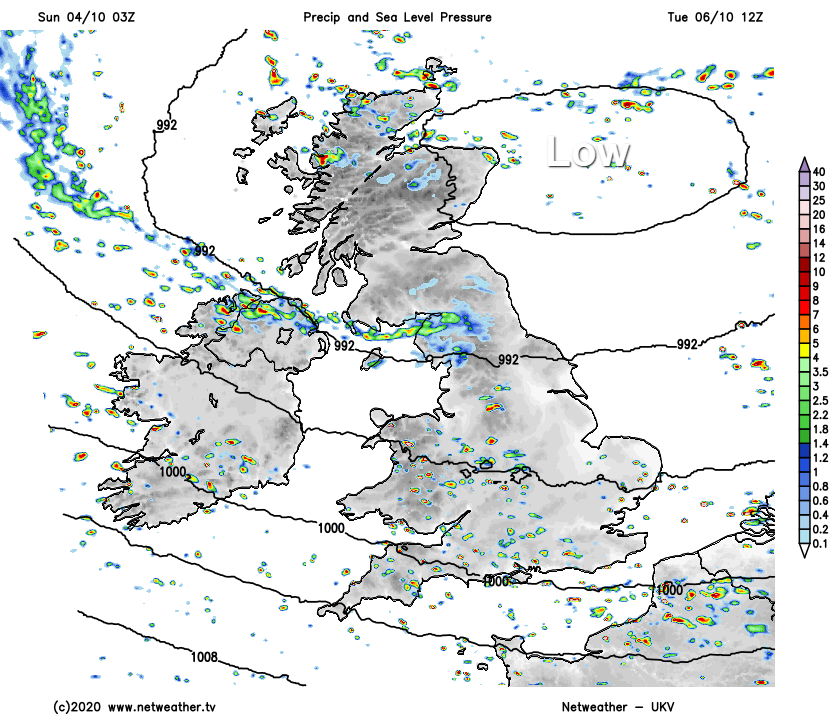 The low still won't be too far from the northeast of Scotland on Wednesday, with the northwest wind potentially a touch stronger. But, with the low being a little further away but then, it may be that the showers become more limited to the north and especially northwest of the country, with those further southeast more sheltered.
Into Thursday, and at last, the low which arrived this weekend will be out of the way. But, right on cue, another is set to follow in off of the Atlantic, bringing the next spell of wind and rain with it.