The weather is set to turn increasingly unsettled, windy and cooler through the rest of the week and into the weekend, as a powerful jet stream crossing the Atlantic takes aim at western Europe and deep low pressure takes control close to the UK. Rain will spread eastwards through today, accompanied by gusty winds. Thursday is looking somewhat drier and sunnier, though there will be scattered showers, frequent in the southwest. The weather going downhill quickly on Friday in the south, as a deep low moves up from NW France bringing heavy rain and gales, drier and brighter in the north. Wet and windy conditions spread north across all parts on Saturday, turning more showery on Sunday, cooler across all parts.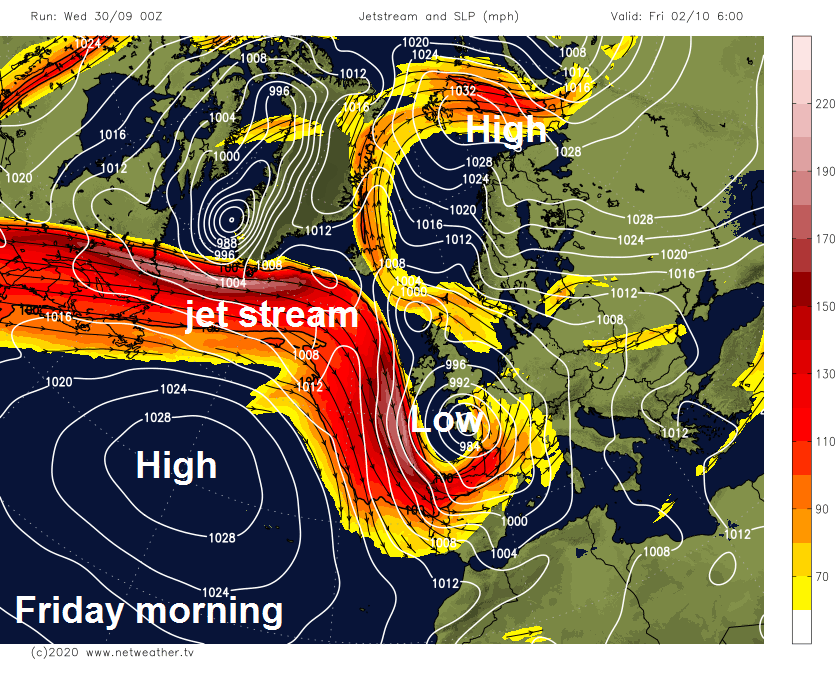 Today
It's a wet and windy start in the north and west this morning, however it's a dry and bright or sunny start in for eastern England, though with a few mist and fog patches in places. The frontal band of rain and gusty winds in the north and west, heavy and prolonged in places, will continue to move eastwards through the morning, but remaining dry and bright across SE England until outbreaks of rain accompanied by strong gusty wind arrives here this afternoon. Clearer but showery conditions following into some western parts later while the band of rain reaches eastern areas. Today's highs ranging between 10-13C in the north, 13-17C in the south.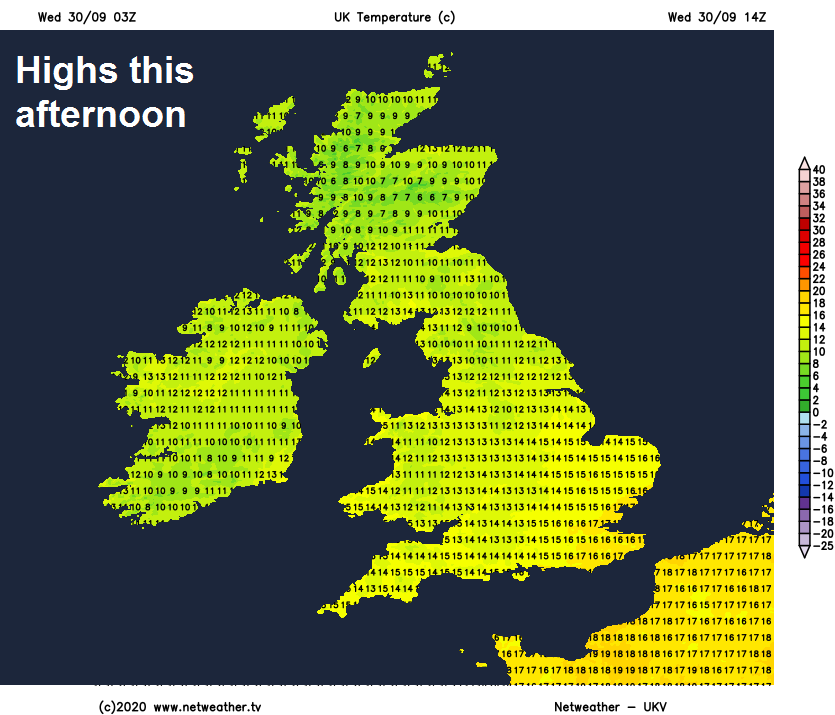 Tonight
Through this evening and overnight, most of today's rain will clear out into the North Sea, leaving behind clear spells and turning chilly as a result, with temperatures getting to close to freezing in rural northern and western areas. However, rain hooking around low pressure close to the northeast will plague parts of eastern Scotland during the night, while isolated showers will affect western coastal counties.