Recent weeks have seen plenty of sunshine and warmth across large areas of the UK, particularly England and Wales, while it has been rather dry this month across large parts of southern England, with very little rain. It was particularly warm early last week, as southerly winds off a hot near continent allowed temperatures to reach 31.3C at Frittenden in Kent last Tuesday, first time 30C has been exceeded in September since 2016.
However, a change is underway across the UK today, with the final 7 days of September featuring much cooler and changeable conditions for all and it will be windy at times too. And it looks like the changeable conditions will continue into early October too.
The recent warm sunny days and light winds across large parts of the UK has been courtesy of high pressure close by. This was initially centred over the near continent early last week, dragging in hot air from the near continent, before eventually high pressure repositioned further north across northern Britain, with cooler air sweeping in from the northeast, so all though days were still warm in the sunshine, nights have been on the chilly side.
With high pressure sinking back south and the flow changing to a warmer southwesterly yesterday, temperatures reached 26C in East Anglia yesterday. However, a cold front clearing England through today is introducing a much cooler polar maritime airmass. And from today we are unlikely to see temperatures reach even 20C for most for the rest of the month, with highs reaching the mid to high teens at best in the south, the low to mid-teens in the north.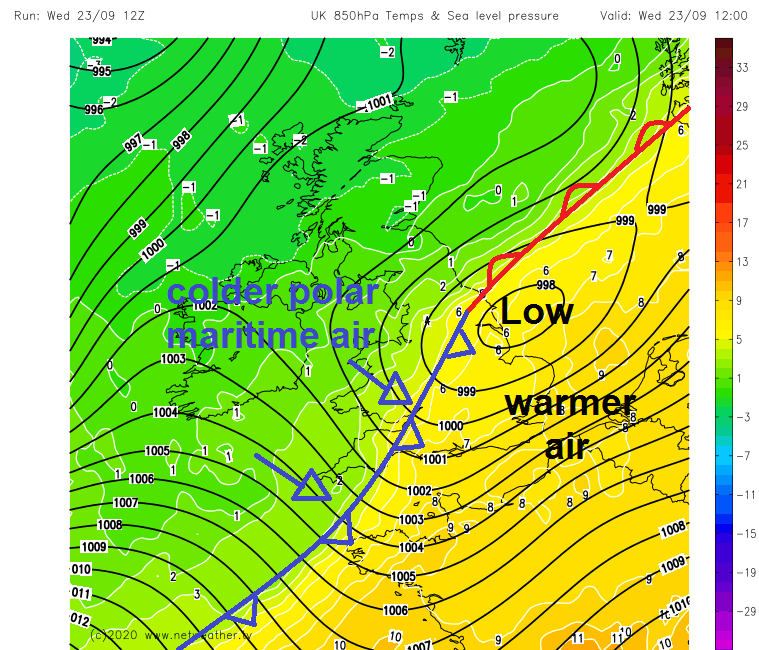 Part of the reason for the big change in weather away from high pressure domination to low pressure domination with lower temperatures is to do with changes in the jet stream over the Atlantic caused by Hurricane Teddy, which made landfall along Canada's Atlantic coast and is now a post-tropical cyclone.