CHC "The baroclinic forcing and warmer SST's of the gulf stream will likely maintain Teddy's strength on Tuesday even as it continues to undergo extra-tropical transition. Thereafter, an increasingly strengthening shear environment and cooler SST's should complete the extra-tropical transition process by the time the centre makes its approach along the eastern shore of Nova Scotia. Thereafter Teddy is forecast to steadily weaken as it moves into the South-eastern Gulf of St. Lawrence and will eventually become completely absorbed by another trough east of Labrador on Thursday."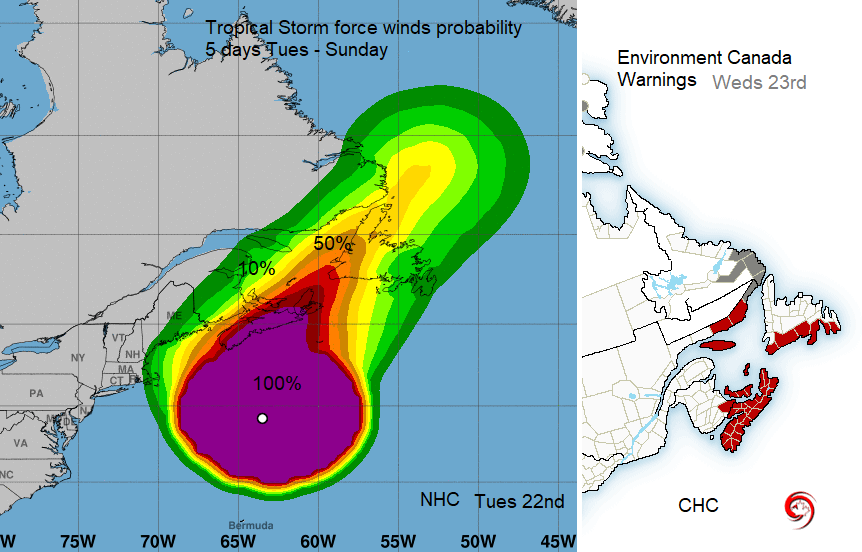 The CHC, Canadian Hurricane Centre was set up in 1987 after Hurricane Gloria in '85 moved from the US to Canada with all sorts of mixed messages and confusion in the media. Like the UKMO takes over land warnings from NHC, the CHC have warnings for Nova Scotia and Newfoundland.
Teddy is arriving nearly a year after Hurricane Dorian which devastated the Bahamas as a Cat 5 but ended up bringing torrential rain to eastern Canada. Teddy is not quite such a beast, although still displaying a 1000 mile wide circulation during transition. For the coastal communities, there will be dangerous conditions mid-week with destructive waves being mentioned. The tropical storm winds are likely to cause disruption. Trees are still in full leaf, bringing the risk of branches breaking and some tree falls, leading to power outages.
Rain- "From Tues through Thursday, Teddy is expected to produce rainfall accumulations of 2 to 4 inches (50 to 100 mm) with isolated totals of 6 inches (150 mm) across sections of Atlantic Canada." NHC. For Nova Scotia from Environment Canada – "Rainfall amounts in these areas could exceed 50 mm, with isolated areas possibly reaching 75 to 100 mm." so up to 4 inches of rain.
Storm surge warnings are in effect along the Atlantic coast of Nova. Large swells will continue to build toward the Atlantic coast Tuesday, with the highest waves expected to reach the Atlantic coast later today into Wednesday morning. Waves of up to 8 to 10 metres are expected and will break higher along parts of the coast. For southern Newfoundland, the largest waves, in the 6 to 8 metres range, are expected to reach southern coastlines on Wednesday. The storm should move over western NFLD and over the Labrador Sea by Friday.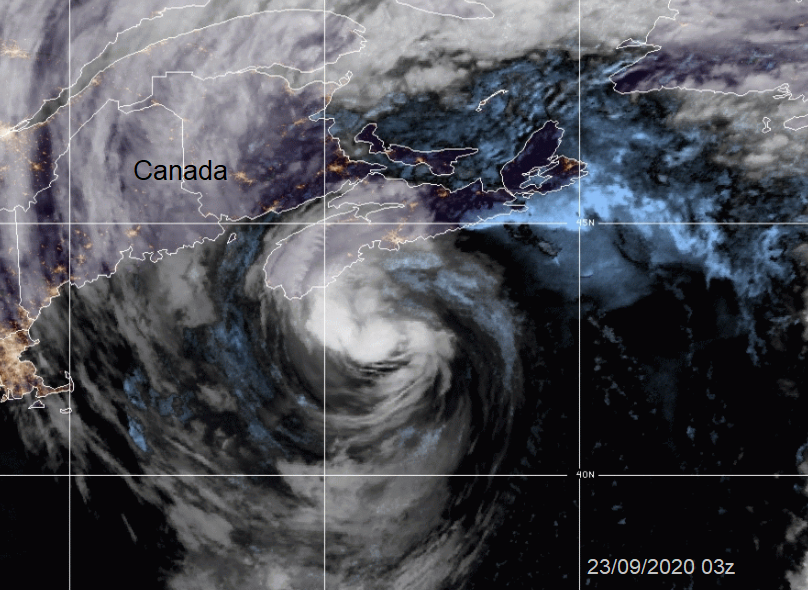 Other Atlantic Storms
Tues 22nd - Tropical Storm Beta has moved from the Gulf of Mexico and made landfall over Texas with heavy rains forecast to continue as it moves inland. There is still a dangerous storm surge warning and large swell along with the high winds.
Paulette is back, south of the Azores. As a hurricane, it moved right across Bermuda on Monday 14th Sept and has transitioned into a post-tropical low but now regenerated into a Tropical Storm, not troubling anyone.
"Stay away from the shore - the combination of surge and large waves could result in dangerous rip currents and the risk of being pulled out to sea." ECCC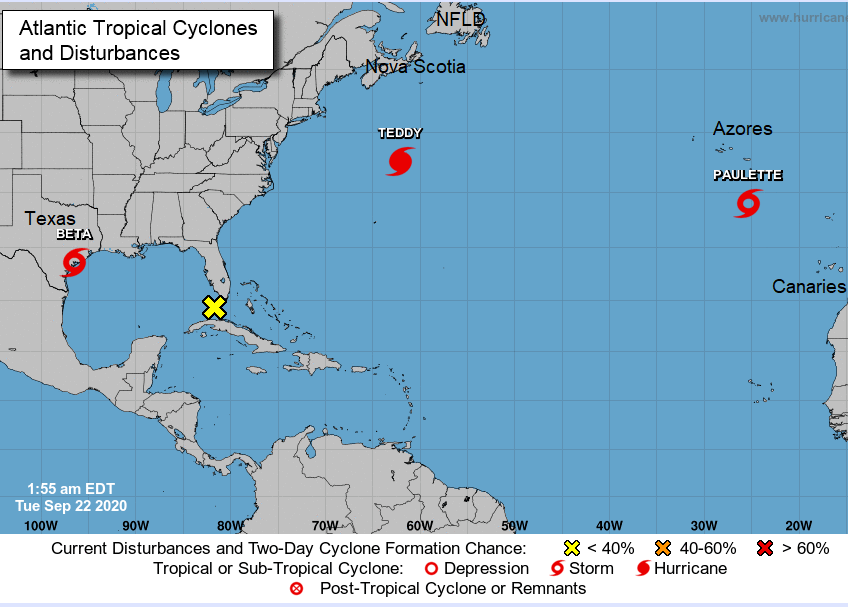 Hurricane Teddy is currently producing Large swells for the western Atlantic coastline. Affecting Bermuda, the Lesser Antilles, the Greater Antilles, the Bahamas, the east coast of the United States as well as awaiting Atlantic Canada. These swells threaten life-threatening surf and rip current conditions.
More discussion on the Netweather forum Hurricane season thread and latest Canadian warnings on twitter @ECCC_CHC @ECCCWeatherNS