By this evening as the main area of heavy rain clears Kent, there will still be cloudy skies and outbreaks of rain over northern Britain and Northern Ireland rotating around in a more east to north-easterly flow. In the flow off the North Sea, NE England and SE Scotland become wet and murky overnight
The low centre will be pulling away over the southern North Sea and Low countries by Friday morning with clearer skies for the north of Scotland. Elsewhere there will be mixed picture with lingering bands of rain over central Britain, showery bursts and bright spells as the flow begins to back to a northerly. Through the day, it is almost like sweeping up crumbs with a brush, the rain and showers clear from Scotland and Northern Ireland but littering England and Wales, slowly collecting over eastern England into the evening. Some of these showers will be heavy, slow-moving and even thundery. All the time the cooler northerly winds will be digging in.
If you are thinking about camping for the long weekend there will be plenty of fair weather, but it will be cold by night. Take a woolly hat.
Weekend
This low off becoming centred over Denmark will keep our winds from the north on Saturday but also it will be windy for parts of eastern England and across the English Channel. Many areas become dry and bright but there will still be a scattering of showers moving down on the winds. Eastern England again looks prone. It will be chilly in the north on Saturday night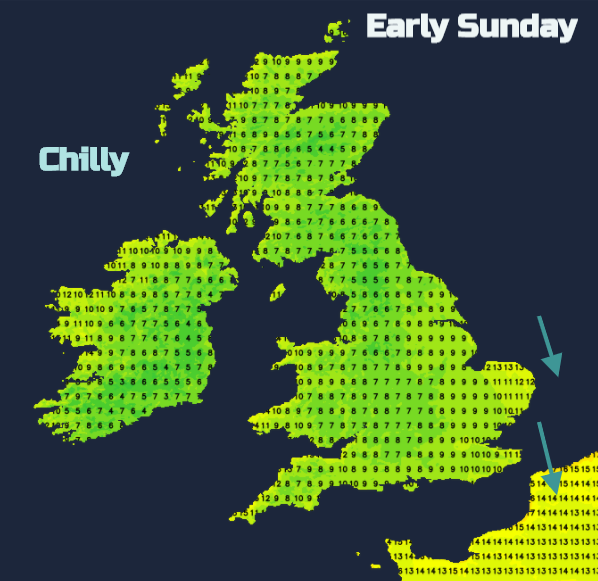 By Sunday a ridge of high pressure will be over the UK and so it looks like a fair, bright day with sunny spells but still temperatures in the teens or just 20 or 21C in the south. In the sunshine with the light winds, this could still feel pleasant at times. It won't be anywhere near as windy for East Anglia on Sunday, but the northerly wind does continue.
Monday starts off fine for most but again feeling cool. There is a weather front moving in from the Atlantic bringing more cloud, a band of rain and freshening winds. The current forecast shows this over Northern Ireland by Monday afternoon so for those off for Bank Holiday Monday, there should be some fine weather to enjoy, just chilly in the evenings.
Main photo today - Port Stewart, Northern Ireland