It moves over more of southern Texas at the weekend and then into NE Mexico, eventually coming up against mountains.
Tropical Storm Gonzalo still has some uncertain about whether it will strengthen into a Hurricane, it is a small tropical cyclone in diameter. The high winds and heavy rain are expected to move across the warning areas on Saturday. Rainfall in Barbados and the Windward Islands could lead to life-threatening flash floods.
Some strengthening is forecast during the next day or two and there is still a chance that Gonzalo could become a hurricane before reaching the Windward Islands. Weakening is expected after Gonzalo moves into the Caribbean Sea. NHC
There are Tropical Storm warning for St Lucia. Barbados, St Vincent and the Grenadines have TS warning and a hurricane watch. Tobago and Grenada have a TS watch. Along with the high winds there will be very heavy rain.
For Tobago - Periods of heavy to intense showers and/or thunderstorms are likely. Heavy/intense downpours can result in street/flash flooding. Gusty winds and the risk of landslides/landslips is very high. Sea conditions are also likely to become occasionally rough.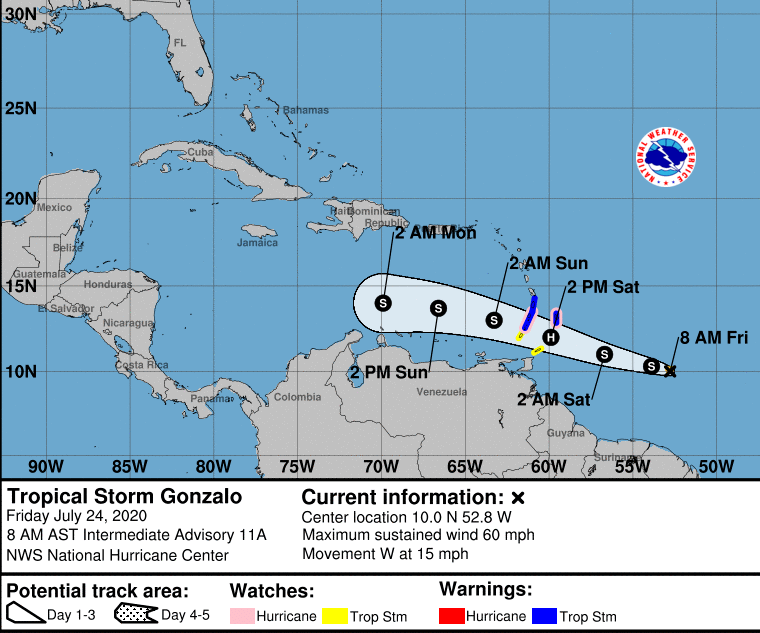 Hurricane Douglas continues westwards in the central Pacific. It will continue to weaken as it moves towards Hawaii, it has been a Major Hurricane (a Cat.4) but will remain a powerful Hurricane as it approaches the islands by early Sunday but should decrease to Tropical Storm status as it interacts with the mountainous region.
Douglas will move over cooler waters then encounters drier air and more vertical wind shear which will aid the weakening. The responsibility for Douglas has now passed from the NHC in Miami to CPHC in Honolulu. "Watches for the Big Island and Maui County will be likely early Friday."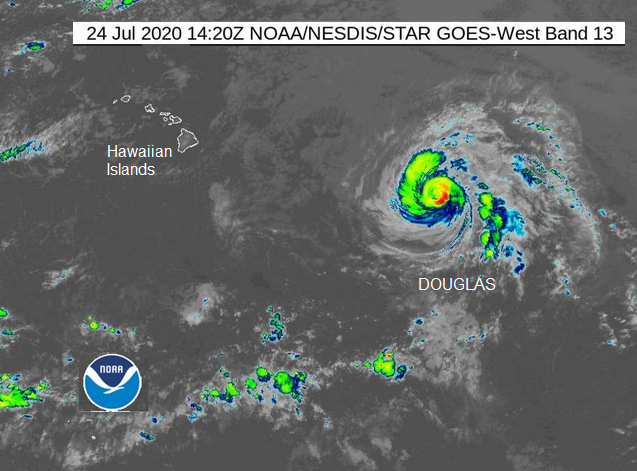 Model spread – A subtropical ridge north of the Hawaiian islands strengthens and steers Douglas west, over or very near to the islands Sunday into Monday. ECMWF has always had a more southerly track, other models would move Douglas further north.
At any time an approaching tropical cyclone is a potential disaster but with the COVID pandemic, there is an added risk and stress of trying to keep safe from the virus with disruption to water and power supplies, perhaps being displaced as well as facing the dangers of damaging winds and flooding. The Government issue advice to pack and prepare for 14 days in case the hurricane hits but some people are already struggling with the economic downturn from COVID and are unable to make that outlay. There would also be the issue of physical distancing for emergency responders, forecasters and shelters.
Although there have been several named storms in the Atlantic this season, with an early start for so many, there has yet to be a Hurricane. We'll see what Gonzalo manages. Considering how large the Pacific is, hurricanes don't often make landfall on the Hawaiian Islands so the progress of Douglas will be watched carefully.