Sunshine will be in short supply over the next few days, thanks to a succession of Atlantic fronts rolling in from the Atlantic bringing a lot of cloud and some patchy rain or drizzle across many areas. The cloudy and damp conditions will persist across Scotland, N. Ireland and NW England through Thursday and Friday, with rain pepping up as a cold front moves in on Friday. However, there will be increasing amounts of sunshine across central, southern and eastern areas, with temperatures reaching the mid to high 20s Celsius across the southeast on Friday. The return of summer will be brief though, as the cold front arriving in the north Friday continues southeast across all parts Saturday, taking cloud and rain with it. Cooler and fresher after the cold fronts clears the south with sunny spells and a few showers on Sunday.
Today
For now, cloudy across most parts at breakfast time, a little patchy light rain or drizzle across the far southeast left over from overnight rain across the south, but for most it's a dry start, some sunshine towards coasts of eastern Scotland and eastern England.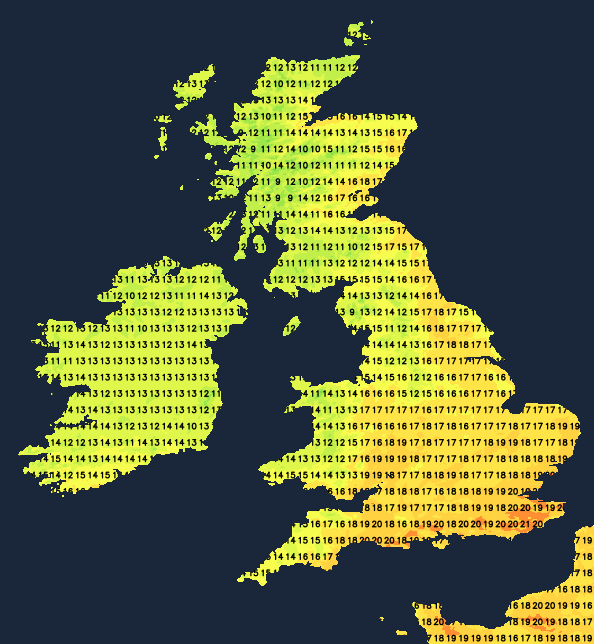 It will stay largely cloudy through today, dry for many, but there will be a few well-scattered showers breaking out, particularly late morning into early afternoon. More persistent rain spreading southeast across N. Ireland through the morning, before rain crosses the Irish Sea to reach SW Scotland and west Wales this afternoon. Best chance of seeing some sunshine towards eastern coasts of Scotland and England and perhaps far SW of England. Temperatures this afternoon down on those experienced on Monday, when Essex reached 26C, today reaching 15-17C across Scotland and N. Ireland, 16-20C across England and Wales in a westerly breeze.
Cloud tending to break up across eastern areas tonight, so remaining dry with clear spells here. Thicker cloud and outbreaks of rain for western areas through the night, so a damp night here, though rain not particularly heavy. A mild night, temperatures falling no lower than 12-14C generally.