The wind and rain ease down tonight, although still with a few showers. A new low pressure heads towards SW England bringing rain along the English Channel and to Cornwall and Devon by Tuesday morning. Southern England becomes more cloudy and damp as frontal bands drape themselves east-west and clusters of showers reach the eastern Channel by the afternoon. Ahead of that, there will be brighter spells and some warmth with East Anglia up to 21C. A grey day for Northern Ireland, Wales and much of England with dampness in the westerly flow but with lighter winds. A more northerly breeze will work down from northern Scotland and showers will appear along convergence zones, with the risk of some sharp downpours as temperatures move into the mid to high teens.
The grass pollen is still high for SE England but moderate to low elsewhere. Even with the cooler, blustery weather the sun is still strong, you just might not notice without the heat. Air pollution levels are now forecast to be low after moderate to high levels were recorded last week, particularly of Ozone.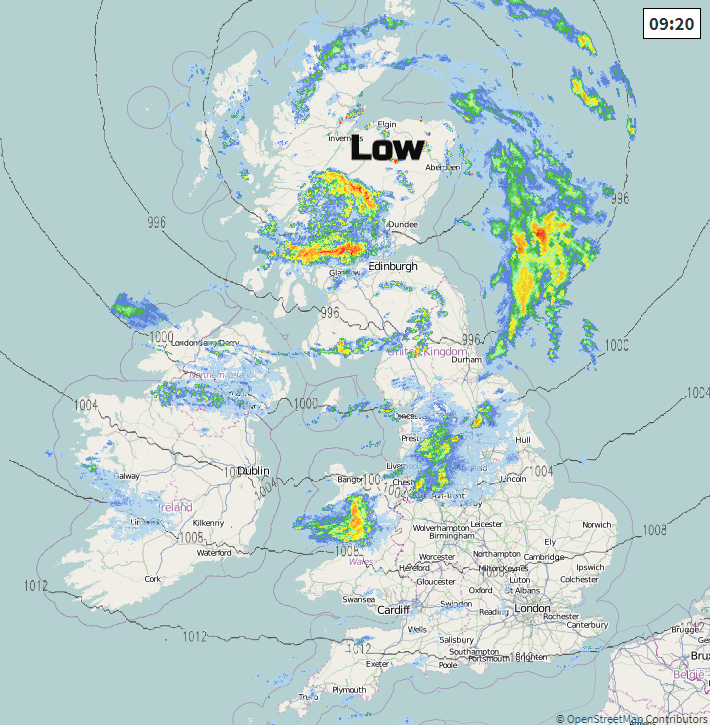 By Wednesday, there could be heavy showers breaking out for England, southern Scotland and Wales, with a small chance of a thunderstorm. Northern Ireland will be unsettled with more cloud and showery rain. Temperatures still in the teens or low 20sC with fresher air in the far north but more humid air for the far south. The heavier showers push southwards later in the day as cooler fresher air moves down from the north. Wednesday night looks noticeably cooler for Northern Ireland and Scotland. It's school holidays here now so if there are back garden camping plans be aware of this dip in temperatures.
The rest of the week stays unsettled becoming blustery again by Friday, into the weekend.