Low pressure has been with us this weekend, but it's slowly easing away today, allowing the weather to quieten down and warm up a touch as we end the weekend and start the new week. A new low will move into the northwest on Tuesday though, and it's then going to stick around for much of the rest of the week.
It was quite a dramatic start to the weekend yesterday, especially after a few months where sunny skies have been the norm. Eastern England saw most of the action, with some torrential downpours and thunderstorms rolling through, all thanks to low pressure in the sliding down the east coast. For a change, most of the UK has seen at least some rain during the last 24 hours, with the wettest zones in the east and far north of the country.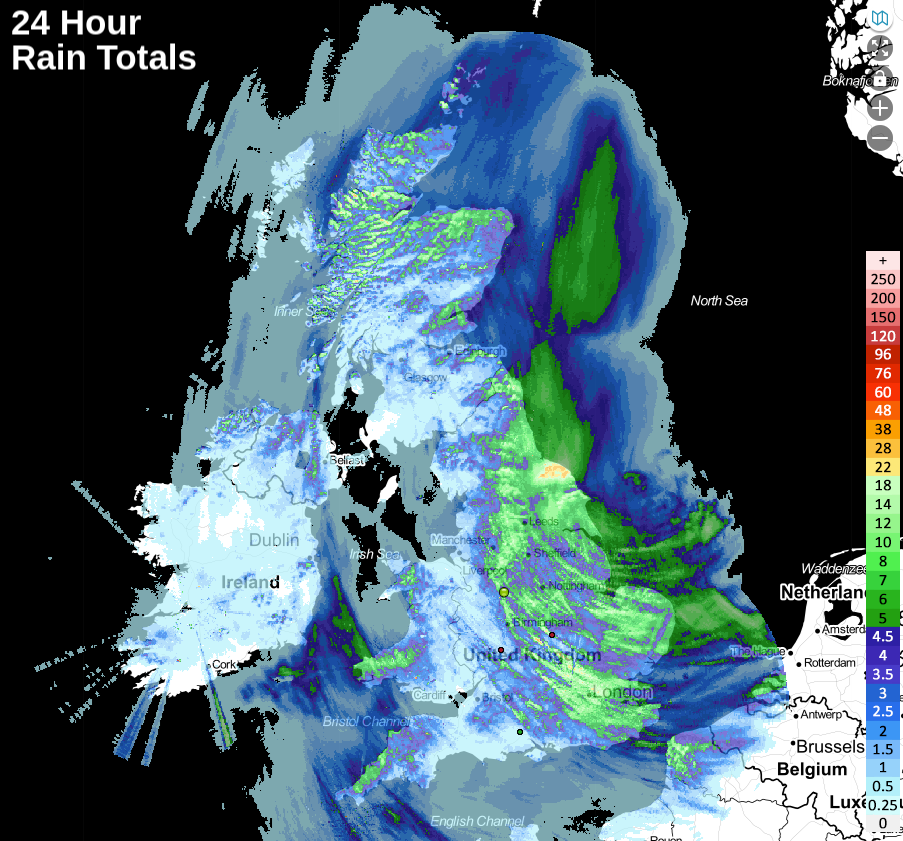 The low pressure still isn't very far away today, but it is filling and starting to move away to the east. Left behind are some outbreaks of rain moving slowly southeast through England, which'll tend to break up during the afternoon to leave many parts dry. There will still be the odd sharp shower, especially in western England, eastern Wales, southwest and east Scotland. The best of any sunshine will be in western and central parts, with the east staying cloudier thanks to the hangover from that low. It'll feel coolest here too, where the wind will still be fresh, especially near to the coast where 10-12c will be about as good as it gets. Elsewhere though, 14-18c will be more like it.
A nose of high pressure will then arrive over the country for Monday, so there'll be plenty of fine weather with sunny spells developing. It'll still be cool near to eastern coast though, with an onshore breeze still blowing - albeit a lighter one than we've seen during the weekend. Elsewhere it should feel pleasantly warm in the sunnier spells with temperatures peaking into the mid-high teens. The southwest of England and perhaps also Wales will see a threat of some showers though.