Meteorological Summer has begun, and for a couple more days, it's more of the same with blue skies, sunshine and warmth. But, a significant change is on the way with less settled and much cooler weather, with temperatures dipping below normal from Wednesday onwards. There is even some rain in the forecast, remember that?
---
---
To start the week though, barring some early mist and fog in the east and some fair weather cloud popping up during the afternoon today, it's virtually blue skies and sunshine all the way. Temperatures will be warmest in southern, central and western parts again today, with an onshore breeze off of the North Sea in the east keeping it a touch cooler. Away from those eastern regions, maxes will be into the twenties very widely, with maxes of 25-27c.
Tuesday will be the first day in a while where there is a bit more variety in the weather across the UK, with some rain and showers moving into Scotland as the breakdown begins. It'll be the north of Scotland seeing that wet weather first, before it spreads south and east during the day. There'll be some heavy bursts in amongst it, with some thundery showers also breaking out in the southeast and perhaps down into the northeast of England as well. The southwest of Scotland should stay out of it in the main and stay dry though. These are the rainfall totals for Tuesday - some parts of eastern Scotland could see 25mm or so.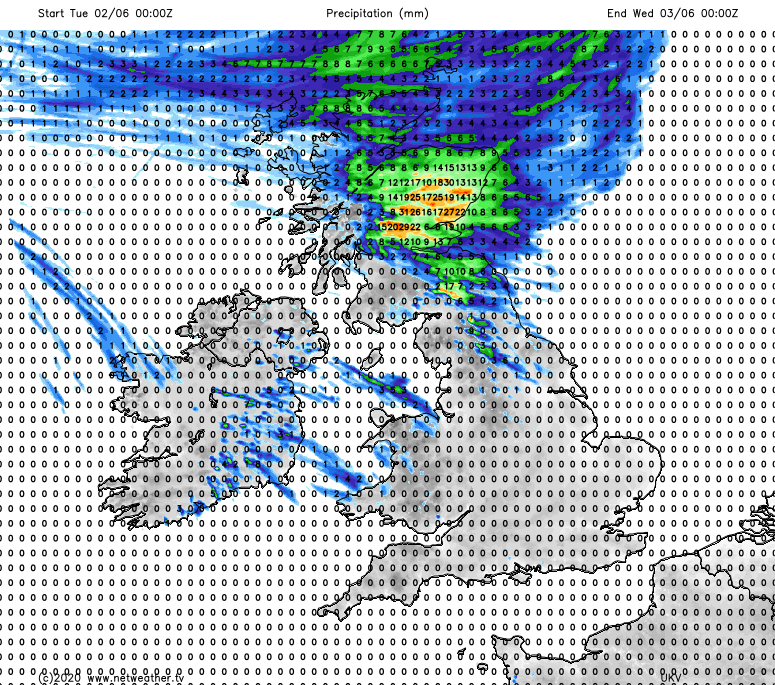 For England and Wales, there'll be none of that sort of complication, with one final day of warm sunshine with highs again well into the twenties.