At the weekend there will be a noticeable easterly wind off the North Sea and low cloud at times. This keeps the temperatures subdued but still warmth for northern and western Britain.
Remember your sunscreen, UV levels are moderate to high, even very high. The pollen levels are high in places too and air pollution at the weekend is forecast to be moderate for southern Britain.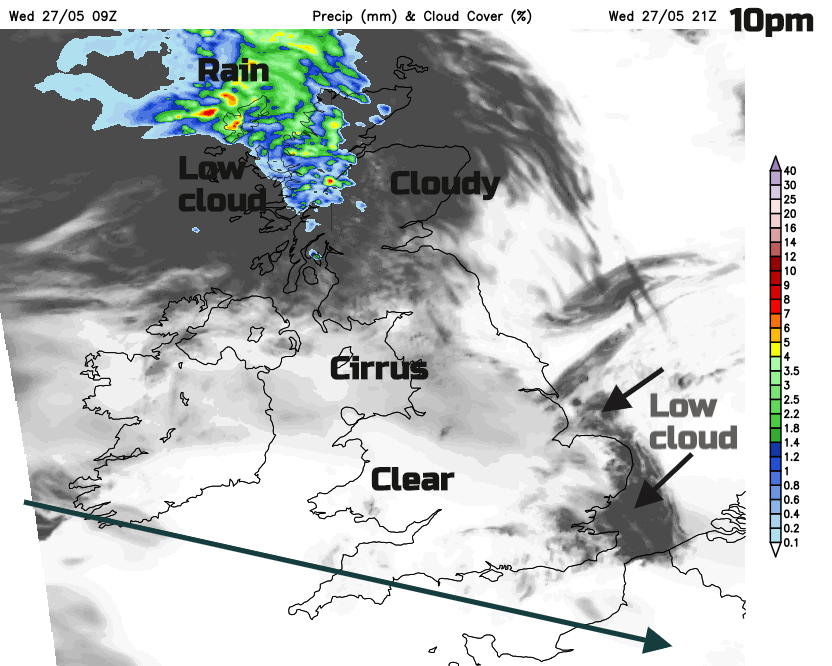 For anyone wanting to see the Crew Dragon flight, astronauts Doug Hurley & Bob Behnken lift off at 4:33 pm ET, part of #LaunchAmerica. NASA's SpaceX Demo-2 launch to the International Space Station should be visible as it passes over Europe this evening. About 9:50pm BST, there should be clear skies for much of England and Wales but with a warm front moving past NW Scotland there will be rain here and more cloud. Broken cloud over Northern Ireland and SE and southern Scotland but thicker further north. There will be cirrus over NW England and the Irish Sea There will also be some low cloud coming in off the North Sea for eastern England. The launch is on the NASA website.
Rainfall and water levels
Once that front has cleared by Thursday morning, that is it really for rain. There is a very small chance of a heavy shower over the NW Highlands but overall, it is a dry forecast and the long dry spell is already causing concerns.
Looking back many parts of the UK had a very wet autumn and winter. There was the terrible flooding, wettest February on record and then a change to settled dry, sunny weather about when lockdown started.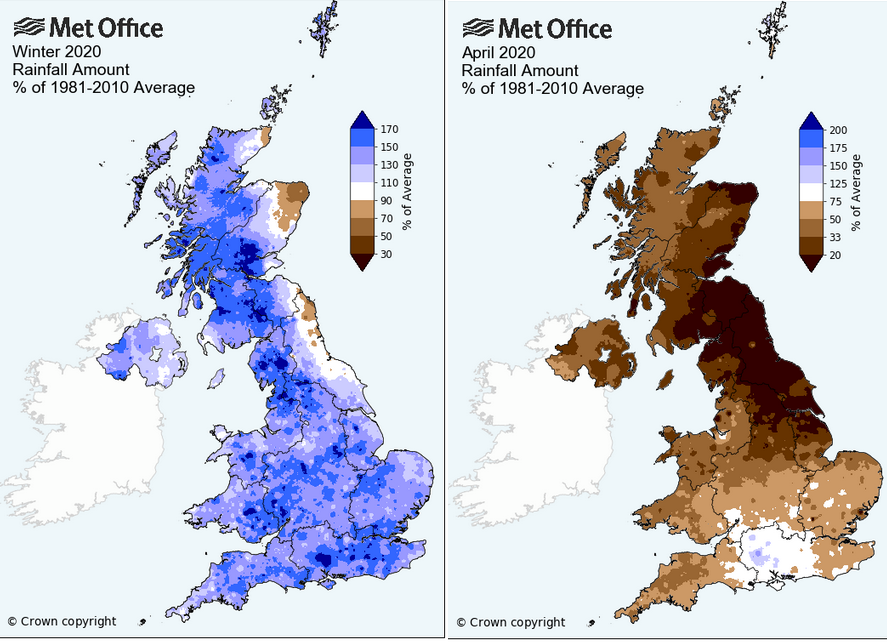 However, parts of NE Britain had a drier than average winter and the ongoing lack of rain is already an issue. For much of the UK March and April were drier than average and May has hardly seen any rain either. Farmers and growers need water from above, they need rainfall. Irrigation and water abstraction add to costs and there is only so much water around anyway.
"Livestock farmers are being advised to start planning now for possible drought conditions over the summer months. A very dry spring has left many livestock farmers with limited grass growth to meet the growing demand for feed following lambing and calving. Some farms have reported grass growth to be 40% behind the long-term average and growth continues to be restricted by a lack of moisture." Farming charity Forage Aid.
This follows the flooding in November 2019 "with many livestock farmers seeing immediate negative impacts as forage and bedding have been damaged or washed away by flood waters." The extremes of our UK weather each year are causing real hardships.
Eastern Scotland has alerts for water scarcity from SEPA. Moderate for River and soil moisture levels in the Tweed catchment. Groundwater levels are falling steadily across the country. Levels in the North-East of Scotland are very low. There is now water user advice for private water supplies, farmers and "Managers of golf courses" as the Scottish golf courses ready for opening on Friday.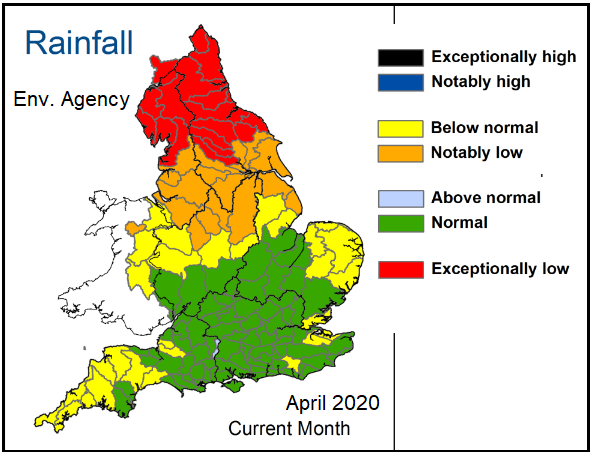 Environment Agency "Soils across England were drier than average for the time of year. End of month groundwater levels were classed as normal or higher at the majority of sites reported on. Total reservoir stocks across England were at 89% capacity at the end of April." NE and NW England were much drier. We await the May report.