It's going to be a glorious Bank Holiday for many, with high pressure firmly in control allowing for a fine day with warm sunshine for most. The exception will be across the far northwest, which will turn cloudier with some rain later. High pressure will remain strong and centred over the UK throughout this week, with plenty of warm sunshine for many, any weather fronts moving in off the Atlantic weakening with little or no rain likely for most away from the far northwest.
Today
For now, it's a sunny start for many, any early mist and fog patches quickly burning away. We will keep the sunshine across England and Wales, wall-to-wall blue skies for many, with temperatures this afternoon reaching 20-26C, the highest temperatures towards SE England. Cooler around coasts where there'll be onshore breezes.
After a sunny morning, cloud will increase from the west across Northern Ireland, northern and western Scotland, with some rain and strengthening winds arriving across western Scotland, the north and west of N. Ireland this afternoon. Southern and eastern Scotland hanging on to some sunshine this afternoon. Temperatures here reaching 14-19C.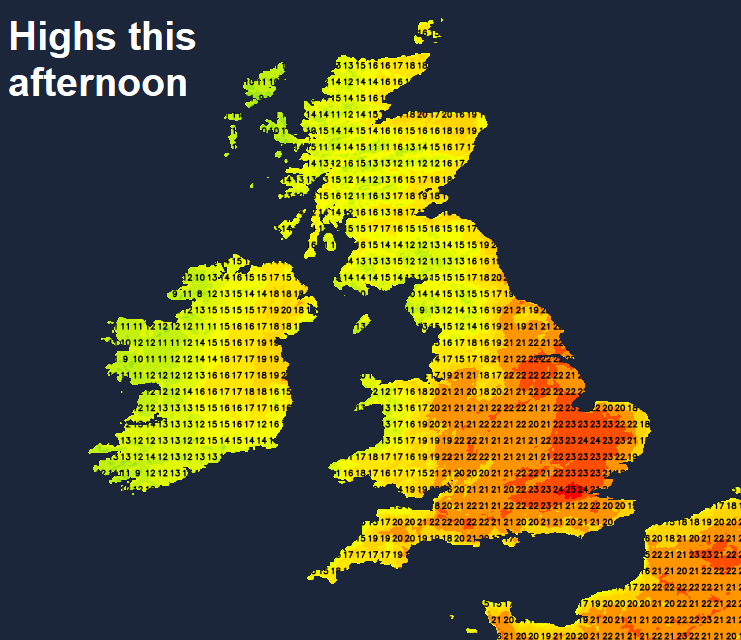 Tonight
The cold front introducing cloud and rain to the far northwest this afternoon will continue to slide southeast across northern and western areas tonight, but weakening as it moves into high pressure centred towards the south. So cloudier skies spreading from Scotland and N. Ireland southeast across northern England and Wales through the night, with patchy light rain or drizzle in places. Staying dry with clear skies further south.