Today
The last of the patchy frontal rain is clearing eastern England out into the North Sea with a lot of cloud trailing along the front. The heaviest rain is also clearing mainland Scotland and moving over the Northern Isles this morning. Behind this the low centre will move past NW UK with stronger winds, the high gusts and heavy blustery showers. These will affect Northern Ireland and Scotland with a wet day for western Scotland. Travel is still limited in Scotland and Met Office warnings are impact-based do realise this wet and windy weather will be lively before and after these warning slots.
'A spell of unseasonably strong SW winds will affect parts of Scotland, particularly Western Isles later today into Saturday. Gusts of 60-65 mph are expected, few gusts of 70-75 mph for Barra, south and North Uist. ' Yellow wind warning issued by Met Office 3pm Fri - 5am Sat.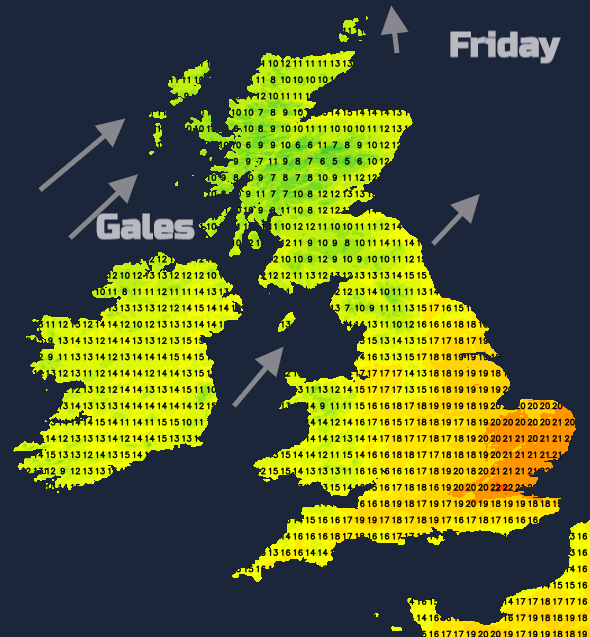 London, the Home Counties and East Anglia should still see temperatures into the low 20s C today but will feel cooler with the moderate to fresh SW wind. Across the rest of England and Wales the temperatures will range from mid to high teens with fresh SW winds, gusty in the north and a few showers for Wales and northern England this afternoon. Anglesey and the Isle of Man will be windy this afternoon with strong SW winds.
Cooler tonight across the UK with clear skies and a few sharp showers for Wales and Northern Ireland. The heavy rain continues overnight for western Scotland and with the low pressure now away to the north of Scotland the winds become west to SW.
The weekend
By Saturday morning it will still be blustery for southern Britain, windy further north and there will be strong gusty winds through the Central Belt of Scotland by lunchtime. A spell of wet and windy weather for central and southern Scotland, northern counties of Northern Ireland and windy for northern England and Isle of Man too. By the afternoon there could be heavy, thundery showers inland. Further south there will be a scattering of sharp showers on the brisk west wind, rattling along.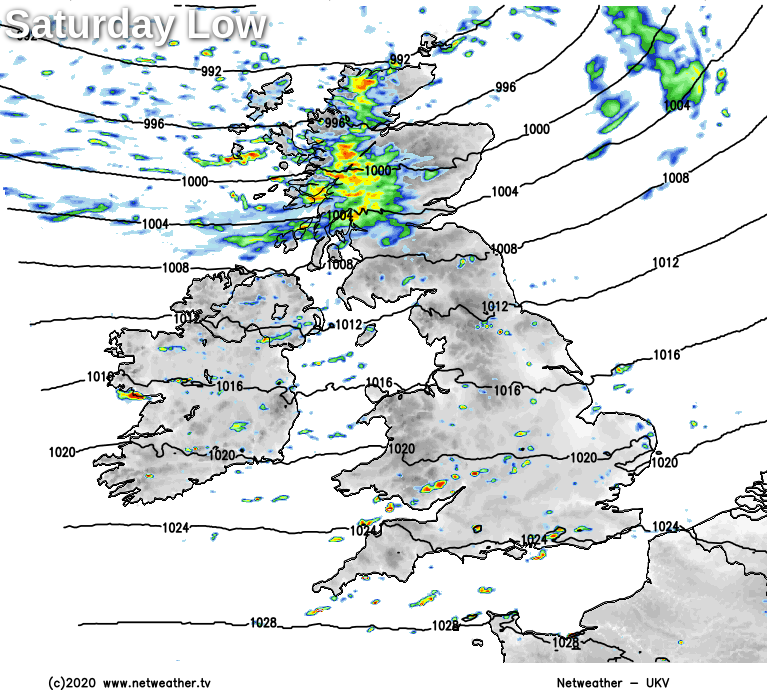 The weather then improves through the weekend, settling down, more areas joining in with the dry sunny weather and temperatures begin to rise.
By Bank Holiday Monday, the weather looks fine and sunny with light winds in the morning. Temperatures will widely rise into the high teens and low twenties with even mid 20sC possible for London.