What to Do in the Kitchen Garden
May is a busy month in the kitchen garden. The potatoes are up, the peas and beans are climbing higher and pots of indoor-sown seedlings sit outside during the day, hardening-off before they are planted out. If you're only just getting started, there are still plenty of seeds you can sow this month. Sowing a few seeds at regular intervals will give successional crops of vegetables like carrots, peas and salads and avoids having a glut of produce to harvest in one go.
Vegetables
Indoor seed sowing. Continue to sow chilli peppers and sweet peppers indoors. Cucumbers can often be sown outside this month, under the protection of a cloche or cold frame. Courgettes, pumpkins and other squashes can continue to be sown indoors and planted out next month. Growing them indoors until they reach a good size will give the plants some added resilience to slugs and snails.
Harden-off indoor sown plants before planting out. Help young plants acclimatise to the garden environment by putting them out during the day and bringing them back undercover at night-time. Do this for a few days before planting them outside.
Continue sowing leafy greens outside. Rainbow chard with its beautiful multi-coloured stems are a family favourite here, it's always a nice surprise to see what colours appear. There is also Swiss chard which has pure white stems and large leaves and ruby chard with deep-red cloured stems. New Zealand spinach is another favourite of mine, it's a hardy variety which thrives in dry weather and on poor soil. Oriental greens such as mizuna and mibuna along with mustard greens can all be sown outside now.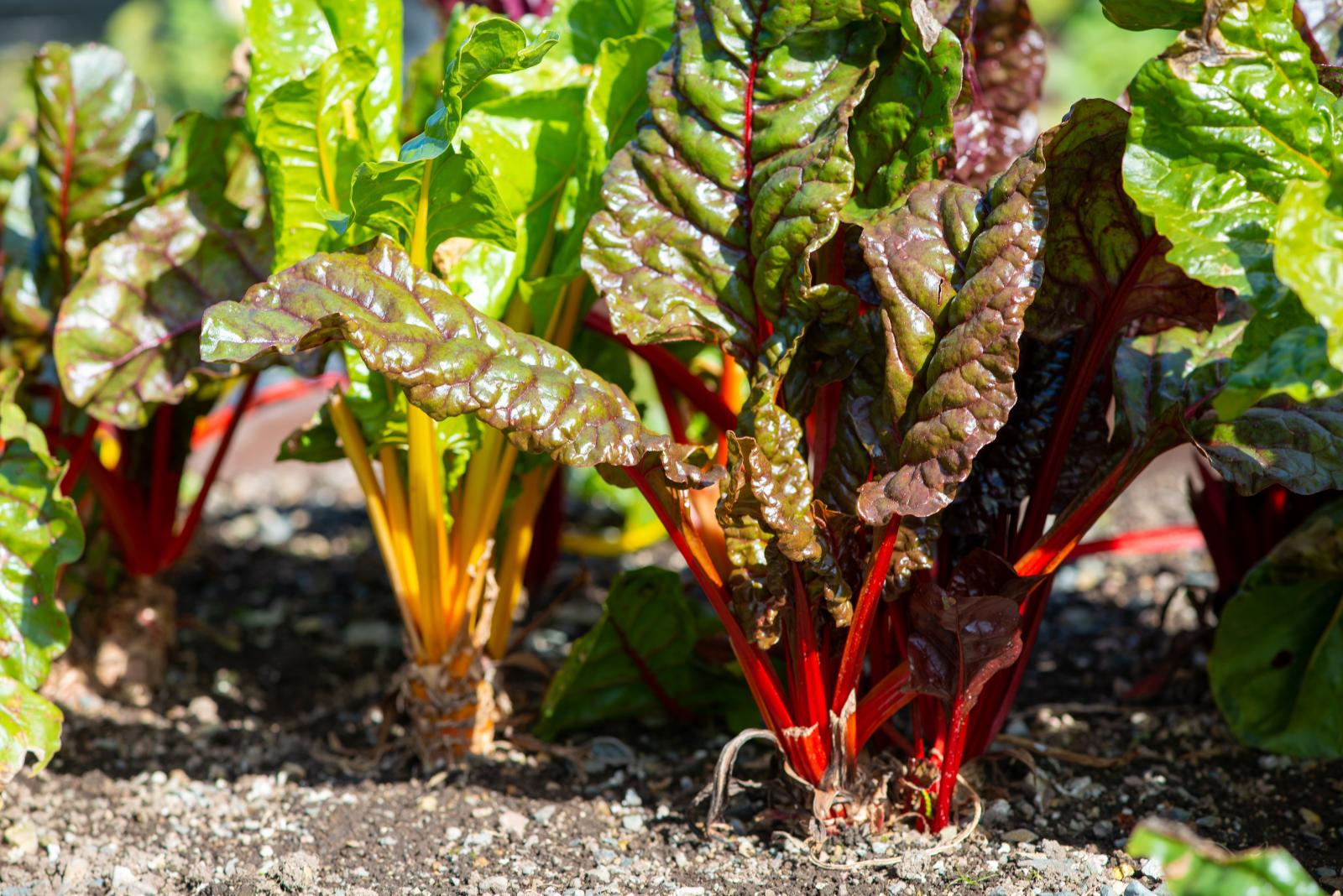 Continue sowing peas outside. Peas sown earlier in the year can be supported with twiggy sticks, saved from gardening pruning. Alternatively, you can secure a net or some wire between two upright posts, to provide peas with a climbing net.
Sow and protect beans outside. Runner beans and French beans can all be sown outside this month. Sow two runner beans at the base of each bean pole (to allow for one seed not germinating) and remove the weaker seedling. Slugs find beans really tasty so it's best to protect young seedlings by either using a cloche - old 2-litre plastic drinks bottles with the bottoms cut out are perfect for this - or by surrounding plants with copper rings, pieces of eggshell or another gritty material that slugs don't like to climb over. The extra benefit of using the plastic bottle method is that the cloche also acts as a mini-greenhouse, protecting the bean plant should there still be a late frost.
Thin out seedlings. Seedlings become straggly if there is competition for light and space so thin them out before this happens. The distance to thin to depends on the type of vegetable so check on the seed packet for details of individual plants. Most thinnings can be transplanted except for root crops such as carrots, beetroot and turnips. Transplanted seedlings will mature more slowly due to having had their roots disturbed, so will be ready for harvesting a bit later.
Plant out sweetcorn. Sweetcorn is wind pollinated and is best grown in blocks, around 25-30cm apart rather than in rows so that the wind can blow the pollen in between the plants.
Top Tip: Try the 'Three Sisters' companion planting method with sweetcorn, beans and squash. This is an ancient method of intercropping. The sweetcorn provides the structure for the bean plants to grow up, the squash provides ground cover, helping to prevent water loss and weed growth and the beans fix nitrogen into the soil.
Plant out and protect brassicas. Brussel sprouts and other winter brassicas can be planted out into their cropping positions. Brassica's take up quite a lot of space for a lengthy period of time, so I recommend growing them alongside other crops, such as beetroot, lettuces, peas, and onions to get the most out of your growing area. Birds, particularly pigeons, love brassicas so it's best to grow them under protection. Some netting over a simple wooden frame works well. Make sure that the netting is well anchored down at the ground level so that small birds cannot be trapped inside.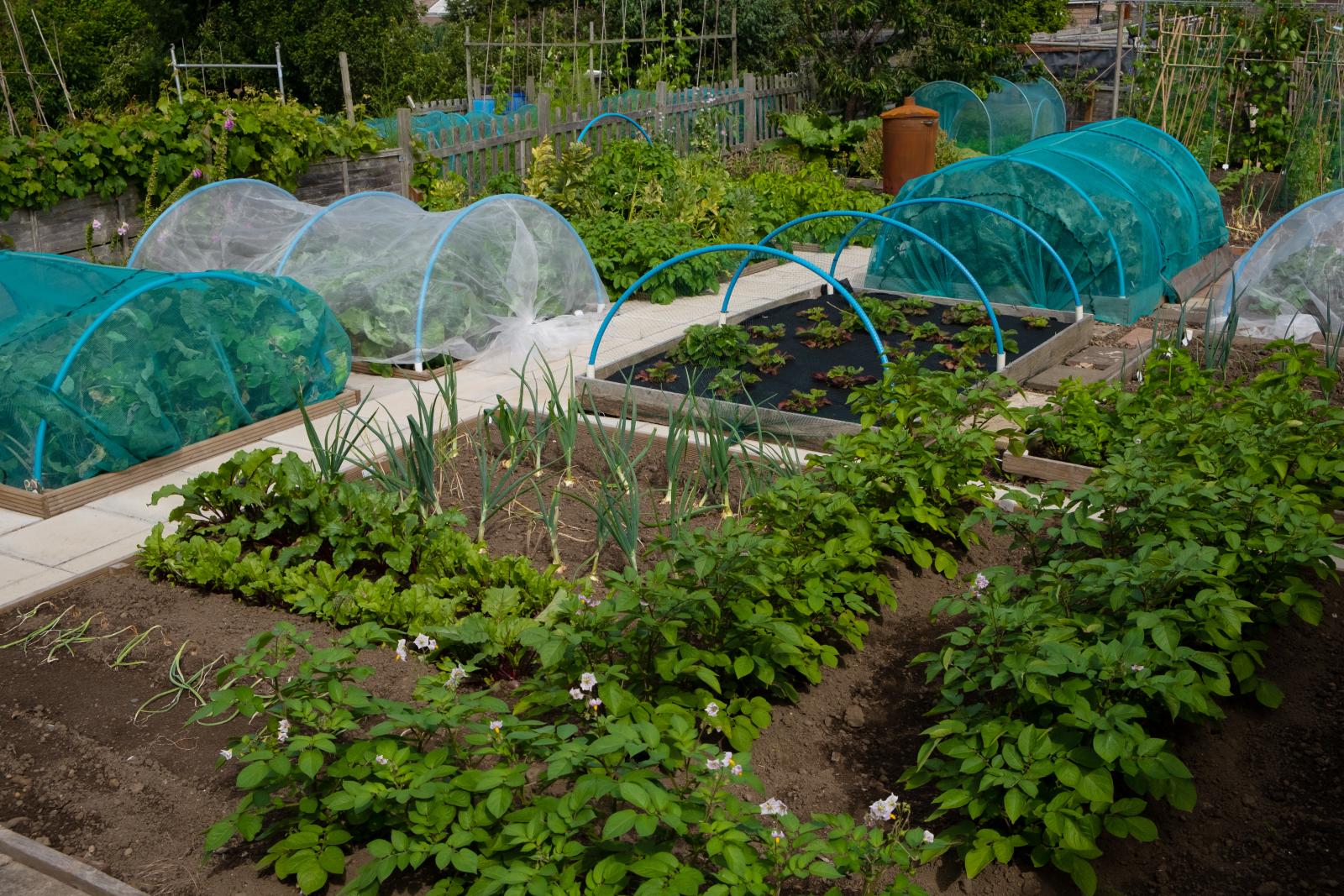 Pinch out the tops of broad beans and provide support. Blackfly loves the young, succulent tips of broad bean plants. Deter them by removing the tips after several trusses of flowers have developed on the plants.
Protect crops from carrot root fly. Carrot root fly can damage carrot, parsnip and parsley plants. Protect crops with horticultural fleece or insect-proof netting that will prevent the fly from getting to the crops. Sowing carrots thinly to reduce the need for thinning the seedlings later on, can also help. The carrot fly detects carrots by their smell and thinning seedlings can attract them to the area.
Earth-up potatoes. Draw up soil around the shoots of potatoes as they emerge, to protect from any late frosts.
Salads and Herbs
Continue with the successional sowing of salads outside. Sow more lettuce, rocket, land cress, summer purslane and corn salad outside to ensure a steady supply of salad greens.
Continue to sow herbs outside. Basil, coriander, chervil, dill, lovage, parsley and sorrel can all be sown outside. Protect basil with a cloche if the weather is still cool.
Fruit
Protect fruit trees and bushes from late frosts. Keep an eye on the weather and cover blossoms with fleece on cool nights.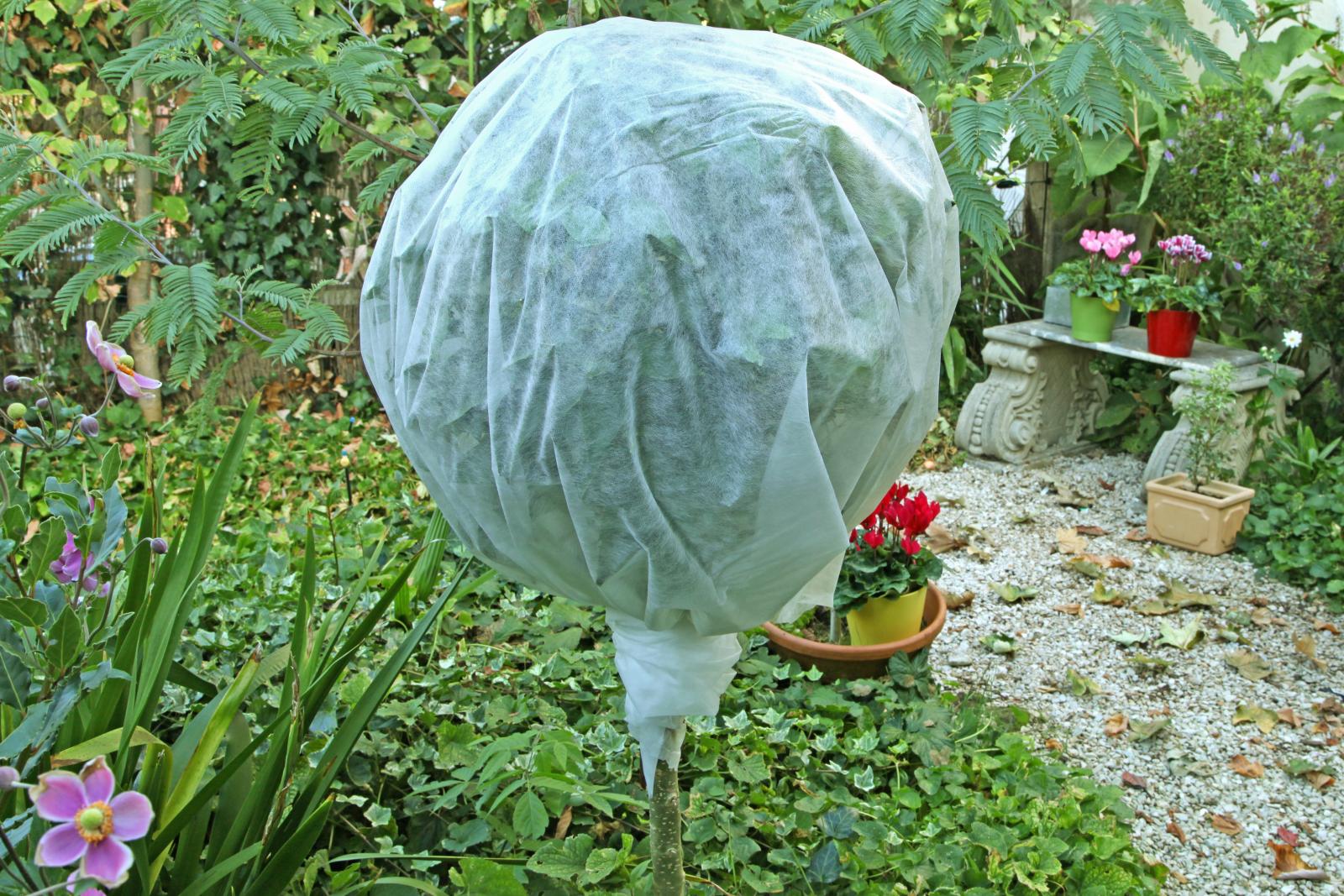 Mulch fruit trees, bushes and canes. Use any organic matter you can get hold of such as well-rotted manure, garden compost or spent mushroom compost. If the soil is dry, make sure you give it a good soaking first, before applying the mulch.
Prune raspberries. Thin out developing canes to prevent overcrowding. If rows are congested with too many canes, less air will be able to circulate which makes the plants more susceptible to fungal diseases. Remaining canes will also be healthier as they will have more light and room to develop and harvesting will be an easier task.
Protect and tuck in strawberries. Putting down straw or strawberry mats (sold online and by garden centres) will prevent the fruits from being splashed with soil and from rotting as they lie on wet ground. Netting will protect the fruits from birds, but make sure that it is securely anchored to prevent birds from getting tangled up in it. Strawberries are insect-pollinated, so it's important to make sure that the netting used still allows insects to access the flowers.
Ornamental Trees, Shrubs and Climbers
Continue watering new trees and shrubs when the weather is dry.
Continue to feed and mulch trees, shrubs and roses. This gives them a boost as the growing season gets underway and a layer of mulch applied before the hot weather arrives will stop the soil from drying out.
Prune early-flowering shrubs. Shrubs such as camellias, lilacs, weigela and spring-flowering spirea all produce flowers made on wood grown the previous season. Cut back all of the flowered shoots to side shoots, or strong buds well down the shrub. If you do this straight after flowering, the plant will have plenty of time to develop the new growth that will flower next year.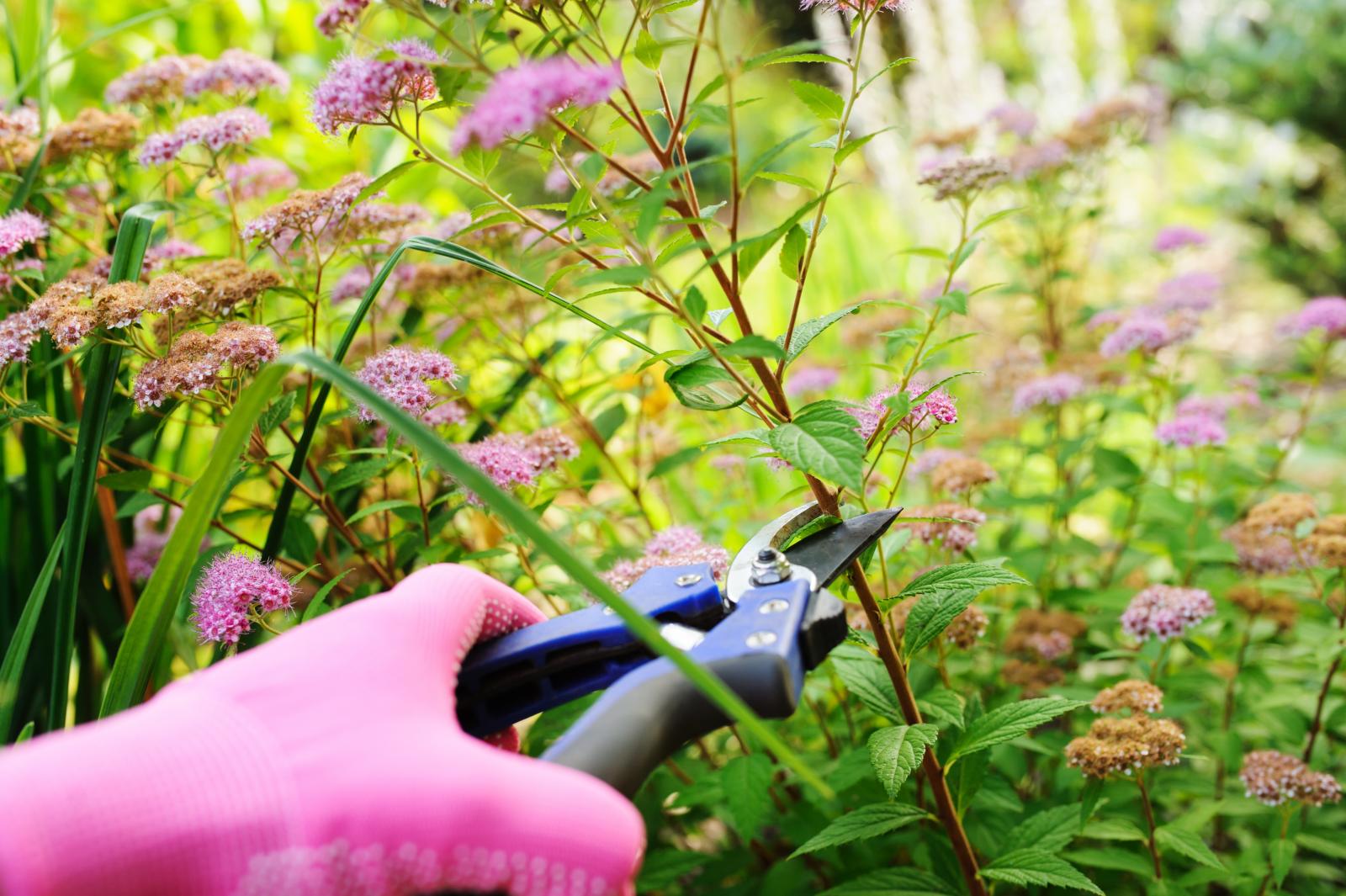 Tie-in climbers. Keep tying-in the vigorous shoots of climbers such as clematis, roses and vines on a regular basis to keep them tidy and to stop them from getting tangled with other plants.
Take softwood cuttings. Softwood cuttings can be taken in spring and early summer to propagate a range of perennials and deciduous shrubs.
Flowering Plants
Clear out spring-flowering bedding plants. Spring-flowering annuals are coming to an end, they can be taken out and composted to make room for summer planting. My vegetable garden is full of self-seeded forget-me-nots, which provide an excellent, attractive ground cover until our summer vegetables are planted out. They don't root deeply, so are easy to remove. I'm leaving some dotted about to self-seed for next year.
Continue to plant out summer-flowering bulbs, corms and tubers. Dahlias, cannas, crocosmia and gladioli planted at regular intervals will give a succession of summer flowers.
Plant out half-hardy annuals. Once the risk of frost has passed, plant out half-hardy annuals such as amaranthus, cleome, cosmos, nicotiana, snapdragons, sunflowers, tagetes and zinnia. Harden them off first by leaving them outside during the day and bringing them in again at night for a week to ten days before planting.
Thin hardy annual seedlings. Thin out drifts of hardy annuals that were sown outside such as borage, calendula, lupins and nigella. In general, the taller the plants, the more space they need. Check the seed packets for advice on spacing for individual plants. Most seedlings can be transplanted to fill in any gaps elsewhere in the garden.
Sow biennials and perennials outside. Spring-flowering biennials including forget-me-nots, foxgloves, wallflowers and winter-flowering pansies if sown now, will flower by next spring. Perennials such as achilleas, alstroemerias and hardy geraniums can be sown outdoors in a nursery bed, or in pots to be planted out in the autumn.
Continue to dead-head spring-flowering bulbs. Snap of the old tulip heads from the stalks. It is best to leave the foliage intact for at least 6 weeks so that the plant can continue to develop next year's flower bud within the bulb. Feeding now will also help with this process.
Tidy spring-flowering, clump-forming perennials. Some plants like Doronicums just need the old flower spikes cutting off. With others like Pulmonaria, you can cut the old foliage right back to the ground to encourage new fresh leaves. Lift, divide and replant overgrown clumps.
Stake and support perennial plants. Support tall-stemmed perennials like delphiniums, peonies and fuchsia with circular plant supports or bamboo canes and string.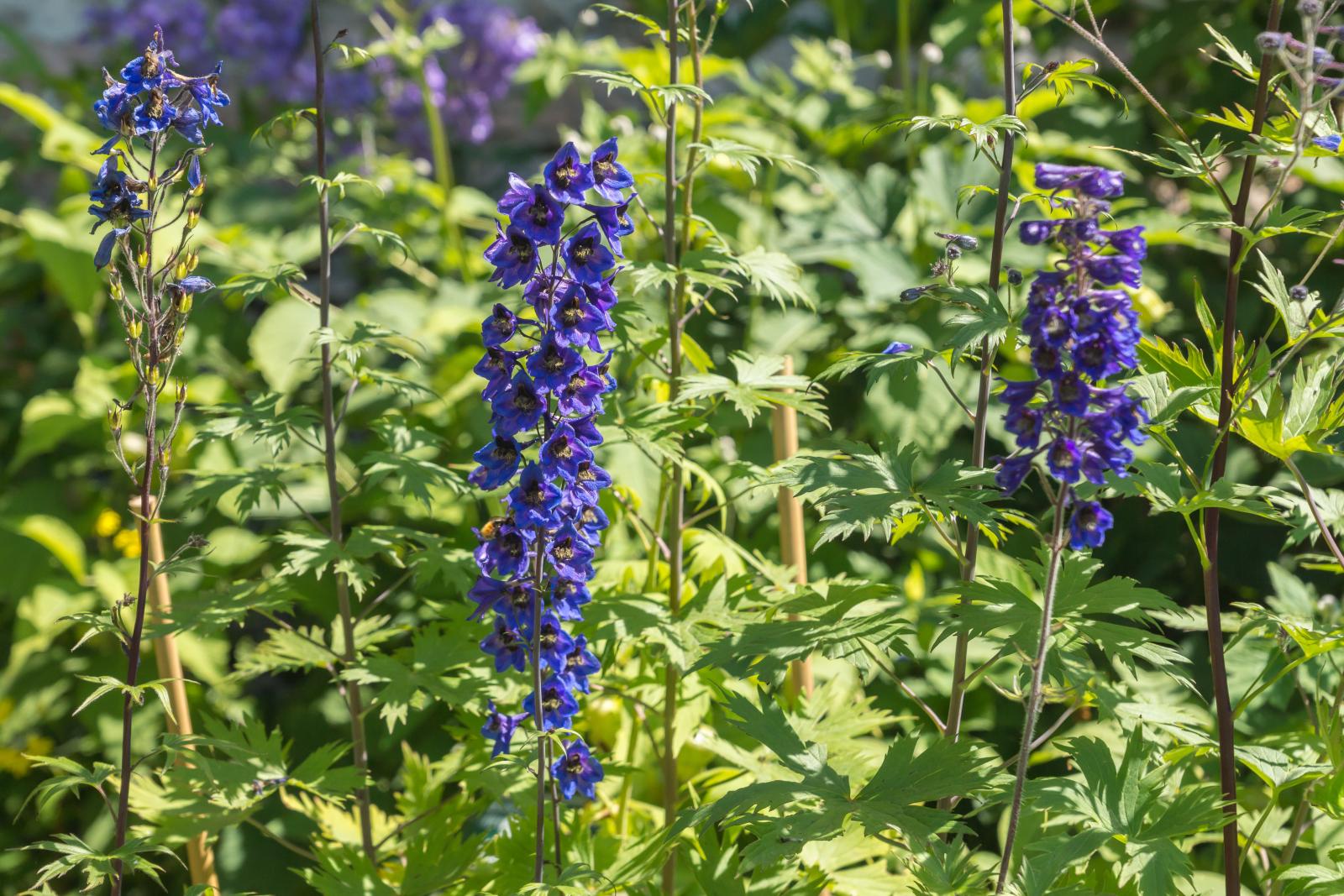 Tie-in sweet peas. Keep tying-in sweetpeas to encourage vertical growth and better flower production.
Cut back spreading, trailing plants such as alyssum and aubrieta after flowering. Cutting back almost to the ground will encourage fresh new growth and possibly further flowers. Feed with an organic fertiliser after pruning.
Lawn Care
Begin regular lawn mowing. Standard lawn care advice would be to begin regular lawn mowing if you haven't already, lowering the blades slightly each time you mow. Wildlife-friendly gardeners, however, might like to take part in No Mow May, a campaign run by the charity Plantlife to increase the number of wildflower nectar plants available for pollinators.
Feed the lawn. If you haven't already, you can also feed your lawn now. Choose an organic fertiliser for a chemical-free approach.
Finish sowing or laying new lawns. The best times to sow a new lawn are spring and autumn, avoiding the hot, dry summer months.
Continue to renovate damaged areas.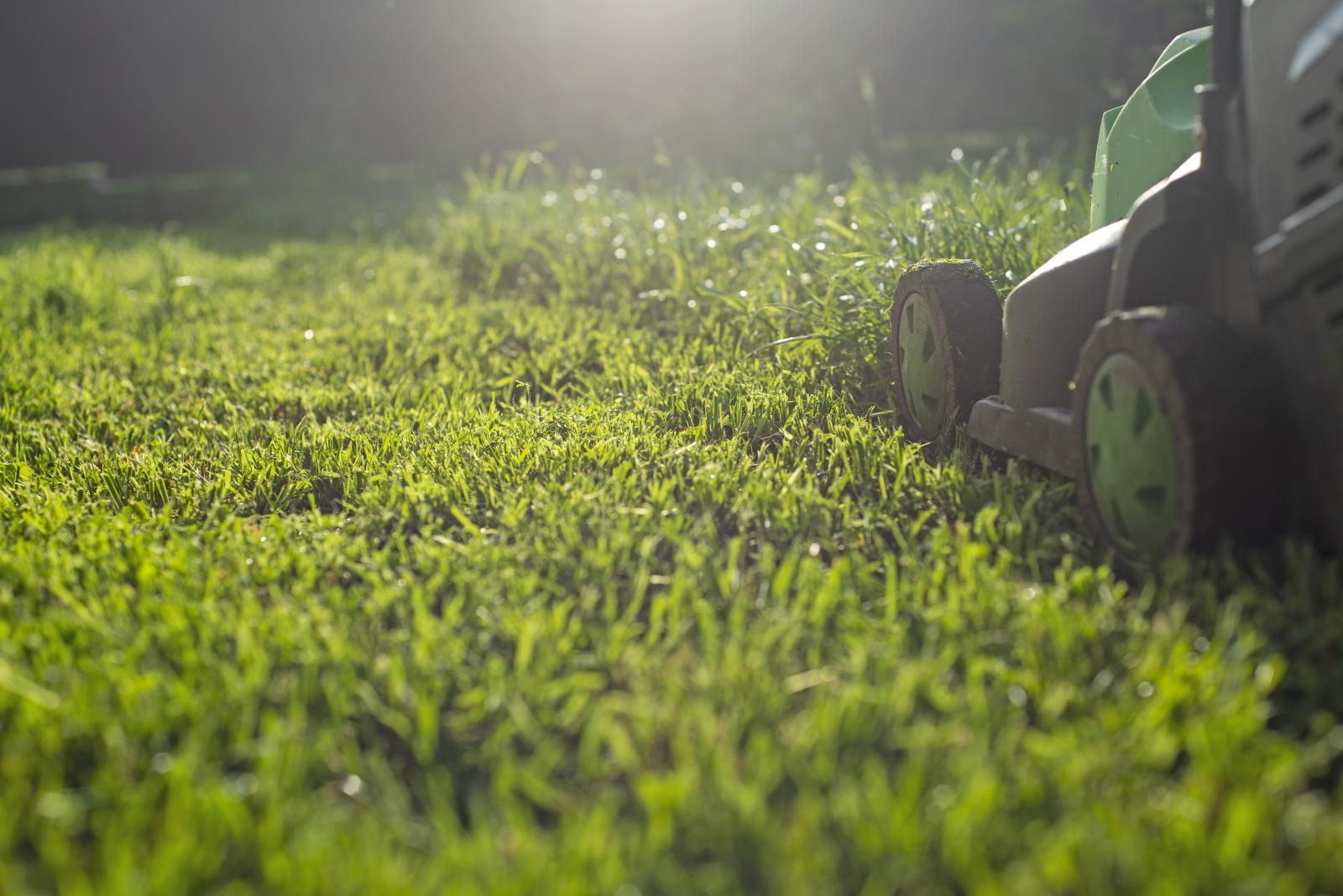 The Wildlife Garden
Take part in No Mow May. To help our pollinators, put your mower away for No Mow May and grow wildflowers on your lockdown lawn. You can also take part in Plantlife's citizen science project Every Flower Counts and find out how much nectar the flowers in your lawn are producing.
Grow plants for pollinators. Have a look at our wildlife gardening article for tips on what plants are the best to grow for pollinators.
Clear blanket weed and duckweed from ponds. Leave any weed that you take out beside the pond overnight, with one end of it trailing into the water. This will allow any insects, snails and other pondlife to escape back into the water.
Top up bird feeders and birdbaths. We're now into nesting season, so make sure that any food you put out is suitable for young chicks. Adding a few pebbles to your birdbath will give bees and other pollinators a landing pad so that they can have a drink too.
May is a wonderful month. Summer is just around the corner so make sure you put down your hoe and spend some time relaxing in your favourite garden chair or on a picnic blanket, watching the birds and enjoying the steady arrival of bright summer colours.
Happy Gardening!