Saturday
Early cloud and showery rain clearing Scotland and NE England, then drier and increasingly sunnier for the north through the morning and into the afternoon, however another front will arrive from the west bringing thicker cloud and a band of rain across western Scotland and N. Ireland by early evening before turning showery as it moves further east. Afternoon highs reaching the mid to perhaps high teens. Southern areas again fine, warm and sunny for the most part, temperatures reaching 22-24C inland across central and eastern areas, cooler in the wet, perhaps 25-26C in the London area. Like today, cloud bubbling up across SW Englnd, Wales and perhaps NW England to bring a few isolated heavy and perhaps thundery showers.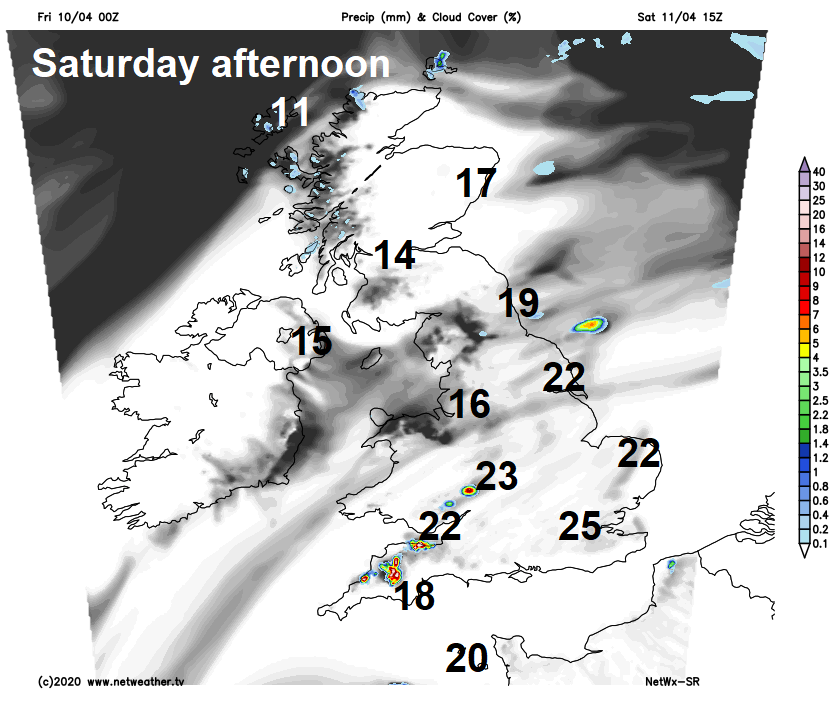 Easter Sunday
Easter Sunday will be cooler across all parts, low pressure moving in across the southwest will mean more in the way of cloud than recent days across the south, with scattered slow-moving heavy and thundery showers developing, though there will also be some sunny spells. Temperatures down on recent days, but still reaching the high teens or low twenties with some sunshine. Across the north, a fair bit of cloud moving down from the north, with some showers across northern Scotland and on the cool side in the northerly breeze, otherwise mostly dry with some sunny spells with shelter of higher ground across central and southern Scotland. Temperatures in the north reaching the low to mid teens.
Heavy thundery showers breaking out across the south Easter Sunday, cooler and drier conditions in the north - which will spread south Easter Monday as high pressure builds, but with a brisk northeasterly wind developing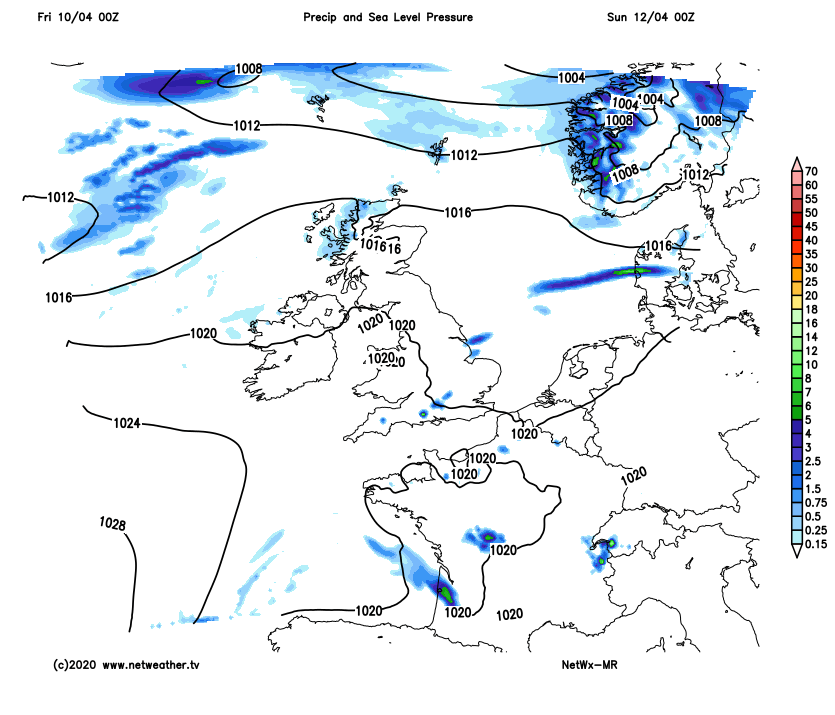 Easter Monday
Easter Monday may start with showers across the south, but these clearing through the morning to leave most places with a dry day with increasing amounts of sunshine moving down from the north - as high pressure builds, away from eastern coasts which will be cloudier. But a cold and brisk northeasterly wind across all parts will make it noticeably cooler than of late, with temperatures reaching only 10-14C across southern and western areas, cooler still across the north and east – with 7-9C.
The rest of next week is looking mostly dry and settled with high pressure in charge, though cooler than this week with the wind from the east. Uncertainty this far out, but perhaps an increasing risk of showers in the south later in the week.