Wednesday was the warmest day of the year so far, with 23.9C reached at Herstmonceux in East Sussex. Large parts of England and Wales were warm and sunny yesterday. Scotland has been cooler with cloudier skies and rain, the culprit, a slow-moving weather front, will continue to bring cloudier skies across Scotland and NE England today, but for the rest of England it will be generally sunny and warm again. Good Friday and Saturday will stay on the cloudy side for Scotland and N. Ireland with showers at times, but England and Wales will again be sunny and warm, perhaps reaching 25C (77F) in places, though there is a risk of isolated showers in places. Easter Sunday will turn cooler and cloudier everywhere, with a greater chance of showers. High pressure builds across the north on Easter Monday, with showers clearing the south, but a cold northeasterly wind developing bringing a chilly end to the long Easter Weekend.
Today
For now, a fine morning across much of England and Wales with plenty of sunshine once any early mist and fog patches quickly burn off. Generally the day has started mild, but north of a slow-moving cold front bringing cloudier skies and patchy drizzle across Scotland and NE England it's been a bright but frosty and frosty start across the far north of Scotland.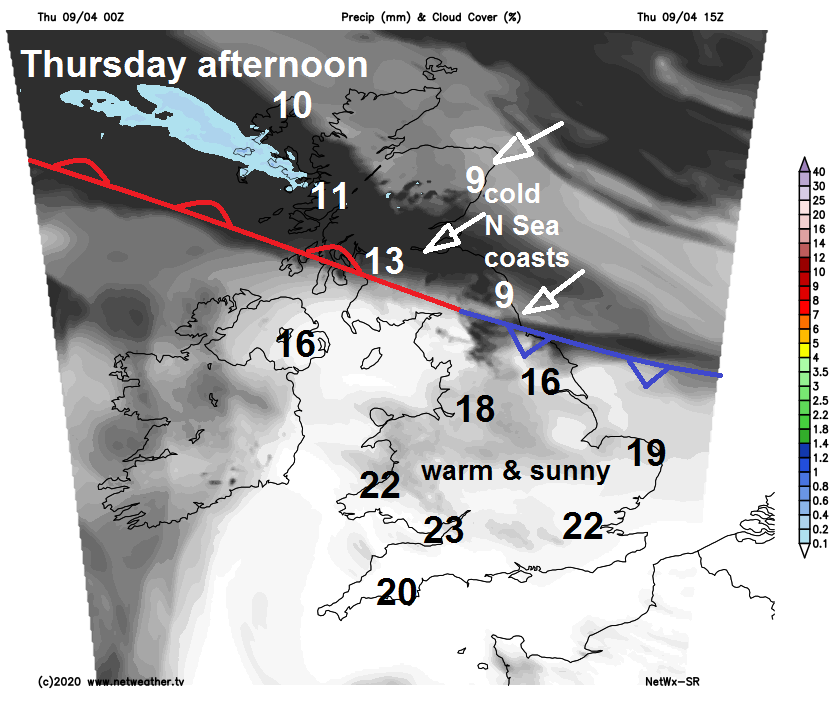 Cloudier skies with patchy drizzle or light rain only slowly drifting north across Scotland through the day, the far north of Scotland perhaps staying sunny but chillier here. NE England likely staying grey too, but for much of England, Wales and N. Ireland it will be another fine and warm day with sunny spells and variable cloud. Most prolonged spells of sunshine towards the south – where we'll have the highest temperatures. Not as high as yesterday – but still reaching 20-22C inland across the south, 15-19C across the rest of England, Wales and N. Ireland away from North Sea coasts from the Wash northwards – where the breeze of the cold sea will peg back temperatures to 9-12C. Temperatures in the low teens at best across Scotland, perhaps struggling to 9C along North Sea coasts.