The cold northerly wind over the past few days will be replaced by a less cold but cloudier northwesterly flow over the next few days, as moisture gets dragged over the top of high pressure to the west over the Atlantic. The cloud will be thick enough to bring scattered showers across northern areas, drier conditions and the best chance of sunshine across the south. As we head towards the end of the week, cold arctic air returns across the north, bringing with it snow showers across northern Scotland for a time on Thursday and Friday, accompanied by gales. Southern areas will be less cold but cloudier with a few showers. The wind direction looks to switch again as we head through the weekend, turning to a southerly, which will bring milder conditions and with England and Wales looking mostly dry and bright or sunny, temperatures could reach the mid-to-high teens in the east on Sunday.
Today
For now, a cold start to Tuesday across many areas. Although areas of cloud have spread south overnight, some clear spells across central, southern and eastern areas of England and parts of the north have allowed temperatures to dip close to freezing by dawn earlier, bringing a patchy frost. Areas of cloud drifting south this morning thick enough to bring a few light showers across northern areas, otherwise for many it will be dry this morning, cloudy at times, but some bright or sunny spells too – more especially across southern areas.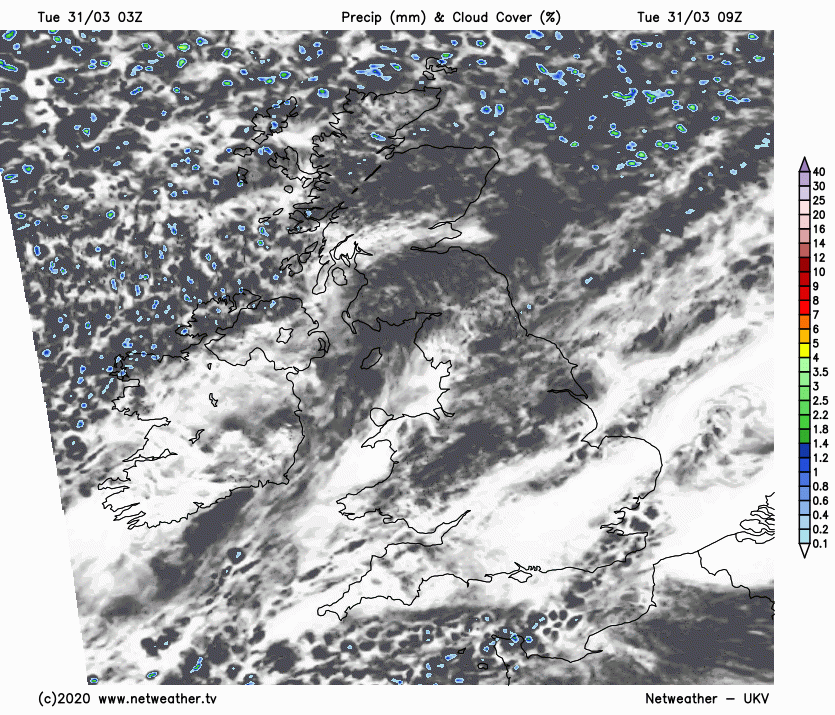 Other than a few showers across northern Scotland and NE England, staying dry for most through the afternoon too, cloud tending to build and fill the skies across many areas, but there will still be some bright or sunny spells, the best of the sunshine becoming confined to southern most counties of England. Temperatures this afternoon reaching 9-11C generally. The breeze not as strong as it has been, so not feeling as chilly today.
Tonight
A fair bit of cloud spilling southeast tonight, thick enough to bring some showers across the far north and northwest, but otherwise a dry night. There will be some holes in the cloudier skies across the Highlands, southern England and East Anglia – allowing temperatures to drop close to freezing and a frost to form.