We are coming to the end of what has been a wetter than average winter on the whole across the UK. And although this winter has not been a record-breaking in terms of rainfall, February has seen well over double the average monthly rainfall so far, which will make it one of the wettest Februaries on record and the wettest calendar month since December 2015.
Storm Ciara and Storm Dennis earlier this month brought much of the exceptional rainfall totals in the west that led to record high river levels that have resulted in severe flooding across parts of south Wales and also western counties of England where Rivers Severn and Wye flow through. It's not just these western areas that have seen flooding, parts of northern England, especially Yorkshire Ridings and southern Scotland have been affected by flooding too this month.
Storm Jorge brings risk of damaging gusts across Ireland, N. Ireland, northern and western areas of mainland UK Saturday through to Sunday.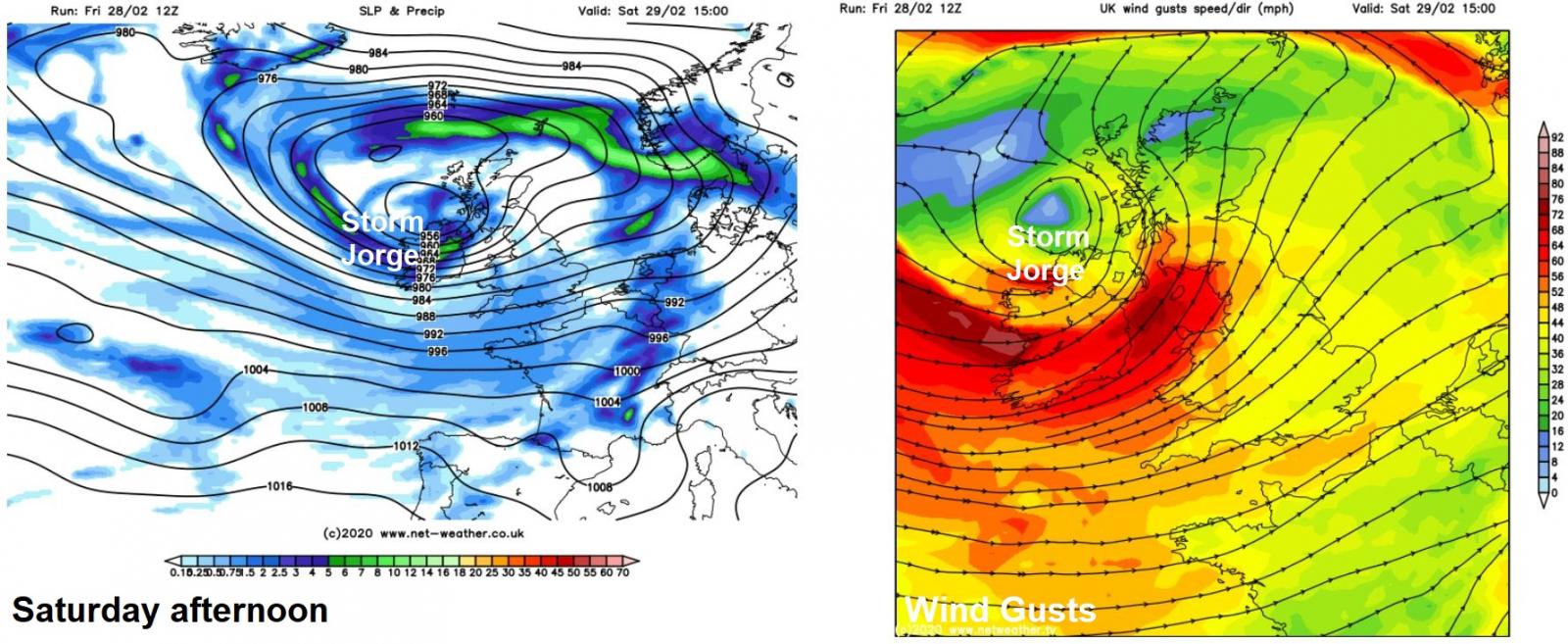 Unfortunately another storm is heading our way for the weekend, Storm Jorge, which will track northeast close to the north of Ireland on Saturday before reaching northern Scotland later in the day and grinding to a halt and loitering there through Sunday and into Monday. Jorge will be a deep low and with closely-packed isobars to the south of the low, widespread gales will develop through Saturday lasting into Sunday, with gusts of 50-60mph widely, 60-75 mph around coasts, though the Republic of Ireland will bear the brunt of the strongest winds, with Status Orange Wind Warnings in force across the whole country – where gusts of 70-80mph are possible in exposed areas. But it is the rain moving through ahead of this low both through today and tonight that is of most concern to western and northern areas of the UK.