Cold air hanging on across Scotland and the far north of England – where temperatures will reach 4-6C at best. But further south it will turn milder, with afternoon highs reaching 8-12C.
Rain easing across eastern areas of England this evening and becoming drier here but remaining cloudy overnight, rain lingering across more northern and western areas, where it will turn heavy and persistent and becoming windy too in the early hours. A mild night away from the far north.
Saturday
A spell of heavy rain and gusty winds will quickly spread eastwards across all parts during Saturday morning, clearing eastern England by mid-morning, followed by brighter, colder, showery but increasingly very windy conditions from the west, as isobars tighten with Storm Jorge brushing past Northern Ireland before reaching western Scotland in the evening. Yellow Wind warnings are in place for Northern Ireland, southern Scotland, Wales and much of England, with gusts of 50-60 mph likely quite widely, perhaps 60-70 mph in coastal areas. The strongest winds associated with Jorge will likely affect the Republic of Ireland.
Besides gales developing through the morning, sunshine and blustery showers for many following the morning rain clearing the east, showers turning increasingly wintry in the north and west as cold polar air gets pulled in by Jorge, with snow over higher ground, perhaps increasingly to lower levels across the north, showers merging at times in the north with blizzard conditions possible over northern hills. Temperatures reaching 4-6C at best across Scotland, N. Ireland and far north of England, feeling bitter in the strong wind, further south across England and Wales reaching 6-8C.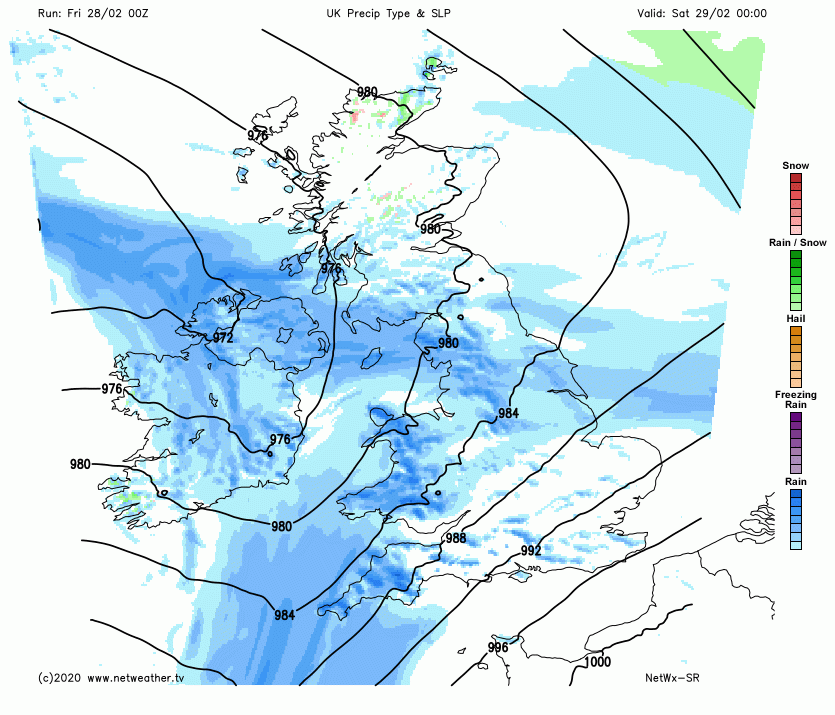 Sunday
Remaining very windy on Sunday, with gales, strongest winds across the north, as the centre of Storm Jorge loiters close to northern Scotland. It will be chilly in the strong westerly wind, with a mixture of sunny spells and blustery showers – which will be wintry over higher ground in the north, showers merging into longer spells of rain, sleet and hill snow across Scotland rotating around the centre of Jorge. Feeling chilly in the strong wind, temperatures reaching 6-8C in the north, 8-9C in the south.
Next week
Monday will be bright but still windy for most, blustery showers in the north and west, wintry over hills, drier with the best of the sunshine towards the southeast after some showery rain clears first thing. Tuesday and Wednesday staying breezy but mostly dry and bright across the south, sunshine and showers across the north, chance though of some rain across southern counties on Wednesday.