By Saturday evening rain will be over SW England and then spread north overnight. This sets in over Wales and parts of England early on Sunday with milder air to the south. Cold for inland Scotland with more wintry showers from the west.
SIX NATIONS - Another blustery Six Nations game, as Wales play France in Cardiff later on Saturday afternoon. Not the chaos of the gales for the Scotland match last time but still brisk winds and rain on the way for Saturday evening. 16C and sunny in Rome for Scotland on Saturday, cooler at 13C but dry in Legnano on Sunday.
Twickenham will see rain on Sunday afternoon with gusty winds for the England men v. Ireland. It looks wet and windy for the Women's Six Nations Sunday lunchtime at Cardiff Arms Park as that band of rain sets in but quiet at Doncaster Castle Park for England women v. Ireland.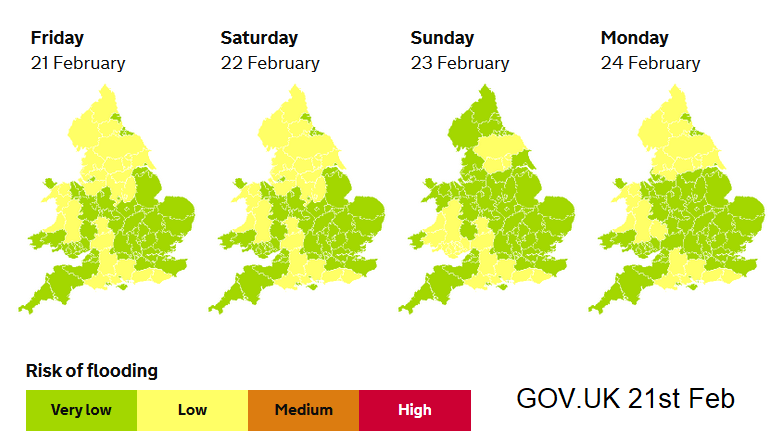 Sunday – Rain and flood risk - RAIN Yellow warning for South Wales. Natural Resources Wales for flood alerts and warnings
Ongoing river flooding is expected along the River Severn until Sunday. New flooding is probable over parts of the north of England today (Friday) and Saturday and possible in parts of Wales, particularly north Wales. On Sunday further flooding is possible over parts of south Wales. Groundwater flooding is expected to be ongoing over parts of the south of England for at least the next five days. Env Agency
The ground is very wet, paths muddy, hillsides still wet and slippery. There are flooded fields with unstable banks and cliffs. It is still only February and with cold winds and this damp air it is easy to get chilly quite quickly.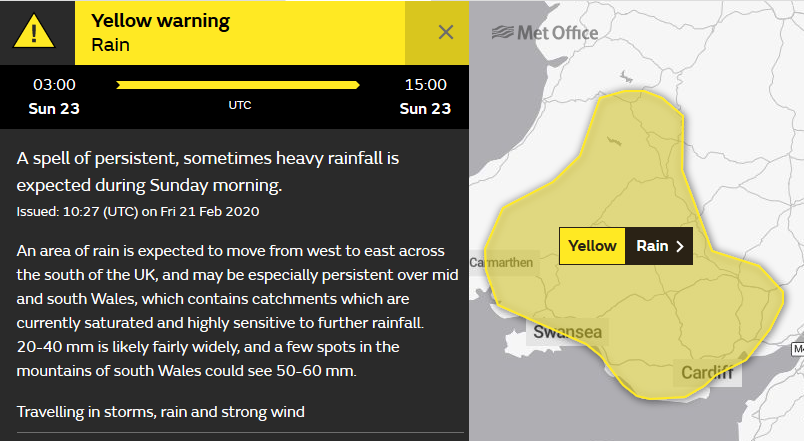 There will also be strong gusty winds for a time and the risk of hill snow further north as the rain hits the cold air. Some uncertainty here. Eastern areas will be more sheltered from the worst of the rain and there is much milder air in the forecast for southern Britain. It's not all wet and windy this weekend however many areas are soggy underfoot.
The rain should ease over Wales by lunchtime but again all the water over the hills takes its time to filter into the rivers. This is not like Storm Dennis last weekend but as there is already so much water, any extra could cause problems.
The Environment Agencies, councils and emergency workers have had an intense time recently with the flood events. As people try to recover, the outlook for next week is still unsettled, often very windy with more rain or hill snow from the Atlantic. Eastern areas have more shelter. Western England, Wales, Scotland and Northern Ireland bear the brunt of the wind and rain.