More rain is on the way over the next few days as the weather remains unsettled. Yellow rain warnings are in place for parts of the north and west for the rest of the week and into Saturday because of further rain. Although the rain will move through rather than persist like last weekend, any further rain falling on saturated ground and flowing into rivers that are flooding in the west will not be good news for these flood hit areas. There are currently six Severe Flood Warnings, a danger to life, in force in England, all concerning the River Severn and River Wye in the west of the Midlands, also over 130 Flood Warnings. In Wales there are five Flood Warnings, 4 of them in SE Wales.
Today
For now, it's a chilly start with sunshine for many, with a touch of frost in places – particularly across northern, central and eastern areas. The dry and bright conditions this morning won't last though, as a warm front moving in from the west brings cloud and outbreaks of rain eastwards across all parts through the day. It will stay dry, bright and chilly, though increasingly hazy, through much of the morning across eastern England and eastern Scotland. However, cloud and rain already across Ireland, N. Ireland and moving in across Wales, Devon and Cornwall – will continue to spread east across western Scotland, NW England, West Midlands and central southern England through the morning before reaching eastern areas of England and Scotland early afternoon.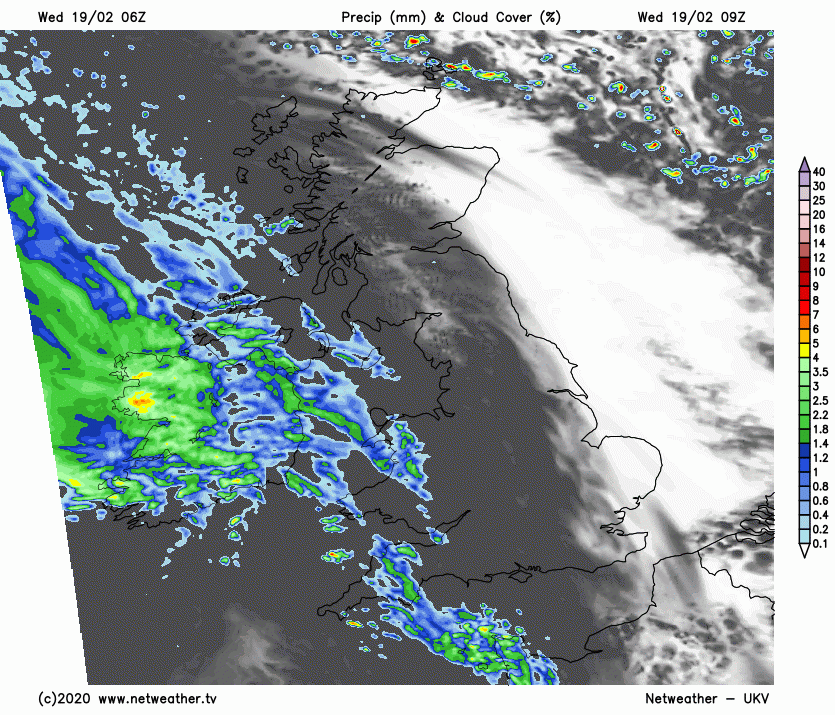 So, most areas in the afternoon will be cloudy and damp, the rain tending to be lighter and more patchy across central, southern and eastern areas of England along with eastern Scotland, rain more persistent and locally heavy across Wales, NW England, N. Ireland and Scotland. Snow for a time over higher ground of Scotland and northern England – as rain bumps into colder air here. There are Met Office yellow warnings for rain in force for three areas of south and north Wales along with an area of NW England for this further rain falling on already saturated ground and into rivers that are exceptionally high and causing flooding issues.
Gradually turning milder through the day after a chilly morning as that warm front moves through, temperatures this afternoon reaching 7-9C generally, perhaps 10C in the far west.
Staying generally cloudy and mild overnight, a band of heavy rain and strong winds will slide southeast across Ireland, N. Ireland, Scotland, northern England and eventually Wales during the night. Turning drier overnight across central, southern and eastern England.