You know it's been an iffy winter so far when a few sunny days and overnight frosts feel like an unusual relief. The high which brought that is still with us (for now), but with a load of moisture and murk trapped underneath it, sunshine is at much more of a premium.
By the weekend, the high is going to be starting to ease away, culminating in a band of rain moving west to east on Sunday, and there's also the potential for some stormy weather on Monday, which is something to keep a close eye on. There's a lot of uncertainty at this stage, with the GFS (below) showing the stormiest conditions right now, other models aren't quite so keen to intensify the low as much at the moment.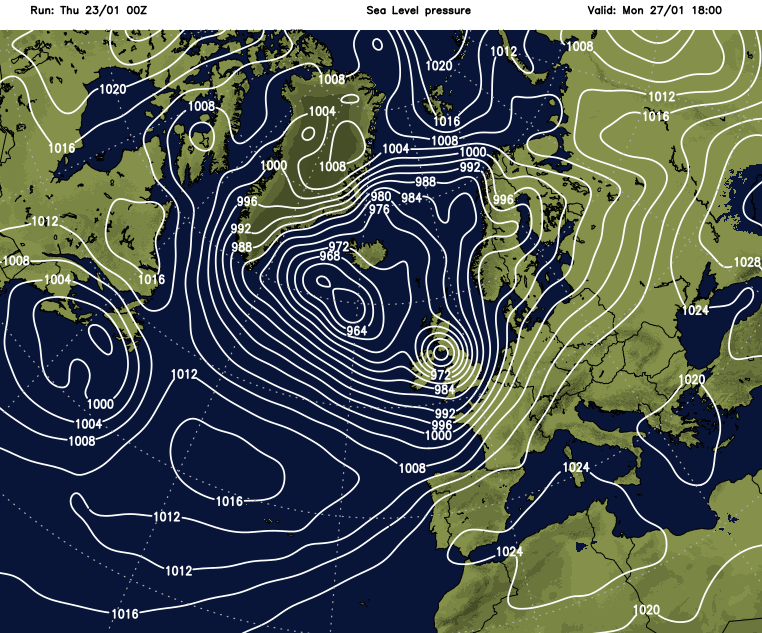 For now, we keep calm weather coming. The best chance of breaks in the cloud will be to the east of high ground and through southern coastal counties today. For most though, it'll stay dull with the cloud thick enough in places to bring some drizzly rain. The far north of Scotland will also see some showery rain moving in during the day, spreading a little way south - especially in western parts. Temperatures will be a pretty uniform 7-10c.
After a mostly frost-free night, Friday then brings a very similar type of day. There'll be lots of cloud, some drizzly, showery bits of rain, most noticeably in western Scotland and temperatures will about be on a par with today.