So, the High pressure. It isn't too important in weather impact terms as it brings settled conditions but weather people like their statistics and records. The UK record is 1053.6hPa from Aberdeen Jan 1902 which wasn't really under threat but tipping over into 1050hPa does not happen very often here. The cold winter air cooled even further overnight under the clear skies as the high built. This made the air even more dense and pressure increased further, hence the winter phenomenon of big number highs. On Sunday 19th Jan 2020 Mumbles Head in south Wales saw 1050.5hPa.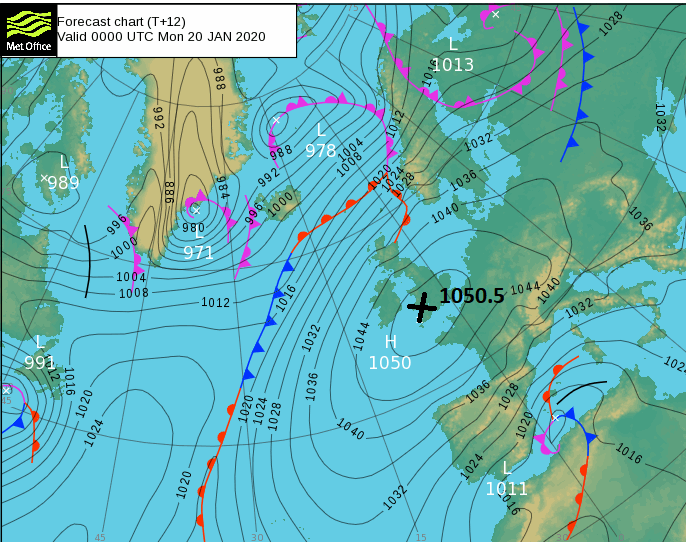 A hectoPascal is the metric measurement of Atmospheric pressure and equates to one milliBar. 1 hPA = 1 mBar. The UK hasn't seen over 1050 in over 60 years. London also experienced its highest air pressure in 300 years. Heathrow recorded 1049.6hPa with London records dating back to 1692.
It looks like pressure records have been broken in France and Belgium, although not as high as over the UK. 2020 high record France 1049.7hPa in Abbeville, northern France
High pressure can lead to interference for television and radio signals. With cold air at the surface and warm air above, a temperature layer called an inversion forms and this adds to issues with the propagation of the signals. Television companies often get phone calls from viewers in high pressure situations, complaining that the signal is breaking up.
From Storm Brendan to the NW of the UK on Tuesday 14th at 940hPa to the weekend high of 1050 centred over south Wales we have seen an extraordinary pressure change in 4 days. There are investigations that low pressure and pressure changes can lead to headaches but no real evidence about intense high pressures.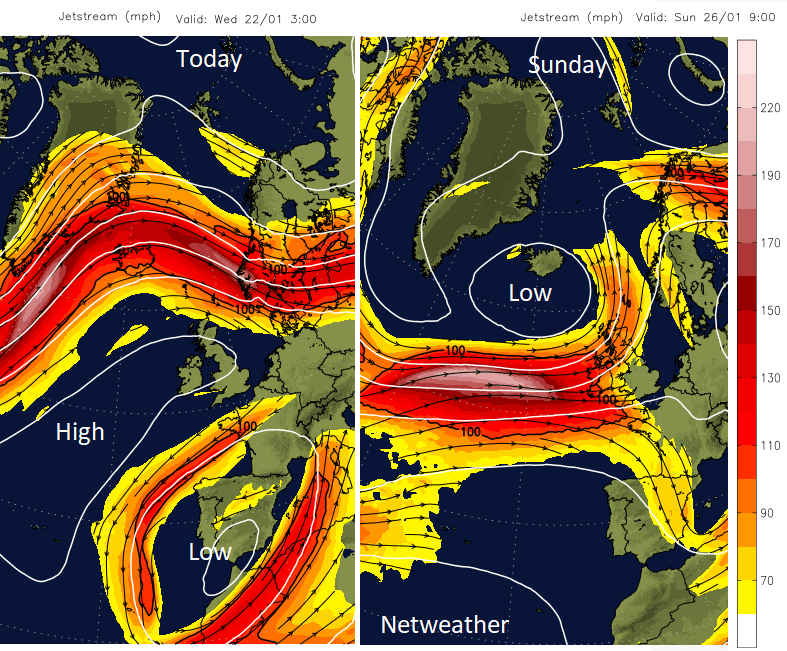 The huge snowfall from the US and eastern Canada is not heading to the UK. Greenland and Iceland have seen windy winter weather. The winter Storm only impacts NW Europe indirectly by changing atmospheric patterns downstream. The jet stream looks set to move back south this weekend as the high pressure fades across the UK. So back to wet and windy weather from the west with a bit of hill snow.