On Tuesday 14th the second low pressure brought in more heavy rain, onto saturated ground, there were coastal flood concerns and line convection formed again. SE England had a wretched spell of weather by the late afternoon and evening which upset some people who had listened to news about Storm Brendan on Monday but not had much weather action that day but then experienced wild weather on Tuesday. However, it's tricky to get all the detail into a headline or short broadcast. Is it easier to glance at a headline or tweet?
There were gusts of 40 to 50mph inland, trees down, disruption to ferry services, Orwell bridge shut, warnings along the south coast and numerous flood warnings. Coastal flooding continued for Scotland with strong winds and hefty showers, snow across the hills. In Slough a roof blew off and landed in the High Street, there was damage to rail lines, some submerged.
It does make you wonder what would have happened if an Amber warning had been issued or should one have come out for SE England on Tuesday,
"A storm will be named when it has the potential to cause an amber or red warning." Met Office.
There is a leaning towards not naming close events that have links, just to let one storm name blanket cover everything. There does seem to be some reluctance on the part of the UK Met Office to issue Storm Names at all or even Amber warnings. It is up to the public to interpret their yellow warnings and adjust their lives. Guessing how windy it actually will be is quite hard for the public when a yellow covers impacts for high sided vehicles through to falling masonry and roofs coming off in towns.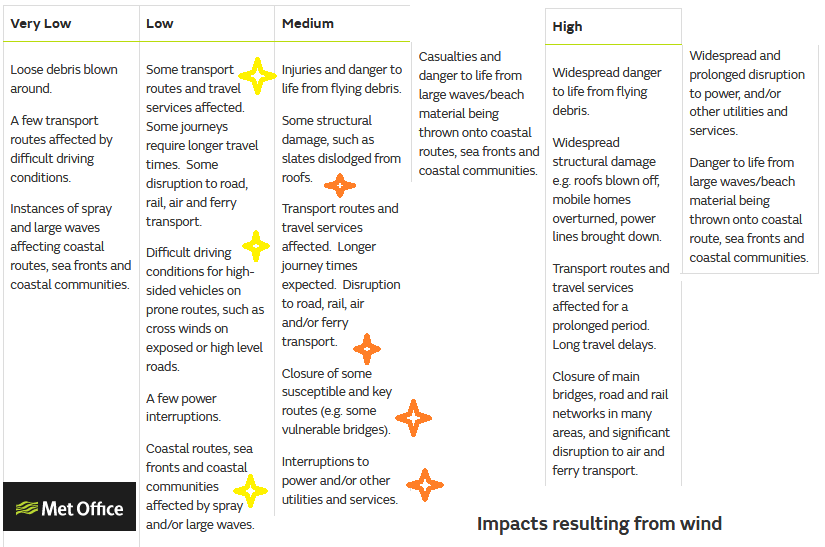 Impacts seen in Storm Brendan.
Is more responsibility being thrown onto the public, that a Yellow warning is still a warning of severe weather, get on with it. Does the Met Office really not want to name storms anymore? Are there unknown implications from issuing an Amber, it does have impacts for local authorities and emergency services, are there politics and finances in the mix? What is kicked off behind the scenes when an amber or red warning is issued, as opposed to just a yellow?
There was always a worry that if too many (even yellow) warnings were issued then the general public would begin to ignore them. Re-tweeting or even broadcasting unofficial red warnings is still a big no-no.
Even on Wednesday, there were still coastal flood warnings for Scotland and wild gusty winds as Storm Brendan lurked just to the north. The weather improved for the rest of the UK and Ireland but there were still flood warnings in place with high river and groundwater levels.
We'll end with a good escaped trampoline shot.