'Status Orange' weather alerts have been issued for all counties in Ireland ahead of Storm Brendan, named by Met Eireann yesterday. The warnings are for southerly winds veering southwesterly reaching mean speeds of 40-50mph, with gusts of 70-80mph.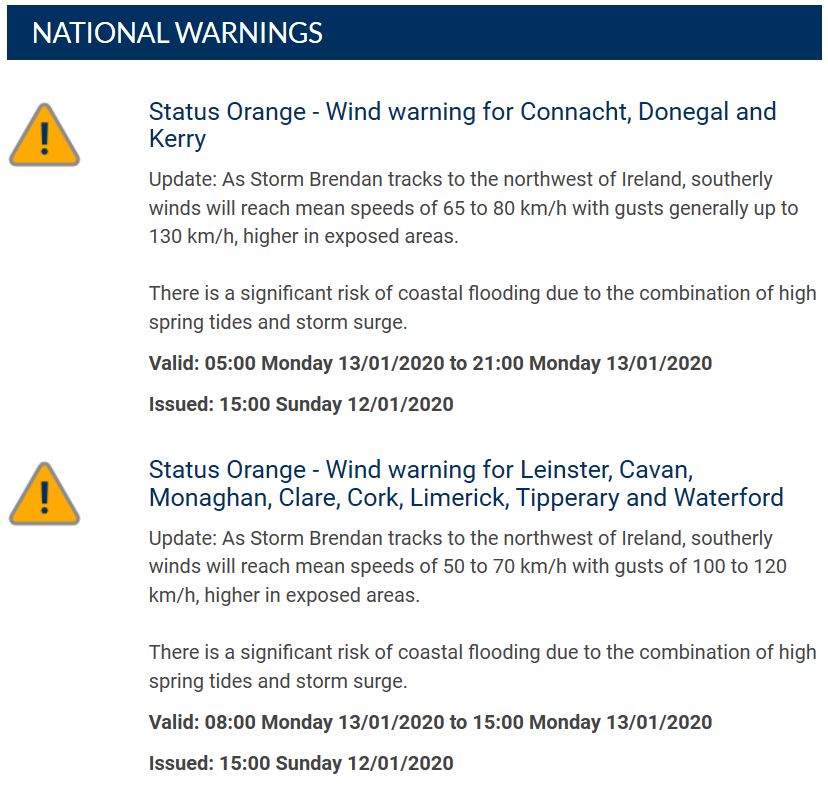 There will be strong wind impacts for western areas of mainland Britain and Northern Ireland too, the Met Office have yellow wind warnings in place for the SW and far west of mainland Britain along with N. Ireland. They are predicting wind gusts of 45-55mph inland, 60-70mph around exposed coasts and hills, locally as high as 80mph with exposure.
Strongest winds look to develop 8am-1pm across Ireland before easing in the afternoon away from northern and northwestern coasts – where a second core of very strong winds looks to arrive – gusting to 80mph on exposed coasts. A band of strong southerly winds just ahead of a band of heavy rain moving in from the west will transfer across mainland UK during the afternoon and early evening.
As well as the risk of disruption and damage caused by these high winds, there is a significant risk for coastal flooding due to a combination of high spring tides and storm surge created by high winds over the Atlantic.
Storm Brendan's origins can be traced to a wave low that formed along a frontal boundary across eastern Canada yesterday and this morning exited east out over the Atlantic near New Foundland. This low, on UKMO fax chart around 997mb at 6am this morning, will undergo rapid cyclogenesis (RACY) in the next 24-36 hrs. By midnight tonight the fax chart shows the low deepened to 955mb, a drop of 42 millibars in 18 hours. Bombogenesis, a popular term used by meteorologists, describes a rapidly deepening mid-latitude depression that drops at least 24 millibars over 24 hours. The 00z ECMWF run this morning shows the low forming Brendan at 988mb at noon today, 24 hours later it has deepened to 943mb at noon Monday, some 45 millibar drop!