Thunder?
Local
Radar
Pollen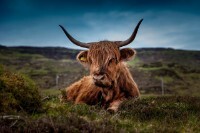 About This Group
A new place for those in Scotland to chat about the weather and their daily lives.
What's new in this group

Now if there every was going to be a BOOM then this would be it... Obviously just one run and WAY too far in the future to even contemplate actually happening. We can but dream though... of a white Xmas.

Agree. Best option seems to be an "inversion" type high sticking around nearer Christmas which for me equates to being a Winter waster. Edit. All change again on the 18z. Boom time again.

Not sure why from what can see in the models, and I don't think I'm brave enough visit the Mod thread to find out.

After a beautifully red sky sunrise yesterday morning, the day descended into Aberdeenshire Permagloom followed by a howling gale and enough rain to sink Noah. The wind managed to find a way into the house last night while I was on a zoom call which was really off putting! Today is much calmer but still gie dreich.

Horrible morning of torrential showers of rain, currently 4c with a moderate easterly wind making things feel very cold indeed. Lots of rain overnight leading to plenty of road flooding as well. A day to be lying in bed recovering from the booster jab, side effects from that seem to get worse each time - hopefully just for a day like the last time.

The aftermath of storm Arwen as the extent of the damage becomes clear. Haddo House lost 100,000 trees during Storm Arwen WWW.BBC.CO.UK There are fears the recovery process at Haddo House in Aberdeenshire will take a generation.

Was out for a liquid lunch today with some old colleagues so missed the worst of the rain. Some very strong gusts here but not sustained high winds. Chaos on the roads due to damaged and now unsafe buildings. One or two of my lunch associates were held up for hours on their way home as busses were delayed or stuck in traffic. Meanwhile heavy slushy snow up in Highland Perthshire made the roads very treacherous and the higher routes very dodgy. This from a lower bit of road. edit. Still very string winds now. Wouldn't be surprised to hear the bridge restrictions will be back on after being lifted earlier this evening. The A93 just West of Glenshee summit this evening. Note the fence posts.

It's truly yuk outside (and has been since 3pm). Only surprise is that there was never any hint of snow in the precipitation when it started as temperature then was 0c. Very frosty overnight with a low of -4.9c.

Bit of a non event here, good drying day with some wet flakes mid afternoon. Now clear and 4c. Nice dusting on Myothill and over towards Fintry

this afternoon was abysmal here , lots of rain and at times a few wet snow flakes trying to mix in here and there and combine that with the strong wind. Looks like the Ochil hills have a covering of snow on them above 300-350m asl , although i think the snow line was lower than this further to the west and south. Snow watch which i did was probably a bit to aggressive in terms of the snow depths.

Met Office did a decent Job for my location today, Lots and lots of rain! The only positive is the car is now super clean

Started calm and frosty with a temp of - 3C and a decent sunrise. Currently 1.8C, windy and raining here, the same as the drive home from Westhill. Wife came home over the hill behind the house and said it was snowing there when she did.

@101_North It's not proper winter until the first wet baws post! 6c with light rain here, gale force southeasterly wind but nothing like Arwen obviously. Still a very unpleasant evening!

Had a bit of gusty wind early afternoon and about an hour's worth of big flake snow, settled a wee bit on hill behind me but gone now. Quiet as a church mouse now.

Wind isn't especially notable here but unusual direction so maybe a bit more sheltered than we are from the normal prevailing wind. Looking east, clear blue sky. Looking west, incredibly black.

Jist miserable wet sleety pish here. A day for staying inside by the fire. EDIT. Still, at least the ski centres are getting it!

Temp never got lower than 1.0°C and now crawling back up again, so nothing has settled at my height asl. That despite big flakes coming down in sheets/curtains of snow in the wind. As others have said a horrible horrible day. EDIT - now that the heavy snow has passed I can see from across the valley that we do have snow on windward slopes at my height asl, but not on this sheltered side. Just shows how marginal it has been - intensity winning over air temp.

Heavy snow here for about an hour while we walked the dog. Big flakes but pretty much melting as they hit the ground.