Today we see a band of rain move SE across England and Wales, followed by sharp showers over N.Ireland and Scotland. It will feel cold in the blustery winds and where it rains but there will still be some sunny spells bringing warmth in any shelter. Thursday and Friday see more settled weather taking hold, but speckled with scattered hefty showers tomorrow. Bank holiday weekend looks mixed and not especially warm.
A swirl of rain heading east today

We have a frontal band of rain this morning stretching across England from SW England through the Midlands into eastern England. This band will move slowly SE wards today across central southern England and E.Anglia, then London and clearing SE England this afternoon. Ahead of this rain there is mild air with SE Britain soon reaching 10C, 13C for Kent. Under the cloud and rain it will turn blustery with a fresh SW wind and it will feel cold. Behind the front it will feel cool in the wind as temperatures range from 8 to 11C. There will be the odd shower about, heavier ones arriving in Cumbria late afternoon but for most it will be a fair day, with bright even sunny spells but worth staying out of the breeze.
Sunshine and blustery showers, rumbles of thunder too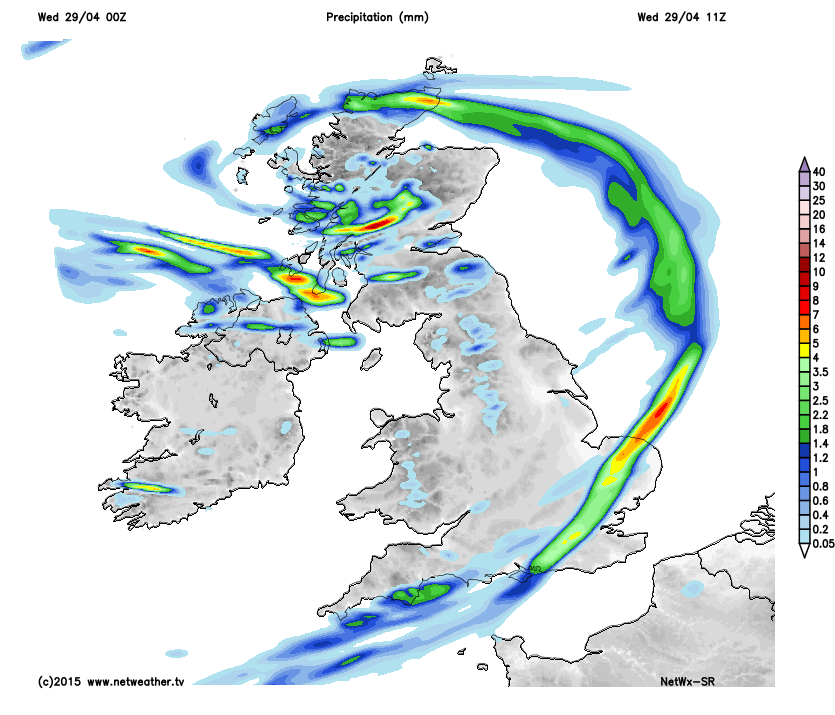 A nippy start this morning for N.Ireland with plenty of sunshine especially for Co Down. There are already large showers clouds moving into the north and west, bringing hefty downpours of rain. The risk of showers continues with a fresh, cold feeling west wind and temperatures of 8 to 12C. There will be dry, bright and sunny spells with the north coast seeing the most showers and the SE being more sheltered but not immune.
A wet start this morning for SE Wales with Cardiff seeing the cloud and rain from an occluding cold front. This clears away by mid morning (proverb: rain before 7 fine before 11) and then it will be a fine bright day with sunny spells. It will feel cool in the brisk W/SW wind with temperatures of 9 or 10C and up to 12C inland.
Scotland has the low pressure centre across it this morning, so winds are light inland for the northern half but a fresh cool SW wind for southern Scotland and a cold E/NE wind for the islands in the far north. There are lots of sharp showers already whirling around the low and there will be plenty more today. Rain, hail, risk of thunder, sleet and hill snow above 400m. Around the Forth looks a bit more sheltered from the rain but some spots will just get shower after shower with 30 to 40mm of rain today. There will be bright spells mixed in but it will feel cold in the wind at only 7 to 10C.
Tonight England keeps a moderate SW wind but for the rest of the UK a cold N/NW wind takes hold. There will still be showers feeding down from the north and in from the west, wintry over northern hill.
A day of sunshine and showers tomorrow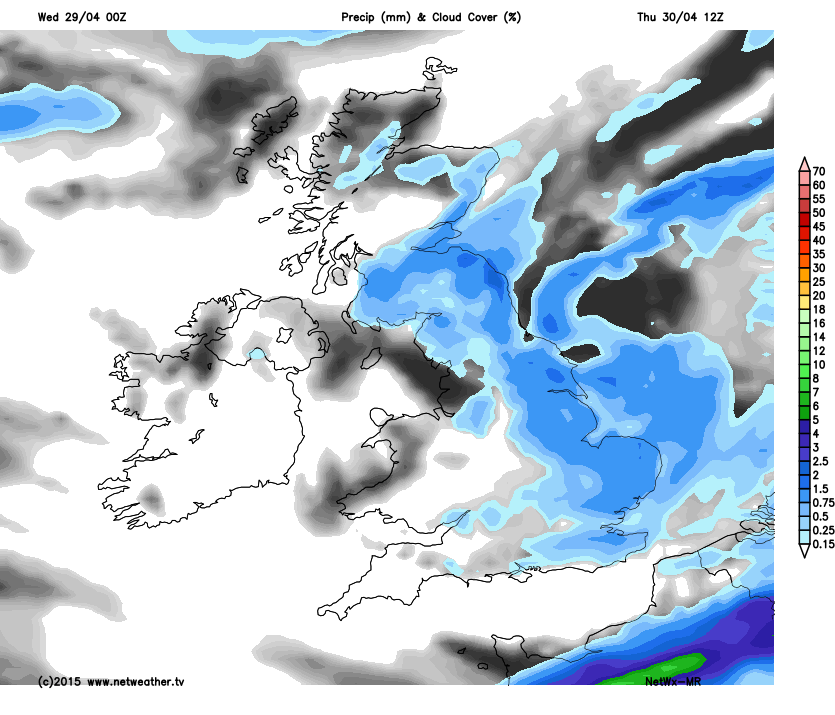 During Thursday there will be bright spells and a fair amount of dry weather, especially for N.Ireland. There will still be some hefty showers about particularly for Scotland and eastern England into E.Anglia, and still with some rumbles of thunder. A few spots could see 10 to 12C in any sunny spells tomorrow but for most it will be cold in the N/NW winds with more cloud.
Thursday night is quieter with some fine weather for Friday. Many parts will have lighter winds with temperature up a touch to 13 or 14C but there will be a cool breeze off the North Sea. A band of rain will be lurking in the Channel which could brush Cornwall and the Channel Islands and N.Britain keeps the risk of a few sharp showers with another frost inland Friday night.
The long weekend looks unsettled with 2 bands of rain sweeping through, brisk winds but a more SW flow so not feel as cold. In the sunshine up to perhaps 17/18C in the south but still cool for most.