Much of Spain literally baked in a record-breaking heatwave on Thursday. Provisional data show that Montoro in the province of Cordoba in southern Spain recorded 47.3C yesterday, this dangerously high temperature is a new absolute maximum temperature for Spain. Friday will see another dry, sunny and extremely hot day across much of Iberia, with temperatures reaching 41-43C inland across southern and eastern Portugal, 41-45C inland across central and southern Spain.
This extreme heat with temperatures reaching the low to mid 40s centigrade across interior southern and central Iberia looks to persist over the weekend and into early next week too, before easing back into the 30s by the middle of the week, as an upper trough moves in off the Atlantic and pushes away the plume of extreme heat flooding north out of Africa, though it will remain dry, sunny and hot or very hot for the rest of the week, but not the extreme heat currently gripping much of Iberia.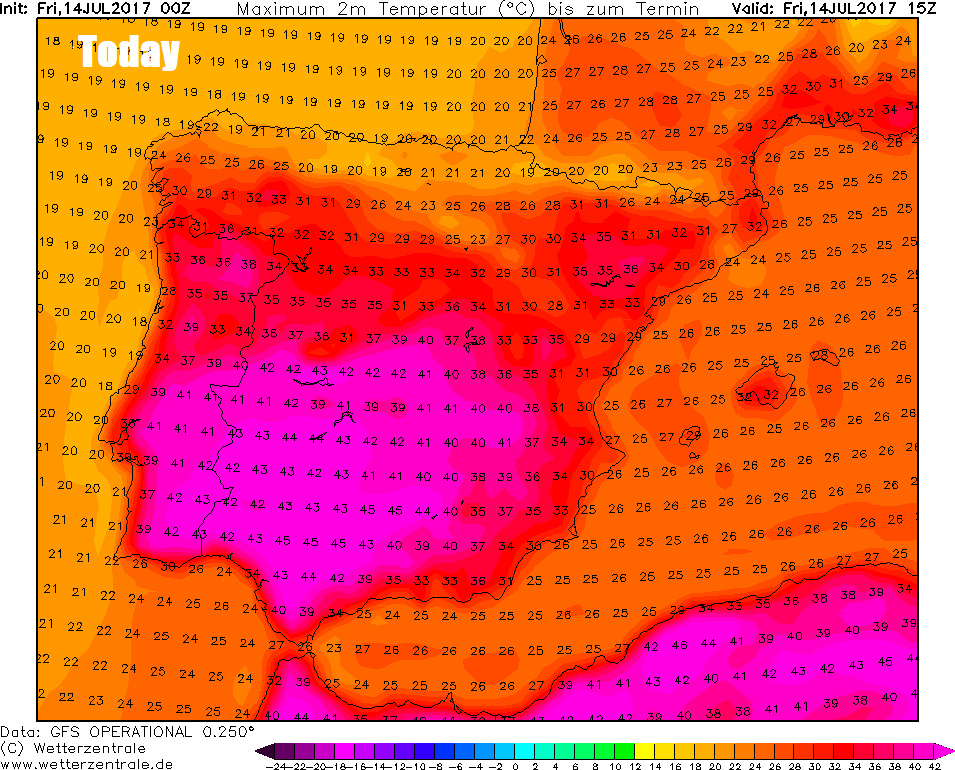 Part of the heat 'dome' across Iberia will break off and spread north and northeast across France early next week, as the flow backs ahead of the approaching upper trough moving in from the Atlantic. Temperatures on Tuesday may reach 40C across the far southwest of France, with temperatures generally reaching the mid-to-high 30s on Monday and Tuesday across the southwest quadrant of France and in the low to mid 30s widely across France away from the far north.
Plume of warm and humid air spreading northeast from Iberia will clip SE UK by Wednesday, before cooler air returns from the west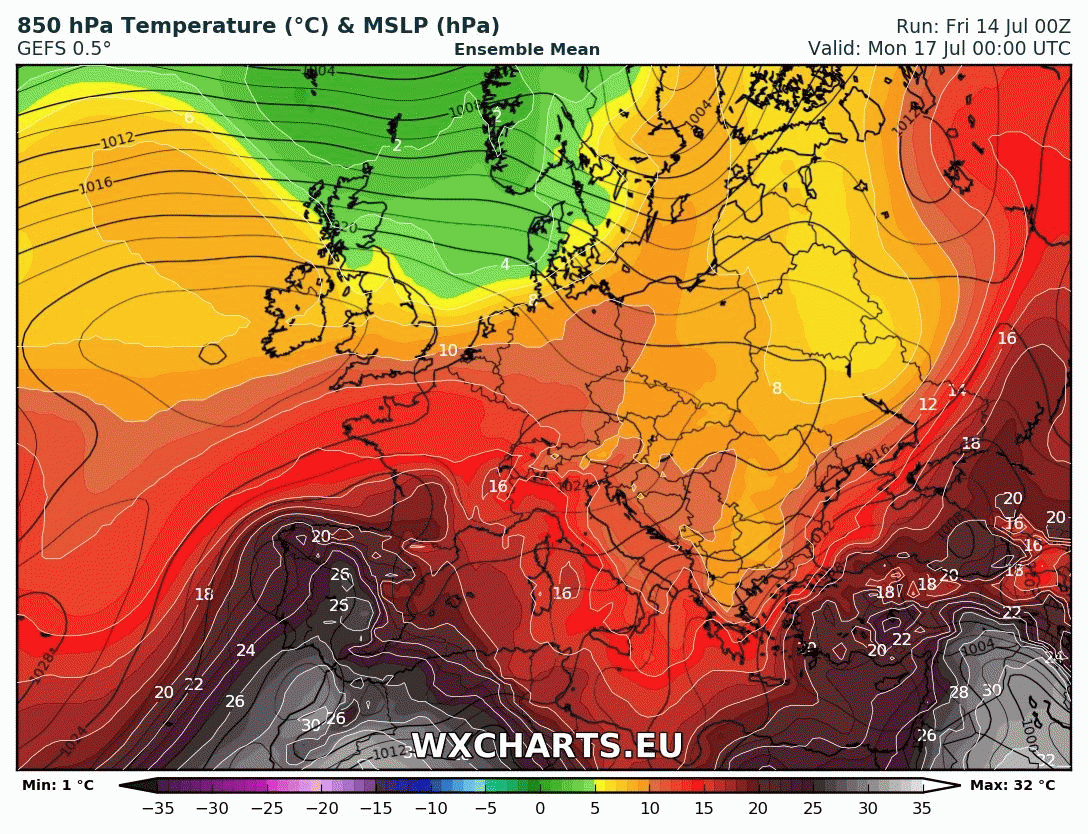 Credit: wxcharts.eu
Some if this heat over France will clip southern and eastern England briefly by mid-week, sending temperatures into the high twenties, perhaps 30C across SE England on Wednesday. The more serious heat staying on the near continent, thanks to an area of low pressure drifting north, spreading thundery downpours north across southern Britain later on Tuesday and into Wednesday, keeping the heat at bay over English Channel.
This weekend
The weekend is looking generally cloudy, but warm and muggy, thanks to a long-fetch warm and moist southwesterly flow sourced from the sub-tropical Atlantic. The cloud will be thick enough across northern and western parts on Saturday to bring patchy rain, particularly over higher ground. On Sunday, fresher and brighter conditions will push down across northern and perhaps central parts eventually behind a cold front sinking southeast. But southern England likely hanging on to cloud, muggy and very warm conditions where, despite the cloud, we could hit 26C.
Monday
Then on Monday, high pressure builds in across the UK from the southwest, so many should be fine, dry and sunny. Still warm, muggy and perhaps rather cloudy across southern England close to a slow-moving but weak frontal boundary, the same front that slipped southeast on Sunday.
Tuesday & Wednesday see increasing risk of storms and brief heat
Then from Tuesday the weather turns interesting … if you like thunderstorms, heat and humidity. An area of low pressure moves north over Biscay and western France, drawing hot and humid air north across France which will be conditionally very unstable. The large amounts of convective energy (CAPE or convectively available potential energy in meteorology) looks to be released in the form of thunderstorms as the low and upper trough moving in from the west interacts with this plume across northern France and eventually southern England on Tuesday and into Wednesday. Though details and timing this far out are far from certain for now.
Temperatures could climb into the mid-20s on Tuesday afternoon across southern counties of England, but the plume of warm and humid air arrives from the south behind a warm front Tuesday night, accompanied by some thunderstorms drifting into southern England. The plume from France briefly surging north across central, southern and eastern England on Wednesday behind early morning storms spreading north – with afternoon temperatures peaking in the high 20s across SE England and East Anglia where sun comes out, perhaps a few spots 30C. However, a trough of low pressure and surface cold front moving across the UK from the west will likely trigger further storms as it begins push out the hot and humid air.
This loop of weather type charts, based on GFS, show storms developing and spreading NE from Tuesday evening through Wednesday. Red symbol = thunderstorm. Credit: wetter3,de.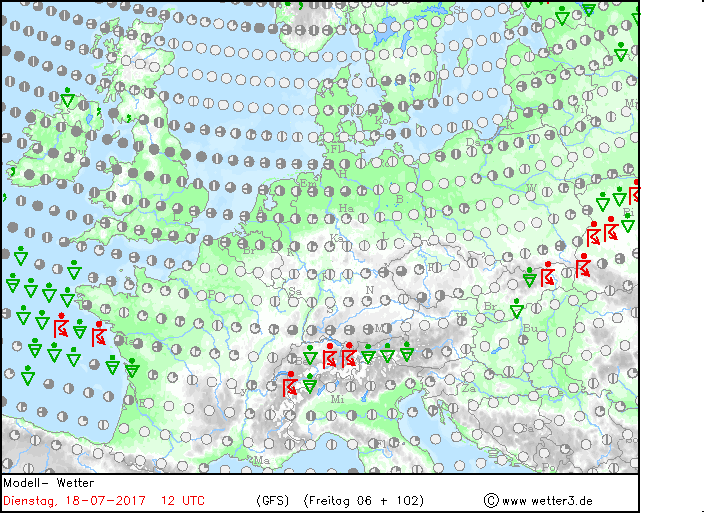 Cooler end to the week
Then a much cooler and fresher end to the week, as winds switch to a westerly direction behind the trough moving through, with temperatures back down into the low 20s in the SE and mid-to-high teens elsewhere.