As Storm Atiyah moves away today there will be a brief spell of calm with lighter winds, clear skies and an early frost overnight for parts of Britain. It will be a chilly start for SE Britain on Tuesday, quite a change from today but elsewhere the next weather system will be moving in, with strengthening southerly winds and more rain.
The warm front moves through and milder air will pass over the UK on Tuesday after the cool start in the east. There will be fresh to strong southerly winds, lee gusts for SE Scotland. Thin bands of rain will reach over England during late morning/ lunchtime and then the active cold front marches in.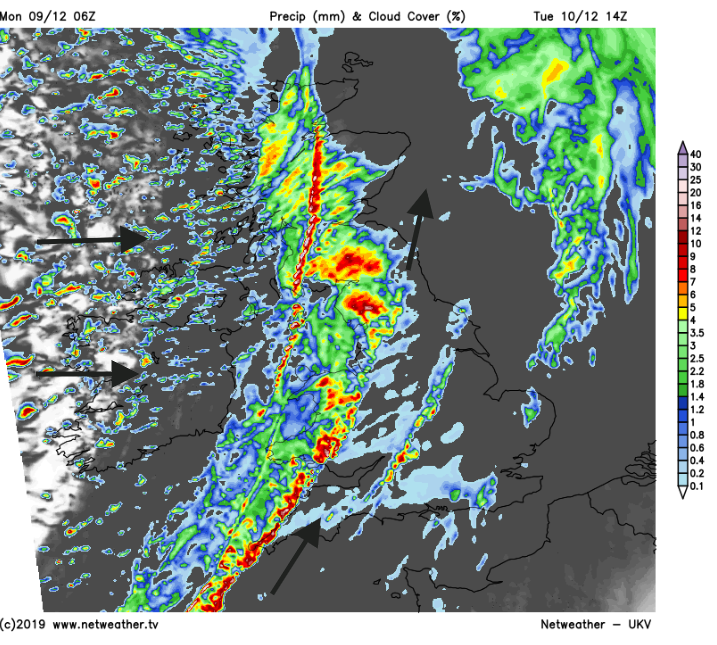 This will bring a spell of heavy rain with the risk of hail, wintriness over hills and gusty winds. The front will stretch right down through the UK north to south and move quickly eastwards. The winds will veer south to west as cooler air takes hold. If you get caught in the downpours along the front you will certainly know about it.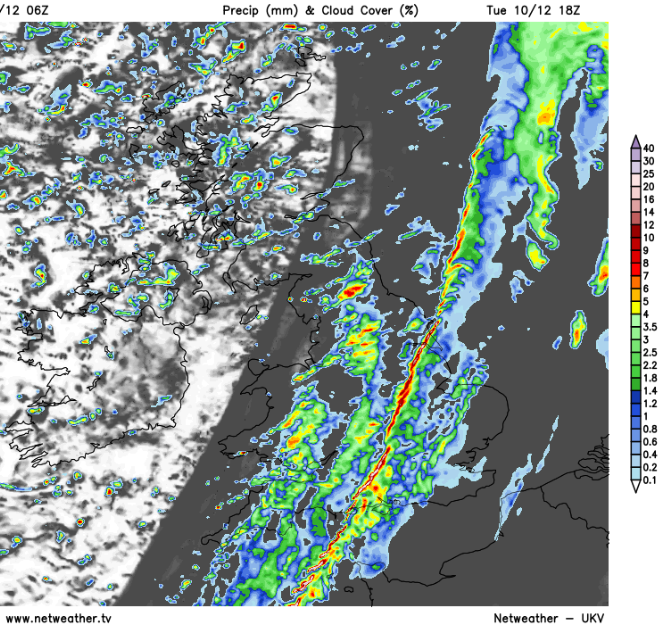 The front clears from SE England overnight leaving clear skies and a collection of showers into eh far NW. More of a wintry tinge will affect showers from mid-week onwards. With a low pressure away to the north there will be brisk cold winds. Colder air will reach the UK, sometimes easing in the south but allowing more sleet, hail and hill snow in the showers. It will be windy for the far north of Scotland on Wednesday before the next low pressure swings in for Thursday bringing strong winds to Ireland and the southern half of the UK. Plenty of rain and then colder air as the low clears away for Friday the 13th. A bit like today's setup.